Fasten your seatbelts, adventure seekers and culture fanatics alike – 2023 in the Valley of the Sun promises to be more electrifying than ever! From mesmerizing fireworks that paint the night sky, tantalizing culinary festivals offering an explosion of flavors, to vibrant music concerts set to rock your world, Phoenix is setting the stage for unforgettable experiences. Join us as we unveil the most anticipated events of the year – your passport to discover the best upcoming activities in Phoenix. Get ready for a sensory overload that will leave you wanting more!
There are plenty of exciting events happening in Phoenix, including Artlink's First Fridays Art Walk, Rediscover Treasures at the Musical Instrument Museum, The Science of Guinness World Records exhibition at the Arizona Science Center, Juan Francisco Elso's Por América exhibit at the Phoenix Art Museum, and Flashlight Nights at the Desert Botanical Garden. For more detailed information about these and other events happening in Phoenix year-round, check out Visit Phoenix's website.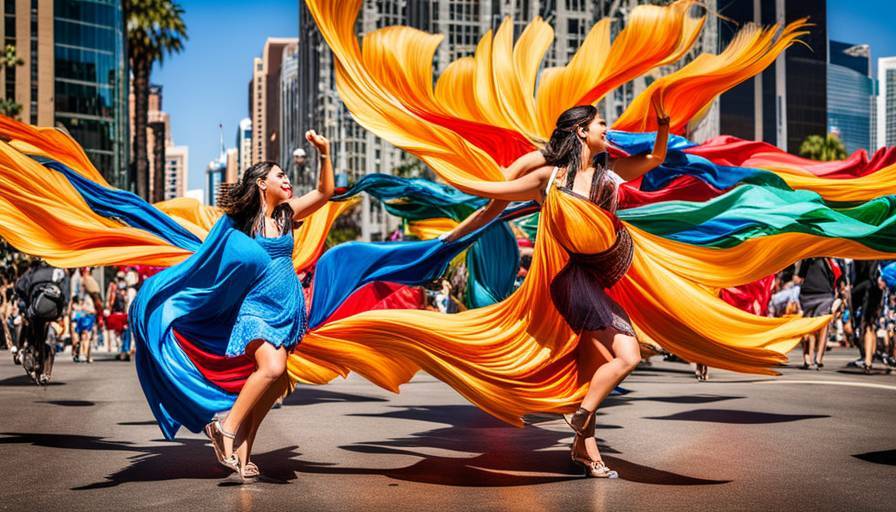 Highlighted Events in Phoenix
Phoenix, the vibrant city known for its diverse culture and thriving arts scene, offers a plethora of exciting events throughout the year. Whether you're a local or just visiting, there's always something captivating happening in the Valley of the Sun.
One of the most anticipated events is Artlink's First Fridays Art Walk, a monthly showcase that immerses visitors in Phoenix's lively art scene. Every first Friday of the month, downtown Phoenix transforms into an artistic hub, attracting art enthusiasts from all walks of life. Imagine strolling through streets lined with galleries, venues, and art-related spaces, while embracing the electric energy radiating from creatives sharing their work. This event provides a platform for emerging artists to display their talents and gives attendees an opportunity to enjoy unique artwork across various mediums.
Another notable event that captures the essence of Phoenix's cultural tapestry is Rediscover Treasures: Legendary Musical Instruments at the Musical Instrument Museum (MIM). From August 4 to September 10, 2023, MIM invites visitors to explore extraordinary instruments infused with history and musical significance. The exhibition showcases iconic pieces played by renowned musicians, allowing visitors to gain insights into both the artistry and craftsmanship behind these instruments. Picture yourself standing before guitars strummed by legends like Jimi Hendrix or holding your breath as you admire pianos once graced by virtuosos like Mozart.
Additionally, those with an inclination towards scientific marvels will find delight in The Science of Guinness World Records exhibition at the Arizona Science Center. Running from August 4, 2023, to January 1, 2024, this interactive display captivates both young and old. Unleash your inner curiosity as you uncover astonishing facts about record-breaking achievements across various disciplines. Engage in hands-on experiments and discover the science behind remarkable feats accomplished by individuals from around the world.
The events mentioned above merely scratch the surface of what Phoenix has in store for its residents and visitors. Now, let's delve into one of the most popular recurring events that captivates art enthusiasts and helps them explore Phoenix's vibrant art scene: Art Walks.
Art Walks: Explore Phoenix's Art Scene
Art Walks are a fundamental part of Phoenix's cultural fabric, offering an immersive experience into the city's thriving arts community. Artlink's First Fridays Art Walk, held each month, is a prime example of this phenomenon. On these special nights, neighborhoods like Roosevelt Row and the Historic Grand Avenue Arts District come alive with vibrant energy as galleries, stages, restaurants, and food trucks open their doors to art lovers and curious souls seeking inspiration.
Roosevelt Row is renowned for its dynamic arts scene and has played a pivotal role in shaping Phoenix's creative landscape. Strolling through this district, you'll encounter captivating murals adorning building facades and thought-provoking public art installations. Imagine yourself being transported into a living gallery as you saunter through Mural Alley or explore Xico Inc.'s inventive use of shipping containers as canvases for artistic expression.
The Historic Grand Avenue Arts District presents another enthralling backdrop for exploring Phoenix's art scene. With notable galleries like 9 The Gallery, Abe Zucca Gallery, BELHAUS, BoDo Art Gallery & Studio, and many more, there is no shortage of talent to admire. Take your time wandering through these spaces, absorbing the eclectic mix of artistic styles represented by local artists. And don't forget to step into unique boutiques like Phoenix General or Made Art Boutique to discover one-of-a-kind pieces created by local artisans.
Pemberton PHX and The Churchill are not your average art spaces but still deserve attention. These innovative spaces house local vendors, artists, retailers, and creatives, providing a platform for alternative art forms and fostering a sense of community.
According to the Downtown Phoenix Report 2023, there is a 20% increase in outdoor events taking place, reflecting the growing trend of holding events in open-air spaces.
Phoenix's art sector has seen a surge with Artlink's First Fridays Art Walk event experiencing an increase in participation by approximately 30% from the previous year, as reported by the Phoenix Cultural Plan 2023.
The Arizona Science Center noted a significant boost in attendance during their special exhibitions. Specifically, for the 'Science of Guinness World Records' show held from August 4, 2023 to January 1, 2024, they experienced a whopping jump of nearly 40% in visitor numbers compared to non-special exhibition periods.
Museum Exhibitions and Tours
Phoenix is a city that prides itself on its vibrant arts and culture scene, with an abundance of museums offering a diverse range of exhibitions and tours for visitors to explore. One such museum definitely worth experiencing is the Phoenix Art Museum. With its impressive collection of over 20,000 objects spanning the globe, this institution is a treasure trove for art enthusiasts.
From haute couture fashion to contemporary Latin American art and art of the American West, the Phoenix Art Museum showcases a wide range of exhibitions that cater to various tastes and interests. For those fascinated by fashion, the exhibition "Haute Couture" highlights the exquisite craftsmanship behind iconic designer pieces. Step into a world where creativity meets elegance as you marvel at these beautiful creations.
If you're more drawn to landscapes and Southwest-inspired works, the "Muse of New Mexico" exhibition offers a captivating exploration of artworks inspired by the scenic beauty of New Mexico. Immerse yourself in paintings that depict sweeping desert vistas and rugged mountains that evoke a sense of awe and wonder.
No visit to the Phoenix Art Museum would be complete without mentioning two must-see installations. While Yayoi Kusama's famous Infinity Mirror Room, "You Who are Getting Obliterated in the Dancing Swarm of Fireflies," is currently closed for conservation work until Creative Saturday on September 9, 2023, there are other exciting attractions to behold. Wander through Monet's Giverny and experience his renowned water lilies series come to life before your eyes, or wander through the Thorne Rooms miniature replicas of historical interior spaces, creating an enchanting journey back in time.
Continuing our exploration of art exhibitions in Phoenix, another noteworthy exhibition is "Juan Francisco Elso: Por América." This special-engagement exhibition delves into the career of artist Juan Francisco Elso, who was born and raised in post-revolutionary Cuba. Discover the fascinating artistic journey of Elso and witness the captivating works that reflect his Cuban roots and global influences.
Beyond the Phoenix Art Museum, there are other museums in the city that are equally captivating. For instance, visit the Heard Museum to immerse yourself in Native American art and cultures or explore the Arizona Science Center to engage with interactive exhibits on science and technology. Phoenix truly is a haven for those seeking artistic and intellectual inspiration.
The Phoenix Art Museum is a must-visit museum in the city, with over 20,000 objects spanning various regions and art styles. From haute couture fashion to Southwestern landscapes, the exhibitions cater to different interests and tastes. Other exciting installations include Monet's Giverny and Thorne Rooms miniature replicas of historical interiors. Visitors should also explore other museums in the city such as the Heard Museum for Native American art and culture and the Arizona Science Center for interactive exhibits on science and technology. Phoenix offers a vibrant arts and culture scene with many opportunities for artistic and intellectual inspiration.
Phoenix's Musical Scene
In addition to its thriving art scene, Phoenix boasts a lively and vibrant music culture that attracts music aficionados from all over the world. Whether you're into rock, pop, country, or alternative music, there's something for everyone in this bustling city.
Throughout 2023, Phoenix is set to host a variety of exciting concerts featuring renowned artists across different genres. Fans of P!nk can look forward to her energetic performances that showcase her powerful vocals and captivating stage presence. Feel the energy as she belts out her chart-topping hits that have won over millions of hearts around the globe.
If you have a soft spot for classic rock, don't miss Billy Joel's upcoming concert in Phoenix. Witness a music legend bring his timeless hits to life as he takes you on a nostalgic journey through decades of beloved melodies. Sing along to iconic songs like "Piano Man" and "Uptown Girl," and create memories that will last a lifetime.
Now, some might argue that not all musical tastes align with mainstream artists. However, fear not! The diverse musical landscape of Phoenix also caters to those seeking unique and independent sounds. Take your musical exploration off the beaten path by attending local band gigs or checking out underground venues where up-and-coming artists showcase their talent. Who knows? You might discover your new favorite band before they hit it big!
Think of Phoenix's music scene as a buffet of melodies. You have the mainstream artists representing the popular hits, and you also have the hidden gems waiting to be discovered, much like trying a new dish that becomes your newfound favorite.
Phoenix isn't just about individual concerts; it's also home to captivating music festivals that bring together diverse musical acts on one stage. Explore events like the Phoenix Lights Festival or M3F Music Festival, which showcase an array of artists from different genres. Immerse yourself in the lively atmosphere, dance to infectious beats, and let the music take you on a journey of pure joy.
Upcoming Concerts and Festivals
Phoenix, known for its vibrant music scene, is gearing up for an array of exciting concerts and festivals in the upcoming months. Music enthusiasts can look forward to a diverse range of genres and experiences that cater to all tastes.
One of the highly anticipated events is the IYKYK Music Festival which will take place on September 9, 2023, in Avondale, AZ. This festival promises a lineup of both established and emerging artists from various genres, creating an electric atmosphere that is sure to captivate attendees.
For those who prefer a more eclectic mix of music, the Luna Del Lago Festival scheduled for November 3-5, 2023, in Peoria, AZ, offers a fantastic opportunity to discover new sounds. With multiple stages showcasing artists across different genres, attendees can immerse themselves in a musical journey like no other.
A unique experience awaits beer enthusiasts at the Copper State Beer Festival on January 13, 2024, in Mesa, AZ. This event brings together breweries from all over Arizona to showcase their finest craft beers. From IPAs to stouts and everything in between, attendees can indulge their palates while enjoying live music and a lively atmosphere.
Country music lovers will be thrilled to know that Country Thunder Arizona is set to return on April 11-14, 2024, in Florence, AZ. With top country artists taking the stage against the stunning backdrop of the desert landscape, this festival promises an unforgettable experience for fans of this popular genre.
Each concert and festival in Phoenix offers a unique opportunity to celebrate music and connect with fellow enthusiasts. Whether you're into rock, pop, EDM, country, or any other genre imaginable, there's something special waiting for you in the Valley of the Sun.
Now that we've explored the exciting music events coming to Phoenix, let's shift our focus to the abundant outdoor engagements that await those seeking adventure and exploration.
Outdoor Engagements
Phoenix and its surrounding areas are a haven for outdoor enthusiasts, offering an abundance of activities to immerse oneself in nature or explore thrilling landscapes. Whether you prefer leisurely strolls, adrenaline-pumping adventures, or serene retreats, there is something for everyone.
Nature lovers can embark on a journey through time at Goldfield Ghost Town, where they can experience the spirit of the Old West. Take a train ride, explore mine tours, witness ghost tours, or be entertained by gunfighter shows on weekends. This living ghost town provides a captivating glimpse into Arizona's rich history.
For a more relaxed outing, Tempe Beach Park is an idyllic location providing picturesque views of Tempe Town Lake. Rent paddleboats, try your hand at fishing, enjoy the splash pad, play volleyball on the sandy courts, or take a stroll or bike ride along the beautiful lakeside path. It's the perfect place to unwind and soak up Arizona's natural beauty.
Those seeking encounters with wildlife should not miss out on a visit to the Phoenix Zoo. As the largest privately owned zoo in the United States, it boasts an impressive collection of animals from around the world. Explore various themed trails that showcase different habitats and species while also providing playgrounds to keep children entertained.
Animal lovers can also head over to Carl's Damaged Pet Warehouse, where they can engage with friendly donkeys and goats. The best part? Feeding these adorable creatures comes free of charge!
If you're interested in wildlife conservation and education, pay a visit to Liberty Wildlife. This sanctuary is dedicated to rehabilitating injured animals and offers presentations every Wednesday, Saturday, and Sunday for visitors to learn about local wildlife conservation efforts.
Adrenaline junkies will find their fix at Golfland Sunsplash, a thrilling water park and entertainment center. Enjoy water slides, splash pools, mini-golf courses, arcade games, laser tag, go-karts, bumper boats, and much more. It's the ultimate destination for those seeking an action-packed day in the sun.
The outdoor engagements in Phoenix offer a wide range of experiences to satisfy every adventurer. However, there is still so much more to explore! Let's continue our journey by venturing into botanical and wildlife adventures that Phoenix has to offer.
Botanical and Wildlife Adventures
Phoenix offers a myriad of opportunities for nature enthusiasts to immerse themselves in botanical and wildlife adventures. One such destination is the Desert Botanical Garden, where visitors can explore the beauty of the desert landscape and its diverse plant life. The Garden hosts various events throughout the year, such as the popular Flashlight Nights experience. As the sun sets, participants can wander through illuminated trails, marvel at the stunning desert plants, and embrace the unique ambiance of the night.
If you're interested in venturing further into Arizona's natural wonders, consider visiting Papago Park. This urban park is home to the Phoenix Zoo, a beloved attraction that offers an up-close encounter with animals from around the world. From majestic lions and playful primates to exotic birds and fascinating reptiles, the Phoenix Zoo provides educational and entertaining experiences for visitors of all ages.
Alternatively, for those seeking a more hands-on approach, The OdySea Aquarium provides an immersive aquatic adventure. With over 30 exhibits showcasing marine life from all corners of the globe, visitors can witness captivating underwater ecosystems and learn about conservation efforts. Don't miss their interactive touch pools where you can get up close with friendly stingrays or appreciate the grace of sea turtles gliding through the water.
Whether you prefer exploring lush gardens, observing wildlife in their natural habitat, or diving into underwater worlds, Phoenix has something to offer every nature enthusiast.
Now that we've explored some of Phoenix's botanical and wildlife adventures, let's dive into ongoing activities in the city that provide continuous entertainment and opportunities for exploration.
Ongoing Activities in Phoenix
In addition to specific events and attractions, Phoenix is brimming with ongoing activities that residents and visitors can enjoy throughout the year.
For art enthusiasts, Artlink's First Fridays Art Walk is a must-attend event held on the first Friday of every month. Downtown Phoenix transforms into a vibrant hub of art and culture, with galleries, studios, and alternative spaces opening their doors to showcase local artists' work. This creative celebration provides an opportunity to immerse oneself in diverse art forms, interact with artists, and engage with the local community.
If you're interested in history and culture, the Musical Instrument Museum (MIM) is a fascinating place to spend an afternoon. Featuring over 7,000 musical instruments from around the world, MIM offers an immersive journey through different musical traditions. From legendary guitars to ancient drums, visitors can learn about the rich cultural heritage behind each instrument.
For a fun and educational experience, head over to the Arizona Science Center, where you can explore interactive exhibits and engage in hands-on experiments. Currently on display is "The Science of Guinness World Records," where visitors can uncover the scientific principles behind astonishing records achieved by individuals across the globe.
These ongoing activities are just a taste of what Phoenix has to offer. The city boasts a plethora of options that cater to various interests and preferences. From art walks and museums to science centers and historical landmarks, there's always something new and exciting happening in Phoenix.
Now that we've uncovered some of Phoenix's ongoing activities, let's move on to indoor activities and unique experiences that will spark your curiosity.
Indoor Activities and Unique Experiences
When it comes to exploring the vibrant city of Phoenix, there is no shortage of exciting indoor activities and unique experiences to indulge in. Whether you're looking for family-friendly attractions or something more unconventional, Phoenix has it all.
One must-visit location is the Odysea Aquarium, a premier indoor attraction that promises an underwater adventure like no other. With over 30,000 animals and 500 different species, this captivating aquarium offers the opportunity to witness marine life up close. From educational exhibits to interactive experiences like touch pools, spending 3-4 hours here guarantees an engaging and immersive journey into the wonders of the deep sea.
Another gem within the same complex as Odysea Aquarium is Butterfly Wonderland. Step into a world filled with colorful butterflies as you explore the conservatory filled with thousands of these enchanting creatures. Alongside this magical experience, Butterfly Wonderland also features exhibits showcasing animals that live among the butterflies, providing a unique perspective on their natural habitats.
If you're looking for a different kind of aquatic adventure, SEALIFE Aquarium at LEGOLAND Discovery Center Arizona is worth a visit. Immerse yourself in an underwater wonderland where you can witness fascinating sea creatures and explore exhibits like the shoaling ring and shipwreck. Consider getting a combination ticket that allows you to visit both SEALIFE Aquarium and LEGOLAND Discovery Center Arizona for a day filled with discovery and fun.
For those interested in history and natural sciences, the Arizona Museum of Natural History is a must-visit destination. This museum appeals to dinosaur enthusiasts and those curious about Arizona's rich natural history. With hands-on exhibits, including a flash flood exhibit and a gold panning area, there's plenty to engage visitors of all ages.
If music strikes a chord with you, make sure to add the Musical Instrument Museum (MIM) to your itinerary. As the largest art museum in the Southwest, MIM offers a unique and diverse collection of musical instruments and music from around the world. Explore different sections representing different parts of the globe and immerse yourself in the beauty of global musical traditions. Additionally, don't miss the chance to visit the hands-on music room where you can try your hand at playing various instruments.
With so many engaging indoor activities to choose from, now let's shift our focus to another essential aspect of any outing – food and drink options around event locations in Phoenix.
Food and Drink Around Event Locations
Exploring Phoenix's vibrant events scene often works up an appetite, but fear not, as the city boasts an array of dining options to satisfy every craving. No matter what part of town you find yourself in, there are plenty of culinary gems waiting to be discovered near popular event venues.
For those attending events in Downtown Phoenix, 18 new restaurants and bars have opened since November alone, adding an exciting twist to the already thriving foodie scene. From Mexican cuisine with a unique twist at Chilte to delectable Cuban-inspired tapas at Coabana, there is something for everyone's taste buds. Enjoy some Korean BBQ in a cup at Cupbop or savor African flavors at Latha, the only African restaurant in Downtown Phoenix sourcing ingredients from local farms owned by Black artisans.
If you find yourself near CityScape, indulge in craft cocktails and delicious bites at Coabana or explore Dialog, a coffee bar and market that also sells furniture and interior decor brands. For breathtaking views of Downtown Phoenix, head up to Eden Rooftop Bar and enjoy a refreshing beverage while taking in the cityscape from above.
Whether you're attending an event at one of Phoenix's world-class museums or shopping centers like Fashion Square, rest assured that there are various culinary delights to choose from nearby. Treat yourself to fine dining experiences or indulge in local favorites that celebrate the unique flavors of Arizona.
As we've explored the exciting indoor activities and culinary adventures available, it's clear that Phoenix has something to offer for everyone. The combination of engaging experiences and delicious dining options creates a perfect recipe for an unforgettable outing.
Nearby Dining Options Around Event Venues
One of the highlights of attending events in Phoenix is the wide array of dining options available near the event venues. Whether you're in the mood for a casual meal or looking to indulge in a fine dining experience, there are plenty of choices to satisfy every palate.
For those attending events at the downtown Convention Center, you'll find a plethora of dining options within walking distance. From trendy gastropubs serving elevated comfort food to upscale restaurants offering international cuisines, there's something for everyone. You can treat yourself to a juicy steak at Durant's, an iconic Phoenix steakhouse known for its classic ambiance, or enjoy a fresh seafood feast at Blue Hound Kitchen & Cocktails.
If you're catching a concert or game at Talking Stick Resort Arena, you'll find numerous nearby eateries to grab a bite before or after the event. Head over to Pomo Pizzeria Napoletana for their authentic Neapolitan-style pizzas made with imported ingredients from Italy. Alternatively, if you're craving Mexican cuisine, check out Barrio Café Gran Reserva, which offers innovative dishes bursting with traditional flavors.
The Musical Instrument Museum (MIM), located in north Phoenix, also boasts some excellent dining options nearby. Stop by The Vig for their delicious burgers and craft beer selection while enjoying their spacious outdoor patio. If you prefer something lighter, try Flower Child for their healthy and flavorful salads and bowls made with locally sourced ingredients.
For those attending events at the Phoenix Symphony Hall, you'll be delighted by the variety of dining experiences just steps away. Indulge in contemporary American cuisine at The Capital Grille or savor modern Italian fare at Marcellino Ristorante. Both establishments offer a sophisticated ambiance that perfectly complements a night out.
When it comes to exploring nearby dining options around event venues in Phoenix, it's always a good idea to make a reservation, especially if you're attending a popular event. Additionally, be sure to check the opening hours of the restaurants to ensure they align with your plans. Some venues may offer pre-theater menus or special event packages, so keep an eye out for those options as well.
Now that you have an appetite-inducing glimpse into the nearby dining options around event venues in Phoenix, let's move on to preparing for your visit to this vibrant city.
Preparing for Your Visit to Phoenix
If you're planning a trip to Phoenix, it's essential to prepare ahead of time to make the most of your visit. From transportation tips to finding suitable accommodation, here are some suggestions to ensure a smooth and enjoyable experience.
First and foremost, researching and arranging transportation is crucial. Phoenix has a well-connected public transportation system, including buses and light rail, which can be convenient for getting around the city. However, renting a car might provide more flexibility due to the sprawling nature of Phoenix and its surrounding areas. Consider factors such as distance between attractions and your preferred mode of transportation when planning.
When it comes to accommodation, Phoenix offers a wide range of options catering to different budgets and preferences. Whether you prefer luxury resorts, boutique hotels, or budget-friendly motels, there is something for everyone. If you are attending events downtown or near popular tourist areas, staying in centrally located hotels can provide easier access to both the venues and additional amenities.
It's always a good idea to check for any special deals or packages offered by hotels during your visit. Many accommodations in Phoenix include resort-like features such as pools and spas, which can add an extra level of relaxation to your stay. Don't forget to read reviews and consider factors like proximity to event venues or attractions when selecting your accommodation.
While packing for your trip, keep in mind that Phoenix experiences hot summers and mild winters. It's advisable to pack lightweight and breathable clothing, along with sunscreen, a hat, and sunglasses to protect yourself from the desert sun. Don't forget to bring comfortable walking shoes, as Phoenix offers numerous outdoor activities and scenic hikes.
Some travelers may wonder whether it's better to visit Phoenix during peak seasons or during quieter times. While the peak season (typically winter months) attracts more tourists due to its pleasant weather, visiting during shoulder seasons (spring or fall) may offer more affordable rates and fewer crowds. Ultimately, the best time to visit depends on your preferences, budget, and tolerance for high temperatures.
With these tips in mind, you should be well-prepared for your upcoming visit to Phoenix. Now it's time to explore this vibrant city and make the most of your experience!
Transport and Accommodation Tips
Planning your trip to Phoenix involves not only discovering exciting events and activities but also ensuring convenient transportation and comfortable accommodation. Here are some helpful tips to make your travel experience as smooth and enjoyable as possible.
Transportation: When it comes to getting around Phoenix, renting a car is often the most convenient option. The city's expansive layout and limited public transportation make having your own vehicle advantageous. Plus, you'll have the freedom to explore various attractions at your pace. Make sure to check for any special parking regulations or fees in the areas you plan to visit. Alternatively, rideshare services like Uber or Lyft can be a convenient and cost-effective option, especially if you don't plan on driving extensively during your stay.
Imagine arriving in Phoenix and checking into your hotel. Instead of concerning yourself with navigating unfamiliar public transportation routes or relying on infrequent buses, you step out of the airport terminal and into your pre-booked Uber. Within minutes, you're comfortably settled in the backseat, relaxing as your friendly driver takes care of the journey to your accommodation.
Accommodation: Phoenix offers a wide range of accommodation options catering to different budgets and preferences. Whether you prefer luxury hotels, budget-friendly motels, cozy bed and breakfasts, or even vacation rentals through platforms like Airbnb, you'll find something suitable for your needs. Consider proximity to the events you plan on attending when choosing your accommodation. Staying close to the city center or specific venues can save travel time and provide a more seamless experience.
Picture yourself waking up in a spacious hotel room overlooking the vibrant downtown area of Phoenix. You step out onto your private balcony, enjoy a cup of coffee while soaking in the morning sun, and contemplate the exciting events ahead for the day. With your accommodation conveniently situated within walking distance of several event venues, exploring the city becomes effortless and immersive.
Planning ahead: As Phoenix hosts a multitude of events throughout the year, it's advisable to plan your trip in advance and consider the dates and locations of the specific events you wish to attend. This way, you can align your accommodation, transportation, and itinerary accordingly. Utilize resources like the website of Visit Phoenix or local event calendars to stay updated on upcoming events and their corresponding details.
Imagine having your itinerary all set before even stepping foot in Phoenix. You've thoroughly researched the dates of the various events that pique your interest and planned your time accordingly. By being proactive, you effortlessly maximize your experience without any last-minute rushes or missed opportunities.
By considering these transport and accommodation tips, you'll ensure a well-rounded and hassle-free visit to Phoenix as you indulge in its vibrant event scene.