Get ready to plunge into a vibrant whirlwind of culture, music and celebration with our comprehensive guide to Barcelona's events. Unravel the Catalonian city that never sleeps, brimming with world-class festivals, unparalleled concerts, and myriad unique events. Experience Barcelona like never before – where every street corner hums with activity, every plaza pulses with life, and every moment is an invitation to revel in sheer joy. Dive-in as we unravel the dynamic character of this Mediterranean marvel. Let Barcelona bewitch you!
Barcelona is known for its vibrant cultural scene that includes music festivals, art exhibitions, theater productions, and more. Some of the upcoming events in Barcelona include L'Hora del Jazz Festival, Barcelona Beach Festival, Ironman Barcelona, Festes de la Merce, and Gaudi Exhibition at La Pedrera. It's important to check with event organizers for the most up-to-date information on dates and times as some events may be postponed or cancelled due to concerns surrounding COVID-19.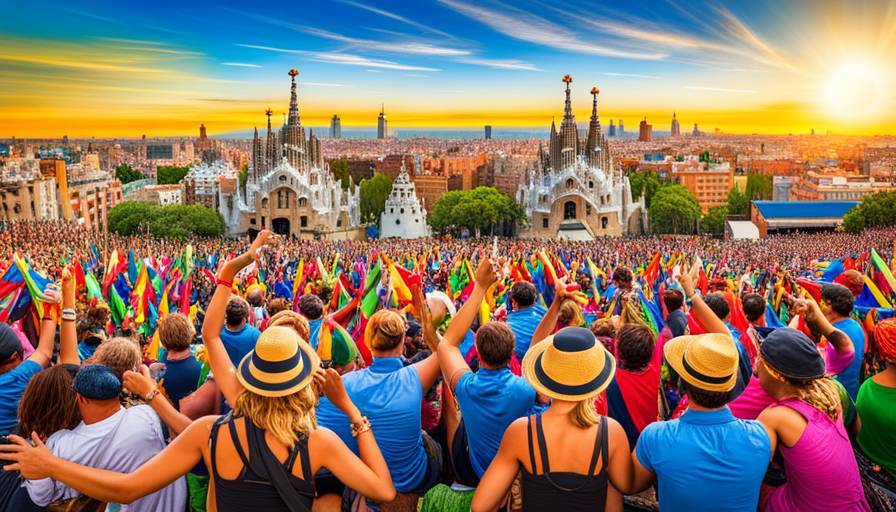 Highlights of Major Festivals
Barcelona, known for its vibrant culture and lively atmosphere, offers a multitude of events and festivals year-round that cater to various interests. These celebrations showcase the city's rich heritage, artistic talents, and diverse community. Let's explore some of the major festivals that are not to be missed on your visit to Barcelona.
One of the most anticipated events in Barcelona is the Three Kings Parade held in January. This colorful extravaganza marks the arrival of the Three Kings who sail into Barcelona's dock before embarking on an elaborate theatrical parade through the city's major streets. The procession is filled with music, dance performances, stunning floats, and festive costumes. It's a magnificent sight that captures the essence of Barcelona's cultural traditions.
Another highlight on Barcelona's festival calendar is the Carnival. Celebrated in February or March, just before Lent begins, this vibrant event brings together locals and tourists alike for days of revelry and indulgence. Streets come alive with joyous parades featuring imaginative costume-wearing participants dancing to infectious music. One of the carnival highlights is the satirical funeral procession and burial of a giant sardine, symbolizing the end of festivities.
In February, Barcelona hosts the Festival Llum BCN (Light Festival). This after-dark event transforms different areas of the city into illuminated wonderlands with mesmerizing light installations accompanied by music performances. The Poblenou/Glories neighborhood is particularly renowned for its captivating displays that breathe new life into urban spaces. This unique festival combines artistry and innovation to create a magical ambiance that dazzles visitors.
If you're interested in technology and innovation, you won't want to miss the Mobile World Congress held annually in Barcelona. As the largest exhibition for the mobile industry, this event attracts professionals from around the world who gather at Fira Gran Via and Fira Montjuic to showcase the latest advancements in mobile technology. It's an opportunity to witness cutting-edge gadgets, attend informative conferences, and network with industry leaders.
These are just a few examples of the incredible festivals Barcelona has to offer throughout the year. Each event adds its own special touch to the city's vibrant tapestry and provides a unique experience that will leave you with lasting memories.
Music Concerts: The Best Experiences
Barcelona is also a hub for music lovers, drawing renowned artists from various genres to perform in its lively venues. Whether you're into alternative rock, indie, pop, electronic music, or jazz, there's something for everyone. Here are some of the best experiences you can have at music concerts in Barcelona.
One noteworthy upcoming concert is King Gizzard and The Lizard Wizard on August 24th. Known for their energetic and eclectic performances, this Australian psychedelic rock band promises an unforgettable night filled with mind-bending sounds and captivating visuals. Their unique stage presence and ability to seamlessly blend different musical styles make them a must-see for fans of experimental rock.
If Latin music is more your style, Rauw Alejandro will be performing on September 1st. This Puerto Rican singer-songwriter has rapidly gained popularity with his catchy reggaeton and trap-infused tracks. Expect a high-energy show that will have you dancing to infectious beats and singing along to chart-topping hits.
For fans of hard rock and heavy metal, Helloween will be taking the stage on September 3rd. This legendary German power metal band is known for their exhilarating live performances filled with soaring vocals, thunderous guitar solos, and epic storytelling. Prepare for a night of headbanging and adrenaline-fueled excitement.
Other notable artists scheduled to perform in Barcelona include Juanes, Lewis Capaldi, Robert Plant, Feist, Blink-182, Madonna, Larkin Poe, Rodrigo y Gabriela, and Explosions In The Sky. With such a diverse lineup, there's something to cater to every musical taste.
Venues like Poble Espanyol, Palau Sant Jordi, Sant Jordi Club, Razzmatazz 2, Auditorio Forum CCIB, La Nau, and Sala Apolo provide the perfect settings for these concerts. Each venue offers a unique atmosphere that enhances the overall concert experience.
The Nightlife: Parties and Club Events
Barcelona's vibrant nightlife is renowned worldwide, drawing in locals and visitors alike with its pulsating energy and diverse range of parties and club events. Whether you're a fan of electronic music, hip-hop, or live performances, the city has something to offer for every taste. From intimate venues to massive clubs, the options are endless.
One of the most iconic spaces for nightlife enthusiasts is Pacha Barcelona, located in Port Olímpic. This legendary club has been setting dancefloors ablaze since 2002 with its extravagant parties and top-notch international DJs. Its extravagant decor and impressive sound system create an unforgettable experience for all who step through its doors.
If you're into more underground sounds, look no further than Razzmatazz. Boasting five rooms that cater to different musical genres, this venue offers an unparalleled experience for music lovers. From techno to indie rock, Razzmatazz always features an eclectic lineup that keeps the crowd moving throughout the night.
For those seeking a unique setting combined with pulsating beats, Opium Barcelona is the place to be. Situated right on the beachfront of Barceloneta, this sleek and chic club offers a luxurious atmosphere combined with stunning views of the Mediterranean Sea. Its versatile space plays host to internationally acclaimed DJs as well as live performances by renowned artists.
Imagine stepping into Opium Barcelona on a warm summer night, feeling the gentle sea breeze as you dance to the infectious rhythms of electronic music. The atmosphere is electric, with people from all walks of life joining together in a collective celebration of life and music.
Other notable venues worth exploring include Sala Apolo, known for its alternative music scene and themed parties, and City Hall, a historic building turned club that caters to lovers of electronic music.
Now that we've explored some of Barcelona's hottest party and club venues, it's time to discover the local hotspots that offer late-night activities for night owls.
Local Hotspots for Late-Night Activities
Barcelona is a city that never sleeps, and if you find yourself craving entertainment after the clubs close, there are plenty of options to keep the night alive. Whether you want to enjoy a midnight snack, catch a live performance, or simply stroll through beautifully lit streets, Barcelona has got you covered.
When it comes to late-night dining, head to Xurreria Trebol. This charming little churrería remains open until the wee hours of the morning, serving piping hot churros with rich chocolate sauce. It's the perfect spot to satisfy your sweet tooth and recharge before continuing your nocturnal adventure.
If you're in the mood for some live music, Harlem Jazz Club should be on your list. This intimate venue showcases local and international jazz talents, creating an intimate and soulful atmosphere that transports you back in time. Grab a drink, find a cozy corner, and let the smooth sounds captivate your senses.
For those who prefer exploring the city's enchanting streets at night, a visit to Passeig de Gràcia is a must. This iconic avenue comes alive when darkness falls, as its majestic buildings illuminate the surroundings with warm golden lights. Take a leisurely stroll and marvel at architectural gems such as Casa Batlló and Casa Milà while enjoying the serene ambiance of the city at night.
Some may argue that Barcelona's nightlife is solely centered around parties and clubs. However, by venturing beyond conventional boundaries, one can uncover hidden gems that contribute to a well-rounded late-night experience.
While this section has highlighted some popular options for late-night activities in Barcelona, it's important to remember that each individual's preferences may vary. Barcelona offers a plethora of options that cater to diverse tastes, ensuring that there's something for everyone seeking nocturnal adventures.
Cultural Celebrations and Exhibitions
Barcelona is a city that thrives on its rich cultural heritage, and you'll find a plethora of celebrations and exhibitions happening throughout the year. From traditional festivals to contemporary art displays, there's something for everyone to enjoy.
One of the highlights of Barcelona's cultural calendar is the Grec Festival. Held from June to August, this major event showcases a diverse range of performances, including theater, dance, music, and circus acts. The festival takes place in various venues across the city, offering locals and tourists alike the opportunity to immerse themselves in the vibrant arts scene.
Imagine strolling through the streets of Barcelona during the Grec Festival – the air alive with energy as the sounds of music fill your ears. You might stumble upon impromptu street performances or discover hidden artistic gems in unexpected corners of the city. This festival truly exemplifies the essence of Barcelona's cultural spirit.
In addition to festivals, Barcelona is also known for its outstanding exhibitions held throughout the year. Many museums and galleries in the city regularly host thought-provoking shows that encompass a wide range of artistic styles and themes.
For instance, be sure to visit Caixa Forum, which often features compelling exhibitions like The Human Image: Art, Identity, and Symbolism. This exhibition explores how artists throughout history have depicted human form and identity, offering visitors an introspective journey into our complex emotions and social constructs.
Beyond Caixa Forum, there are numerous other venues where you can immerse yourself in Barcelona's thriving art scene. Let's now explore another captivating aspect – museums open for event nights.
Museums Open for Event Nights
Picture this: It's a balmy summer evening in Barcelona, and you're strolling through the city's streets. As darkness falls, you notice that some museums are still open late into the night. These special event nights offer a unique and enchanting way to experience Barcelona's cultural treasures.
The Picasso Museum is one such institution that welcomes visitors for after-hours events. On select evenings, you can explore the museum's collection of Picasso's masterpieces in an atmosphere that exudes mystery and charm. The dimly lit galleries create an ambiance that enhances the appreciation of the artwork, allowing you to see Picasso's genius in a whole new light.
Imagine standing before Picasso's iconic painting "Guernica," the room bathed in soft lighting, as you contemplate the artist's powerful depiction of suffering and war. Surrounded by fellow art enthusiasts, you engage in conversations sparked by the profound emotions evoked by these timeless works.
Another museum that opens its doors for special evening events is the MACBA (Museum of Contemporary Art). This avant-garde institution hosts "Nit MACBA" or "MACBA Night" on designated nights. Visitors can explore the cutting-edge exhibitions at their own pace while enjoying live music performances and immersive art installations.
These museum event nights offer a captivating fusion of art, culture, and nightlife. They provide a unique opportunity not only to appreciate world-class art but also to connect with like-minded individuals who share a passion for creative expression.
Based on a survey conducted by Barcelona Turisme in 2022, about 85% of tourists cite local festivals and events as a key highlight of their trip to Barcelona.
In a global survey by Eventbrite in 2022, Barcelona ranks within the top ten cities worldwide for its number and quality of cultural, artistic, music, and culinary events.
According to Google Trends data from 2022, searches for "Barcelona events" spike up by nearly 60% during the summer season, which is known for iconic fests such as Festa Major de Gràcia and Sonar Music Festival.
Barcelona's museums offer special after-hours events that provide a unique and captivating way to experience the city's cultural treasures. The Picasso Museum and MACBA both offer evening events, where visitors can explore masterpieces in a mysterious and charming atmosphere, and enjoy live music performances and immersive art installations. These events create a fusion of art, culture, and nightlife, giving art enthusiasts the opportunity to appreciate world-class art while connecting with like-minded individuals who share a passion for creative expression.
Culinary Events and Food Festivals
Barcelona is a haven for food lovers, offering a myriad of culinary events and food festivals throughout the year. From small and intimate gatherings to grand-scale celebrations, there is something for everyone's taste buds. One such event that stands out is Tast a la Rambla – a three-day food festival that takes place in the heart of Barcelona. With its new location at Plaça de Catalunya, Tast a la Rambla has established itself as a must-visit destination for gastronomy enthusiasts.
Featuring 30 top restaurants and gastronomic bars, Tast a la Rambla offers a tantalizing selection of tapas and sweets from both creative world cuisines and traditional Catalan dishes. Picture yourself strolling down the bustling streets, enticed by the aroma of sizzling paellas, indulging in perfectly grilled seafood delicacies, and succumbing to the temptation of delectable pastries from renowned patisseries.
In addition to the extraordinary culinary delights, Tast a la Rambla also presents various other attractions. Explore Catalonia's rich wine heritage at the dedicated wine zone known as "Catalonia, where wine is culture," which showcases an impressive selection of local wines ready to be savored. Treat your taste buds to exceptional flavors at the Saborea Lanzarote gastronomic bar or participate in showcookings featuring specialties from Castilla-La Mancha, Murcia, Asturias, and of course, Catalonia.
The festival goes beyond just food tasting – it also offers live cooking demos by renowned chefs who share their expertise and passion with eager onlookers. Immerse yourself in these engaging sessions and gain valuable insights into culinary techniques and trends.
But what sets Tast a la Rambla apart is its commitment to inclusivity. The event features a blind tasting conducted by ONCE (Spanish Organization for the Blind), where individuals with visual impairments can explore an array of flavors through the power of smell and taste. It is a truly remarkable and inspiring experience that highlights the universal language of food.
To conveniently indulge in this gastronomic adventure, visitors can acquire a 'Tast a la Rambla' card at the ticket office. This prepaid card allows you to savor tapas and wines from different stalls without the need for cash. Any remaining funds on the card can be refunded upon leaving the festival – ensuring a seamless and hassle-free experience.
Whether you are a culinary enthusiast or just someone who appreciates good food, Tast a la Rambla promises to be an unforgettable experience that will leave you yearning for more. Make sure to mark your calendars and join Barcelona's vibrant culinary scene during this extraordinary event.
Now that we have explored the world of culinary events and food festivals in Barcelona, let's shift our focus to another exciting aspect of dining in this vibrant city – discovering unique local treasures when dining out.
Dining Out: Unique Local Discoveries
Barcelona is known for its vibrant culinary scene, offering a medley of flavors inspired by both traditional Catalan cuisine and innovative international influences. Beyond the renowned restaurants and popular establishments, there is a hidden gem waiting to be discovered around every corner. Dining out in Barcelona is not merely about satisfying your hunger; it's about embarking on a culinary journey filled with surprises and unique experiences.
One way to uncover these hidden treasures is by venturing off the beaten path and exploring lesser-known neighborhoods. The Gothic Quarter, El Raval, Gràcia, and Poble Sec are just a few areas that boast charming streets lined with quaint eateries frequented mostly by locals. Step into these unassuming establishments, and you might discover family-run restaurants that have been serving mouthwatering dishes using age-old recipes passed down through generations.
Imagine stumbling upon a tiny tapas bar tucked away in a narrow alley, where the chef creates culinary magic with fresh, locally sourced ingredients. As you savor each bite of the perfectly grilled octopus or delicate jamón ibérico, it becomes apparent that this simple, unpretentious spot holds the secret to authentic flavors and genuine hospitality.
Moreover, embracing the local culture and traditions is an excellent approach to uncovering unique dining experiences. Indulge in the ritual of vermut – a cherished Catalan tradition that involves sipping on vermouth accompanied by small bites like olives or anchovies before a meal. Explore bustling food markets such as Mercat de Sant Josep de la Boqueria or Mercat de Sant Antoni, where you can immerse yourself in a vibrant atmosphere filled with colorful stalls showcasing an assortment of fresh produce, spices, and local delicacies.
Some may argue that sticking to well-known restaurants is more convenient and reliable, ensuring quality meals without any surprises. While this may be true to some extent, it is also essential to take risks and step out of your comfort zone. By venturing into lesser-explored territories, you open yourself up to unexpected delights and unforgettable experiences. To truly connect with the essence of Barcelona's culinary scene, embrace the spirit of adventure and embrace the joy of discovering hidden gems.
So, the next time you find yourself in Barcelona, go beyond the famous tourist spots and dive into the city's food culture. Allow your taste buds to guide you as you wander through its streets, unearthing unique local discoveries that will leave a lasting impression on your palate and create cherished memories for years to come.
Adapting Events for Covid-19 Safety
In the wake of the global pandemic, it has become imperative to prioritize the health and safety of attendees at events in Barcelona. Consequently, event organizers have implemented various measures to adapt to the new normal and ensure Covid-19 safety. These initiatives aim to provide a safe environment without compromising on the experience and enjoyment of attendees.
One of the primary changes observed at events in Barcelona is a heightened emphasis on personal hygiene practices. Attendees are encouraged to maintain proper hand hygiene by frequently washing their hands or using hand sanitizers, which are now widely available throughout event venues. Additionally, increased cleaning and sanitization protocols have been implemented, ensuring that high-touch surfaces are regularly disinfected to minimize the risk of transmission.
Furthermore, ventilation and airflow systems have been improved to optimize indoor air quality and circulation. This helps reduce the concentration of potentially contaminated air, enhancing the overall safety of attendees. Event organizers are also expected to monitor and enforce maximum occupancy limits in indoor spaces, allowing for appropriate physical distancing between individuals.
Another vital aspect of adapting events for Covid-19 safety is implementing screening measures. While attendees are not currently required to wear masks or undergo testing for entry into events in Barcelona, organizers may opt for temperature screenings or health questionnaires as part of their safety protocols. These measures serve as an initial line of defense against potential infections and help identify individuals who may be carrying the virus.
It is worth noting that these adaptations can differ based on the size and nature of the event. Smaller gatherings might implement more stringent measures, such as mandatory mask wearing or rapid testing, while larger events with greater resources might focus on enhanced cleaning protocols and crowd management strategies.
To further ensure Covid-19 safety, event organizers may consider implementing crowd management techniques such as staggered entry times or designated seating areas that facilitate physical distancing. Additionally, contactless ticketing and cashless payment options are increasingly being adopted to minimize physical contact between attendees and event staff.
Let's summarize some of the key measures implemented to adapt events for Covid-19 safety:
Measures for Covid-19 Safety at Events in Barcelona
– Enhanced personal hygiene practices
– Increased cleaning and sanitization protocols
– Improved ventilation and airflow systems
– Screening measures such as temperature checks
– Crowd management techniques
– Contactless ticketing and cashless payment options
By implementing these measures, events in Barcelona strive to create a safe environment where attendees can feel confident about their well-being while enjoying the festivals, concerts, and other experiences they love.
With the focus on Covid-19 safety mentioned above, unfortunately, some changes and cancellations to events are still expected due to the ongoing pandemic. It is crucial for both organizers and attendees to stay informed about any modifications or updates related to scheduled events.
Changes and Cancellations Due to Pandemic
The unpredictable nature of the pandemic means that event schedules are subject to change abruptly. Organizers closely monitor public health guidelines, government regulations, and the evolving situation in order to make informed decisions. While it is undoubtedly disappointing when changes or cancellations occur, they are done with attendees' safety as the top priority.
Depending on the severity of Covid-19 outbreaks or government mandates, events may be postponed, rescheduled, or even canceled entirely. In such cases, organizers usually communicate directly with ticket holders through email or official event websites to provide information about refunds or alternative plans. It is important for attendees to regularly check their emails and visit official event channels for updates regarding potential changes or cancellations.
For instance, if a concert in Barcelona was originally scheduled for a certain date but has been rescheduled due to a new wave of infections, organizers may offer ticket holders the option to either attend the rescheduled event or request a refund. Flexibility and understanding are crucial during these times as both organizers and attendees navigate through the uncertainties brought about by the pandemic.
As event-goers, it can be disheartening when events are altered or canceled. However, it is essential that we prioritize the health and safety of ourselves and others. Remember, these measures are temporary, and we can look forward to a time when we can fully enjoy Barcelona's vibrant events without any restrictions.