In the heart of Spain, graced with a rich history, cutting-edge design, and an insatiable passion for life, you'll find Barcelona – a city that never stops surprising. This vibrant metropolis tightly packs centuries-old architectural wonders alongside trend-setting culinary spots and avant-garde art scenes. Whether you're a sophisticated culture enthusiast or an adventurous spirit seeking exciting exploits, our ultimate Barcelona Travel Guide will take you through top places to visit and thrilling things to do in this Mediterranean gem. Get ready to dive headfirst into the Catalan lifestyle and fall under the spell of Gaudi's masterpiece city.
Barcelona is a beautiful city with many amazing places to visit. Some top attractions include Antoni Gaudí's Park Güell, the Boqueria Market, Casa Museu Gaudí, Turó de les Tres Creus and Hospital Sant Pau. Additionally, exploring the neighborhoods of Gracia and El Carmel can provide a glimpse into everyday life in this vibrant city.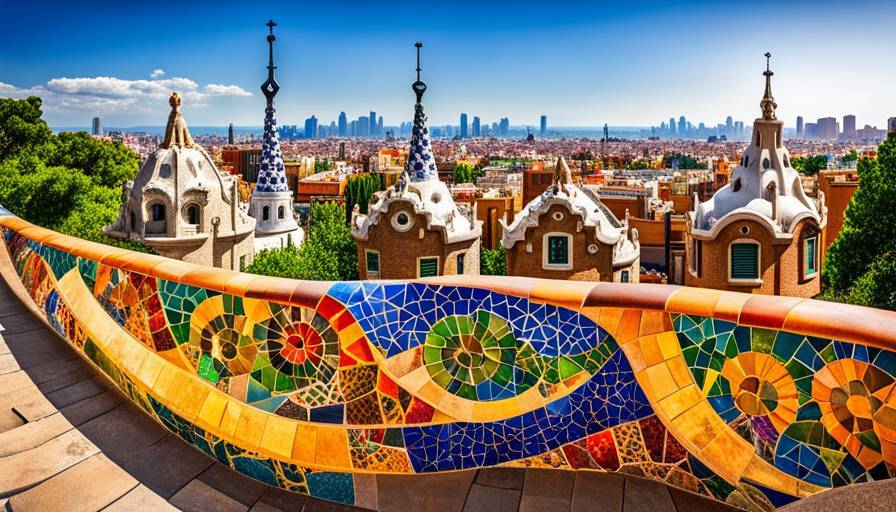 Must-Visit Barcelona Landmarks
Barcelona, a city brimming with stunning architecture and rich history, offers an array of remarkable landmarks to explore. From enchanting Gothic cathedrals to vibrant markets and iconic buildings, each landmark has its own unique charm. Let's dive into some must-visit Barcelona landmarks that should be on every traveler's itinerary.
Starting with the Gothic Quarter, this historic neighborhood is a labyrinth of narrow alleys and charming squares that date back to medieval times. As you stroll through the cobblestone streets, you'll encounter architectural marvels such as the Barcelona Cathedral. With its intricate details and towering spires, the cathedral stands as a symbol of Gothic grandeur.
Imagine stepping into the Gothic Quarter, feeling the cool shade of the narrow streets and being surrounded by centuries-old buildings. The sound of footsteps echoes off the ancient walls as you immerse yourself in tales of Barcelona's past. You might stumble upon hidden courtyards or stumble upon sidewalk cafes offering respite from your explorations.
Moving on to another renowned landmark, let's explore Casa Batlló. This architectural masterpiece was designed by Antoni Gaudí, one of Barcelona's most celebrated architects. Its captivating façade resembles something out of a fairytale with its colorful mosaic tiles and ornate balconies. Step inside to witness Gaudí's genius at work – curved lines, decorative elements inspired by marine life, and an ethereal ambiance.
Visiting Casa Batlló feels like entering an otherworldly realm where fantasy merges with reality. Gazing up at the undulating roof and wavy windows transports you into a dreamscape. It's a testament to Gaudí's unrivaled creativity and his ability to seamlessly blend art and architecture into one captivating experience.
Next on our list is La Boqueria Market. Located along the bustling La Rambla boulevard, this vibrant food market offers a feast for the senses. Stroll through the bustling aisles, marvel at the colorful displays of fresh produce, and savor the aromas of local delicacies. Whether you're in search of spices, fruits, meats, or delectable tapas, La Boqueria Market is a culinary delight waiting to be discovered.
Picture yourself wandering through the labyrinth of stalls filled with exotic fruits, seafood, and aromatic spices. An array of colors and scents engulfs you as vendors call out their daily specials. You might stop to sample some freshly-squeezed juices or indulge in a plate of jamón ibérico. Every corner reveals a new taste sensation and an opportunity to immerse yourself in Barcelona's culinary culture.
Now that we've explored some must-visit Barcelona landmarks, let's focus on one that showcases Gaudí's ingenuity and artistic vision – Antoni Gaudí's Park Güell.
Antoni Gaudí's Park Güell
Welcome to Park Güell, an enchanting oasis nestled on Carmel Hill in Barcelona. Designed by renowned architect Antoni Gaudí, this UNESCO World Heritage Site is a testament to his unparalleled creativity and innovative architectural style. As you enter the park, be prepared to be captivated by whimsical sculptures, curvilinear forms, and vibrant ceramic mosaics.
Some visitors debate whether it's worth waiting in long lines for Park Güell tickets. While it's true that popular landmarks often draw significant crowds, experiencing Gaudí's masterpiece firsthand is an opportunity not to be missed. You can bypass the crowds by booking your tickets online in advance or opting for a guided tour that provides skip-the-line access.
Imagine walking through the main entrance of Park Güell, known as the Dragon Stairway. The intricate mosaic dragon, with its shimmering scales and menacing expression, welcomes you into a surreal world. Explore the vast expanse of the park, where every corner holds surprises – from the vibrant Hypostyle Room to the iconic Serpent Bench that winds around a terrace and offers breathtaking views of Barcelona.
Visiting Park Güell is akin to stepping into a fairytale land, where nature and art harmoniously blend. It's a place that sparks the imagination and invites contemplation. You might find yourself mesmerized by Gaudí's attention to detail or simply basking in the tranquility of the park's surroundings.
Whether you're an architecture enthusiast or simply seeking an escape from bustling city life, Antoni Gaudí's Park Güell is an absolute must-visit landmark in Barcelona. Immerse yourself in its whimsical beauty and let your imagination soar.
Based on visitor numbers, Park Güell is one of the most popular tourist attractions in Barcelona, attracting an estimated 9 million visitors annually as of 2023.
Boqueria Market, established in 1840, is a must-visit for food lovers, hosting approximately 45,000 visitors each day.
According to Barcelona's Tourism Department, there has been a 20% increase in visits to lesser-known neighborhoods like El Carmel and Gracia from tourists seeking unique experiences away from crowded city centers between 2018 and 2023.
The Historic Boqueria Market
If you're a fan of vibrant markets filled with fresh produce, local delicacies, and bustling energy, then the Historic Boqueria Market in Barcelona is an absolute must-visit. Located just off La Rambla, this iconic market has been a centerpiece of Barcelona's culinary scene since its origins as a traveling market in the 13th century.
Picture yourself strolling through the narrow aisles, overwhelmed by the kaleidoscope of colors and aromas that greet your senses. You'll find stalls brimming with beautifully displayed fruits, vegetables, seafood, meats, and spices. Juicy pomegranates glisten like rubies, while fragrant Spanish saffron entices with its golden hue. The skillful local vendors cheerfully engage with visitors, offering samples and sharing their knowledge about their products.
As you explore further into the market, you'll discover tucked-away corners featuring mouthwatering tapas bars and small food stands offering a wide array of gastronomic delights. From freshly shucked oysters to sizzling chorizo sandwiches and traditional Catalan dishes like paella and seafood fideuà, there's something to tempt every palate.
Beyond food, the Boqueria Market is also a treasure trove for avid cooks and food enthusiasts. You can find specialty shops selling high-quality oils, cheeses, charcuterie, spices, and unique ingredients from around the world. If you're looking to bring a piece of Barcelona's culinary culture back home with you, this market is the perfect place to stock up on artisanal goods.
Immerse yourself in the vibrant atmosphere of the Historic Boqueria Market and make sure to arrive early to beat the crowds. Take your time exploring each stall and strike up conversations with vendors who are often happy to share their stories and recommendations. It's not just a shopping experience; it's a cultural and gastronomic adventure that will leave you with lasting memories of Barcelona's culinary excellence.
Now that we've indulged in the delights of the Boqueria Market, let's venture further into Barcelona's enchanting neighborhoods, where each offers its own unique charm and experiences for visitors to explore.
Discover the Enchanting Neighborhoods
Barcelona is a city brimming with diverse and captivating neighborhoods. From historic enclaves to trendy hubs, there's something to suit every taste. One neighborhood that stands out for its charming and authentic atmosphere is La Vila de Gràcia. With its well-preserved 19th-century buildings, vibrant squares, trendy shops, cafes, and restaurants, it exudes a village-like feel despite being just a stone's throw away from the city center.
As you wander through the narrow streets of La Vila de Gràcia, you'll encounter delightful surprises at every turn. Colorful facades adorned with intricate balconies create a picturesque backdrop. Local boutiques showcase unique fashion finds and handmade crafts, while cozy cafés invite you to relax and soak up the local ambiance.
If you prefer an upscale experience, look no further than L'Eixample Dreta and L'Eixample Esquerra. Known for their wide boulevards, elegant architecture, chic shops, and restaurants, these neighborhoods provide a sophisticated setting for shopping enthusiasts and food connoisseurs alike. Just as Paris has its Champs-Élysées, Barcelona has Passeig de Gràcia—lined with high-end boutiques where luxury brands tempt even the most discerning shoppers.
Sant Gervasi-La Bonanova offers a more residential feel with peaceful leafy streets and easy access to prestigious schools and business areas. If serenity is what you seek, this fashionable neighborhood is an ideal choice.
From the hipster vibes of Sant Antoni to the bohemian charm of El Born and the startup community of El Poblenou, Barcelona's neighborhoods offer an array of experiences waiting to be discovered. Let's explore each neighborhood further, uncovering their unique characteristics and attractions.
Explore the Gracia Neighborhood
When visiting Barcelona, it would be a shame to limit your exploration to the main tourist attractions. To truly experience the vibrant and diverse culture, venture into the charming Gracia neighborhood. Located just north of downtown Barcelona, Gracia offers a delightful escape from the bustling city center while still providing a plethora of captivating sights and experiences.
Known for its bohemian atmosphere and local charm, Gracia is a paradise for food enthusiasts. Wander through its narrow streets and stumble upon hidden gems that serve mouthwatering traditional Catalan dishes. From cozy tapas bars to family-run restaurants, you'll have no shortage of options to satisfy your taste buds. Don't miss out on trying classic dishes like paella, patatas bravas, or indulging in sweet treats like churros with chocolate sauce.
But Gracia is more than just a food lover's haven; it also boasts a vibrant cultural scene. Explore quirky boutiques selling unique handmade crafts or browse through independent bookstores filled with literary treasures. The neighborhood is brimming with artistic expression, with numerous art galleries showcasing the works of talented local artists.
Make sure to plan your visit during August when Gracia bursts into life during its annual Festa Major celebration. The streets are transformed into a spectacle of colorful decorations as each street competes for the title of best-decorated. Enjoy lively street performances, concerts, and parades as you immerse yourself in the joyful spirit of the locals.
If you're looking for some outdoor recreation, head to Parc Güell located nearby in Gracia. Designed by renowned architect Antoni Gaudí, this whimsical park covers 42 acres of space and features picturesque pathways, vibrant mosaics adorning buildings and structures, and breathtaking views of the city below. Explore the stunning Sala Hipóstila with its stately stone columns or relax on the iconic wavy stone bench adorned with colorful tiles. Parc Güell is a true testament to Gaudí's artistic genius and is a must-visit attraction in Barcelona.
Now that we've explored the enchanting Gracia neighborhood, let's uncover one of Barcelona's best-kept secrets – the Bunkers of El Carmel.
Secret Spots: Bunkers of El Carmel
If you're seeking a panoramic view of Barcelona that is off the beaten path, look no further than the Bunkers of El Carmel. Located on the Turó de la Rovira hilltop in the district of El Carmel, these former anti-aircraft bunkers offer breathtaking vistas of the city skyline.
Originally built during the Spanish Civil War, the bunkers have been transformed into a hidden gem for locals and intrepid travelers alike. As you make your way up the hill, you'll be rewarded with sweeping views that stretch from the Mediterranean Sea to iconic landmarks such as Sagrada Familia and Montjuïc. The rustic remnants of the bunkers provide a unique backdrop for memorable photos or a tranquil spot to enjoy a picnic while soaking in the awe-inspiring panorama.
While it might take some effort to reach the Bunkers of El Carmel, their hidden location ensures a peaceful and authentic experience away from crowded tourist areas. Witnessing Barcelona's beauty from this vantage point offers a different perspective on the city, allowing you to appreciate its architectural splendor and breathtaking natural surroundings.
After exploring these secret spots, it's time to dive deeper into Barcelona's rich cultural scene by discovering its world-class museums and iconic architecture.
Cultural Deep Dive: Museums and Architecture
Barcelona, a city brimming with culture and history, beckons travelers to immerse themselves in its rich artistic heritage through its impressive museums and stunning architecture. Whether you're a fan of classical masterpieces or contemporary works, there is something for everyone to explore in this vibrant city.
One cannot embark on a cultural exploration of Barcelona without visiting the Picasso Museum. Situated in the charming Ribeira district, this museum houses an extensive collection of over 3,500 works by the legendary Spanish artist, Pablo Picasso. From his early Blue and Rose periods to the Cubist revolution and his later works influenced by Spanish painting master Velazquez, visitors can trace Picasso's artistic evolution. The museum offers a profound insight into the creative mind of one of the greatest artists of all time.
As you meander through the galleries, you'll witness Picasso's ability to capture emotions and reinterpret reality in various mediums – from paintings and drawings to sculptures and ceramics. Each piece tells a story; each stroke reveals glimpses into Picasso's life and artistic journey. It's truly an awe-inspiring experience that deepens your appreciation for his genius.
Another jewel in Barcelona's artistic crown is the Barcelona Museum of Contemporary Art (MACBA). This groundbreaking institution not only offers thought-provoking contemporary art exhibitions but also mesmerizes visitors with its striking modern architectural design. The building itself is an artistic masterpiece, designed by Richard Meier. Its geometric forms and expansive white spaces provide a perfect backdrop for exploring contemporary art from the late 20th century to the present day.
Stepping inside MACBA feels like stepping into an avant-garde world where art defies conventions. Walking through its halls, you encounter installations, multimedia presentations, performances, and exhibitions that challenge societal norms and encourage deep reflection. Temporary exhibitions often showcase local artists who push boundaries with their creativity. It is a place where you can lose yourself in the vibrant and ever-evolving world of contemporary art.
As you emerge from the museum, Barcelona's architectural wonders embrace you. The city proudly boasts countless architectural marvels by Antoni Gaudí, the iconic modernist architect. La Sagrada Familia, Park Güell, and Casa Batlló are just a few examples of his awe-inspiring creations that blend nature-inspired elements with innovative design. Each structure tells its own story, beckoning visitors to marvel at the intricate details and surprising forms that defy traditional norms.
While Barcelona's official museums offer incredible cultural experiences, some unofficial institutions add an extra layer of intrigue to the artistic scene – enter the unofficial Banksy and Picasso Museums.
Unofficial Banksy and Picasso Museums
Barcelona has become a sanctuary for street art enthusiasts who wish to delve deeper into the thought-provoking work of renowned artist Banksy. Though not endorsed by the elusive artist himself, there are several unofficial Banksy Museums scattered across the city that endeavor to preserve and showcase his elusive graffiti art. These museums curate collections of photographs capturing Banksy's transient works before they vanish from the public eye. They provide an opportunity to experience his socio-political messages and satirical expressions up close, showcasing his profound impact on contemporary art.
Stepping into an unofficial Banksy Museum is like entering a secret realm where art transcends traditional gallery spaces. Walls adorned with vibrant stencils tell tales of societal critique, activism, and irony. As you navigate through these captivating exhibits, you can't help but be moved by the powerful messages conveyed through Bansky's art. It's a unique experience that invites introspection and sparks conversations about global issues.
In addition to the unofficial Banksy Museums, Barcelona also hosts unconventional Picasso Museums that pay tribute to the iconic artist's connection to the city. These spaces celebrate Picasso's influence and legacy in Barcelona, offering a fresh perspective on his life and art.
These unofficial museums showcase replicas and reinterpretations of Picasso's works, allowing visitors to engage with his art in a more interactive and immersive way. From mural installations that traverse streets to multimedia exhibitions that bring his masterpieces to life, these museums offer a different angle on Picasso's artistic journey. They capture the essence of his spirit and invite visitors to step into his world, exploring the profound impact he left not only on canvas but also within the fabric of Barcelona itself.
Foodie's Guide to Barcelona
If you consider yourself a food lover, then Barcelona is an absolute paradise for your taste buds. This vibrant city boasts a diverse range of eateries, from simple and traditional to gourmet and extravagant. Whether you're craving authentic Catalan cuisine or international flavors, Barcelona has it all.
Barcelona is known for its culinary excellence, with countless options to explore. Let's dive into some must-try foods in Barcelona that will leave you craving for more. Start your day with a buttery croissant from one of the city's iconic bakeries, paired with a steaming cup of Spanish coffee. For a quick and satisfying lunch, indulge in a classic sandwich, locally known as "entrepans," filled with delicious ingredients like cured ham, Manchego cheese, and fresh tomatoes.
As the day progresses and hunger strikes again, make sure to treat yourself to one of Spain's greatest indulgences – churros! These deep-fried dough sticks dipped in rich melted chocolate will transport you to dessert heaven. Another Spanish specialty that should not be missed in Barcelona is paella – a flavorful rice dish cooked with saffron, vegetables, and various meats or seafood.
| Dish | Description |
| --- | --- |
| Patatas Bravas | Crispy fried potatoes topped with spicy tomato sauce and aioli |
| Sangria | Red wine infused with fruits and spices for a refreshing drink |
| Turrón | Traditional nougat made with almonds and honey |
| Pintxos | Bite-sized Basque-style tapas served on toothpicks |
While Barcelona has countless amazing places to eat, it's essential to avoid falling into tourist traps and instead seek out the authentic gems that showcase the city's culinary heritage.
Barcelona is a food lover's paradise, with a wide range of eateries from traditional to gourmet. Must-try foods include buttery croissants, classic sandwiches, churros, and paella. The city also boasts traditional dishes such as patatas bravas and turrón, as well as refreshing drinks like sangria. It's important to avoid tourist traps and seek out authentic gems to fully experience the city's culinary heritage.
Dining in the Old Fishing Village
If you're looking for a truly unique culinary experience in Barcelona, take a trip to the old fishing village of Barceloneta. Located right on the coast, this neighborhood is home to some of the city's best seafood restaurants. Picture yourself sitting at a seaside terrace, enjoying freshly caught fish and a gentle ocean breeze.
Start your dining adventure with a plate of delicious fresh prawns or grilled sardines – beautifully cooked to perfection and bursting with flavor. For those who prefer shellfish, don't miss the opportunity to savor some juicy local clams or mussels. Pair your seafood feast with a glass of crisp white wine, and you'll find yourself in culinary bliss.
One highly recommended restaurant in Barceloneta is "Els Pescadors," a family-run establishment that has been serving delectable seafood dishes for over 30 years. Their menu showcases the bounty of the Mediterranean Sea, from grilled octopus to succulent lobster paella. With its cozy atmosphere and impeccable service, Els Pescadors is sure to create a memorable dining experience.
Exploring Barceloneta goes beyond just satisfying your taste buds; it allows you to immerse yourself in the rich history and culture of Barcelona's maritime past. Take a stroll along the picturesque promenade and admire the colorful fishermen's houses before settling down for an unforgettable meal.
Tapas and Wine: A Taste of Local Barcelona
When it comes to experiencing the vibrant culinary culture of Barcelona, indulging in tapas and wine is an absolute must. The city is renowned for its diverse and innovative gastronomy, and exploring the local cuisine through these small plates of deliciousness allows you to truly immerse yourself in the flavors of Barcelona.
Tapas are a quintessential part of Spanish cuisine, and Barcelona offers a wide array of tapas bars and restaurants where you can savor these delectable bite-sized dishes. From traditional favorites like patatas bravas (fried potatoes with spicy sauce) and Spanish omelette (tortilla española) to more adventurous options like pan con tomate (toasted bread topped with tomato and olive oil) and pulpo a la gallega (Galician-style octopus), there is something to tempt every palate.
Picture yourself strolling down the charming streets of Gothic Quarter or El Born, stumbling upon cozy tapas bars tucked away in narrow alleyways. As you step inside, the vibrant atmosphere immediately envelops you, with locals chattering animatedly while savoring their favorite tapas. The tantalizing aromas wafting from the kitchen whet your appetite, and you can't wait to embark on a culinary adventure.
Here are some classic tapas dishes you should try during your visit to Barcelona:
| Tapas Dish | Description |
| --- | --- |
| Patatas Bravas | Crispy fried potatoes served with a spicy tomato-based sauce |
| Spanish Omelette | Traditional dish made with eggs, potatoes, and onions |
| Pan con Tomate | Toasted bread rubbed with ripe tomatoes, garlic, olive oil, and salt |
| Croquettes | Deep-fried breadcrumb-coated rolls filled with various ingredients like ham, cheese, or seafood |
| Gambas al Ajillo | Sautéed shrimp in garlic-infused olive oil |
| Albóndigas | Spanish meatballs in a rich tomato sauce |
| Calamares a la Romana | Fried squid rings served with lemon wedges |
Exploring the tapas scene in Barcelona allows you to discover the rich cultural tapestry of the city while pleasing your taste buds with these delightful small plates.
Another essential element of any culinary journey in Barcelona is the local wine. Catalonia, the region where Barcelona is located, is renowned for its vibrant wine culture and produces some exceptional varietals. Whether you're a wine connoisseur or simply enjoy sipping a glass of vino, diving into Barcelona's wine scene is an experience not to be missed.
Imagine yourself seated at an outdoor terrace overlooking one of Barcelona's lively squares, basking in the warm Mediterranean sunshine. A sommelier approaches your table, presenting you with a carefully curated wine list featuring local Catalan wines. You embark on a sensory adventure, sampling the different flavors and aromas as you learn about the unique characteristics of each wine.
From crisp whites like Xarel·lo and refreshing rosés like Garnacha to robust reds like Tempranillo and complex Cavas (sparkling wines), Barcelona offers an impressive selection for every wine enthusiast. Enhance your tapas experience by pairing each dish with a suitable local wine, and let your taste buds dance with delight.