As the sun dips below the Seine, Paris transforms into a vivid playground where culture, music, and celebration converge. Imagine witnessing jaw-dropping fireworks at Versailles, swaying to a symphony at The Palais Garnier, or immersing yourself in world-class cinema under the twinkling sky. In this comprehensive guide, we will journey through such enchantment as we unpack Paris' calendar of events – a breathtaking blend of music festivals, exclusive concerts, film screenings, art exhibitions, and more. Get ready to discover why the City of Lights is truly an unbeatable global capital of art, entertainment and creative euphoria.
Paris is known for its wide range of cultural events and festivals year-round. Some notable events include Paris Fashion Week, Maison & Objet (decoration and design fair), Retromobile (vintage car show), Salon Agriculture (agricultural show), Paris Marathon, Art Paris – Art Fair, French Open Tennis Championship, Jazz Festival à Saint-Germain-des-Prés, Nuit des Musées (free museum entrance at night), Fête de la Musique (free music concerts in the streets), Paris Plages (temporary beach along the Seine river), Bastille Day celebrations (military parade and fireworks on July 14th,) Festival Paris l'Été (arts and performances throughout the city), Rock en Seine music festival, among others. Be sure to check online resources or consult local guides for details on dates and locations.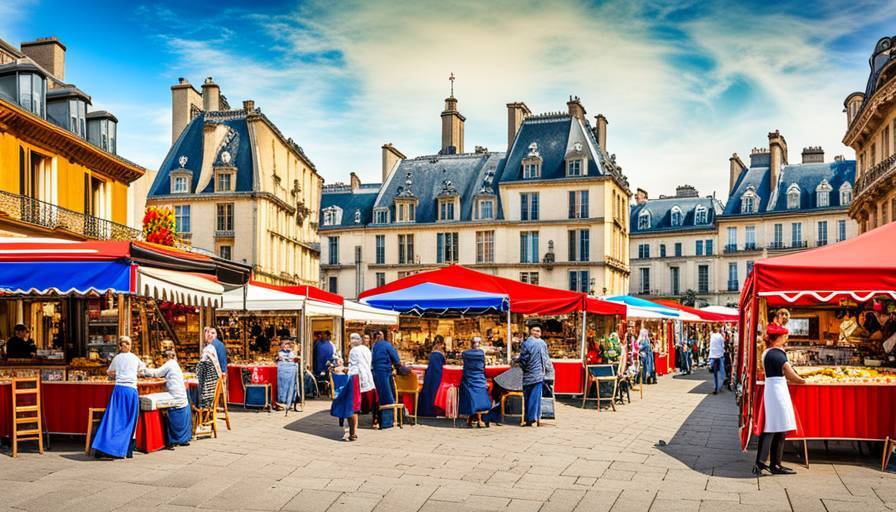 Highlighting Paris's Premier Festivals
Paris, known as the "City of Light," is renowned for its vibrant and eclectic festival scene. Throughout the year, the city comes alive with an array of premier festivals that cater to various interests and passions. Let's explore some of the highlights:
One of the must-see events in Paris is the French Open Tennis Championship at Roland-Garros, held annually in May and June. Tennis enthusiasts flock to witness the world's top players battling it out on the iconic clay courts. The atmosphere is electric, with passionate crowds cheering for their favorite players.
For music lovers, the Jazz Festival À Saint-Germain-des-Prés is a delightful feast for the senses. Held in May, this festival brings together world-class jazz musicians who perform in intimate venues, creating an unforgettable experience. The soulful melodies and lively rhythms will transport you into the heart of jazz culture.
If you're fascinated by art and design, then Art Paris is a festival you won't want to miss. This annual art fair takes place in April and showcases contemporary art from around the world. From paintings and sculptures to photography and installations, Art Paris offers a diverse range of artistic expressions that will captivate any art enthusiast.
The Taste of Paris food event in May has become a culinary sensation in the city. Renowned chefs gather to showcase their skills through cooking demonstrations, workshops, and tastings. Indulge in delectable dishes created by Michelin-starred chefs while discovering new flavors and trends in Parisian cuisine.
Whether you're a sports enthusiast, music lover, or art enthusiast, Paris has a festival that caters to your interests. These premier events not only provide entertainment but also offer opportunities to connect with like-minded individuals from around the world. Immerse yourself in the rich cultural tapestry of Paris by attending these festivals and create unforgettable memories.
Now that we've explored the vibrant festival scene in Paris, let's delve into another exciting aspect of the city: major fairs that span from fashion to art.
From Fashion to Art: Experiencing Paris's Major Fairs
Paris is a city where creativity thrives, and this is evident in its major fairs that celebrate various artistic disciplines. From fashion to design to literature, these fairs offer a unique opportunity to immerse oneself in the creative pulse of the city.
The Maison & Objet decoration and design fair, held in January, is a paradise for design enthusiasts. Showcasing the latest trends in interior design and home decor, this fair brings together renowned designers and industry professionals. Explore innovative designs, discover new brands, and gather inspiration for your own living spaces.
If you're passionate about literature and books, then the Paris Book Fair in April is an event you should mark on your calendar. With a focus on French and international literature, this fair attracts book lovers, authors, and publishers from all corners of the globe. Engage in author talks, participate in book signings, and browse through countless literary gems.
For those with a keen interest in fashion, Fashion Week is an absolute must-attend event. Held twice a year in February/March and September/October, these weeks are dedicated to showcasing the latest collections from renowned fashion designers. Witness glamorous runway shows, spot celebrities sitting front row, and get a glimpse of upcoming fashion trends.
The diversity of major fairs in Paris allows visitors to explore different realms of creativity while being part of an international community of like-minded individuals. These fairs provide a platform for interaction between industry professionals and enthusiasts alike.
Now that we've dived into the world of major fairs in Paris, it's time to shift our focus to the concert scene in the city – another dimension of its vibrant cultural tapestry.
Unravelling the Concert Scene in Paris
Paris, renowned for its rich cultural heritage and vibrant arts scene, boasts a concert scene that is truly unparalleled. From classical and opera to rock, jazz, pop, and electronic dance music, the city offers a diverse range of musical experiences that cater to all tastes and preferences. Whether you're a fan of intimate jazz clubs or extravagant symphony orchestras, Paris has it all.
Concerts in Paris take place in various venues that add to the allure and ambiance of the performances. Cathedrals such as Notre-Dame and Sainte-Chapelle create a majestic setting for classical music lovers, while concert arenas like Bercy Arena and La Defense Arena accommodate large-scale productions by international artists. Jazz enthusiasts can indulge in the intimate atmosphere of famous clubs like Duc des Lombards or New Morning, where legendary musicians have graced the stage.
During the warmer months, many concerts take place in parks and outdoor stages across the city. The lush green surroundings of Parc de la Villette or Champs de Mars provide an idyllic backdrop for open-air performances during festivals like Fnac Live or Rock en Seine. Meanwhile, music halls and cabarets like Olympia Music Hall and Moulin Rouge offer an immersive experience where world-class performers captivate audiences with their talent and showmanship.
One highlight of the concert scene in Paris is the array of special events that draw large audiences throughout the year. Christmas concerts featuring choral music and traditional carols enchant both locals and tourists alike. New Year's Eve concerts create an electrifying atmosphere as people bid farewell to the old year with memorable musical performances.
Now that we've uncovered the vibrant concert scene in Paris, let's dive deeper into some noteworthy Parisian concerts you wouldn't want to miss.
According to Statista, tourism in Paris generates about €21 billion per year, with a significant proportion attributed to the numerous events the city hosts annually.
As per a survey conducted by Office du Tourisme et des Congrès de Paris, out of all international tourists visiting Paris, 23% reported attending a cultural or sporting event during their stay.
Paris Fashion Week alone draws approximately 150,000 visitors each season, significantly boosting the local economy by an estimated €400 million annually.
Paris has a diverse and vibrant concert scene catering to all music tastes and preferences, with various venues ranging from magnificent cathedrals to intimate jazz clubs and outdoor stages. Special events like Christmas and New Year's Eve concerts, as well as festivals drawing large audiences, add to the allure of the city's concert scene. Music halls and cabarets also offer an immersive experience by hosting world-class performers. Paris is truly a city that music enthusiasts would not want to miss out on!
A Guide to Noteworthy Parisian Concerts
In August 2023, classical music enthusiasts can look forward to various concerts happening at iconic venues such as Eglise Saint-Julien-le-Pauvre, Saint Ephrem Church, and Saint Germain des Pres Church. These awe-inspiring settings provide the perfect backdrop for enchanting performances by talented musicians.
Picture yourself sitting in the pews of a centuries-old church while listening to Bach or Mozart ring through the air, the acoustics creating an immersive experience that transcends time.
As September rolls in, the Palais Garnier (Paris Opera House) and Opera Bastille take center stage with their captivating productions. La Sainte-Chapelle provides an ethereal setting for classical concerts, while Philharmonie de Paris in Parc de la Villette showcases a lineup of world-class artists.
Rock enthusiasts will rejoice as September also brings the Rock en Seine festival to Domaine National de Saint-Cloud. This three-day festival features renowned bands and up-and-coming artists from around the world, promising an unforgettable experience for music lovers of all ages.
In October, there's no shortage of musical delights to be found in Paris. The Bataclan concert hall hosts a range of genres, from rock to alternative music, while L'Olympia welcomes both French and international artists across different genres. The AccorHotels Arena, known for its impressive capacity, serves as a venue for large-scale concerts by popular acts.
From classical masterpieces in historic churches to pulsating rock concerts in electric arenas, Paris offers an unparalleled array of concerts throughout the year. So whether you're a resident or a visitor to the city of lights, immerse yourself in its vibrant music scene and let the melodies transport you to new heights.
Commemorations and Celebrations: A Look at Paris's Special Events
Paris, the city of love and lights, is not only known for its grandeur and architectural marvels but also for its rich tapestry of celebrations and events that take place throughout the year. From historical commemorations to vibrant cultural festivals, Paris offers a diverse range of special events that capture the essence of this captivating city.
Commemorations in Paris hold deep historical significance, allowing visitors to pay tribute to important moments in French history. New Year's Eve marks a joyous occasion with dazzling fireworks illuminating the sky above iconic landmarks like the Eiffel Tower, while Mardi Gras enthralls locals and tourists alike with colorful parades and spirited festivities. The city also embraces international celebrations such as Chinese New Year, where traditional dragon dances and cultural performances create a lively atmosphere.
Imagine standing by the banks of River Seine on Bastille Day, feeling a surge of pride as the streets come alive with military parades, fireworks, and concerts. The spirit of unity fills the air as France commemorates its National Day in grand style.
But it's not only national events that Paris commemorates; it also celebrates cultural traditions from around the world. Fête de la Musique is an annual music extravaganza where streets and squares transform into stages for amateur and professional musicians to showcase their talents. Fête du Cinéma celebrates the art of cinema with discounted movie tickets for enthusiasts to indulge in a cinematic journey through various genres.
As we explore the countless opportunities for embracing local traditions and immersing in annual Parisian celebrations, be prepared to embark on an enchanting journey through this vibrant city.
Embracing Local Traditions and Annual Parisian Celebrations
Parisians take great pride in their local traditions, which are beautifully showcased through a plethora of annual celebrations. Experience the magic of Paris by joining in these festivities and experiencing the sense of community and joy that permeates through these events.
One such event is Semaine du Goût (Week of Taste), a celebration of gastronomy where food takes center stage. From mouthwatering tastings to culinary workshops, this event allows locals and visitors alike to discover the rich flavors of French cuisine and appreciate the artistry behind each dish.
Night of Stars is another cherished event, where streets come alive with sparkling lights, transforming the city into a celestial wonderland. As you stroll along the illuminated boulevards, take in the captivating street performances, music, and art installations that make this night truly magical.
Paris also embraces its cultural diversity through celebrations such as International Women's Day, honoring women's achievements and advocating for gender equality. This day sees various events taking place across the city, including exhibitions, conferences, and performances that highlight the contributions of women in different fields.
Now that we've glimpsed into some of Paris's local traditions and annual celebrations, let's continue our journey through the cultural calendar to uncover more fascinating events that await us in the City of Lights.
Endless Entertainment: Paris's Cultural Calendar Unveiled
Paris, known as the City of Light, is not only famous for its iconic landmarks and rich history but also for its vibrant cultural scene. Throughout the year, Paris hosts a wide range of annual events, activities, and celebrations that cater to various interests and passions. Whether you're a music lover, art enthusiast, or foodie, you'll find something to captivate your senses in this bustling metropolis.
In January, Paris kicks off the year with the New Year's Day celebration and the start of the January sales, enticing locals and visitors alike with discounted prices in shops across the city. Additionally, Maison & Objet takes center stage, featuring an exquisite display of decoration, design, furniture, accessories, textiles, fragrances, and tableware.
As we move into February, Paris comes alive with fashion flair during Paris Fashion Week. Top designers showcase their latest collections on glamorous runways while models strut their stuff. Theater lovers can also indulge in acclaimed plays and performances from celebrated international artists.
But the excitement doesn't end there. March brings a plethora of events to delight every taste.
Dating back to 1968, the Six Nations Rugby tournament takes place from February through March at Stade de France. Sports enthusiasts gather to cheer on their favorite teams in this thrilling competition. If sports aren't your cup of tea, fear not! The Cinema du Reel Film Festival showcases thought-provoking French and international documentary and experimental films. It provides a unique platform to immerse oneself in captivating stories told through the lens of talented filmmakers.
In addition to sports and film festivals, the Salon du Tourisme offers an opportunity for travel enthusiasts to discover the latest trends in the travel trade. Travel professionals come together to share insights on exciting destinations worldwide and help plan dream vacations.
Just like the changing seasons, Paris's cultural calendar transitions seamlessly into April, offering a blend of artistic and lively events that cater to diverse interests.
Unmissable Performances and Events Across Paris
As spring blossoms in Paris, the city comes alive with a myriad of unmissable performances and events that enchant both locals and visitors alike. April welcomes various cultural delights, including Art Paris – Art Fair, where art enthusiasts can explore contemporary artworks from around the world. The fair showcases a wide range of mediums, from painting and sculpture to photography and video art.
While April Fool's Day (Poisson d'Avril) sparks playful pranks across the city, another remarkable event takes place to test human endurance – the annual Paris Marathon. Runners from all walks of life gather to challenge themselves on the scenic streets of Paris, cheered on by the supportive crowd lining their path.
May brings forth an array of festivities, starting with Labor Day celebrations on May 1st. On this day, locals join in demonstrations and parades advocating for workers' rights. Another highlight is the French Open Tennis Championship held at Roland-Garros. Tennis fanatics from around the globe flock to witness thrilling matches played by renowned athletes on clay courts.
Music lovers also have much to look forward to in Paris throughout the year.
In June, during Fête de la Musique, free music concerts resonate throughout the streets of Paris. One can wander from one neighborhood to another, reveling in different genres performed by talented musicians. Parc Floral hosts the Paris Jazz Festival, drawing jazz enthusiasts who savor soulful melodies beneath a canopy of trees.
Furthermore, June offers an opportunity to immerse oneself in history and culture through events such as the International Dollhouse Show and the LGBT Pride Parade (Marche des Fiertés de Paris). These festivities celebrate diversity and provide spaces for self-expression and acceptance.
Exploring Paris's Unique Summer and Winter Activities
Paris, the City of Light, is a vibrant destination that captivates visitors with its charm and elegance throughout the year. Whether you visit during the sunny days of summer or the chilly winters adorned with festive lights, Paris offers a plethora of unique activities to indulge in and create lasting memories.
When summer arrives, Parisians and tourists alike flock to the city's outdoor spaces to enjoy the warm weather and lively atmosphere. One popular activity is picnicking along the banks of the Seine River, where you can relax on a blanket, savor delicious wine and cheese, and watch boats pass by. The Jardin du Luxembourg and Parc des Buttes-Chaumont are also fantastic locations to soak up the sun while leisurely strolling through beautifully landscaped gardens.
Another summertime favorite is enjoying open-air cinemas. From June to August, various parks transform into outdoor movie theaters where you can watch classic French films and international favorites under the starry night sky. Imagine sitting on a picnic blanket with friends or loved ones, immersed in cinematic magic, surrounded by laughter and shared moments.
As winter approaches, Paris transforms into a picturesque wonderland with dazzling lights adorning streets and squares across the city. One must-visit location is the Champs-Elysées, where an enchanting Christmas market sets up shop, offering exquisite artisanal crafts, delicious treats like mulled wine and roasted chestnuts, and a joyful festive ambiance. The sparkling lights twinkle above as you stroll along this iconic avenue, experiencing the holiday spirit at its finest.
For those seeking more immersive winter experiences, lace up your ice skates at one of Paris's temporary ice rinks scattered throughout the city during December and January. Glide gracefully on ice while enjoying stunning views of historic landmarks such as the Eiffel Tower or Hotel de Ville – it's a truly magical way to embrace the winter season.
Paris's unique summer and winter activities provide a delightful experience for every visitor, allowing you to immerse yourself in the city's rich cultural offerings while creating cherished memories. But it doesn't stop there. Paris comes alive year-round with seasonal events that add an extra touch of excitement to your visit.
Seasonal Events That Bring the City to Life
Paris is renowned for its vibrant cultural scene, and throughout the year, the city hosts an array of events that celebrate art, music, sports, and more. These seasonal events offer a fantastic opportunity to embrace the spirit of Paris and engage with its diverse and dynamic community.
In January, Paris kicks off the year with a flurry of festivities. The month begins with New Year's Day celebrations, where locals and tourists gather along the Champs-Elysées to witness a spectacular light show against the backdrop of the Arc de Triomphe. Additionally, January marks the start of the highly anticipated January sales, when shoppers can find great discounts on fashion, electronics, and more.
In February, love is in the air as Valentine's Day approaches. Paris offers various romantic activities during this time, such as a special Valentine's Day run through picturesque neighborhoods or visiting Retromobile, a vintage car show that showcases beautifully restored automobiles from different eras.
March brings excitement on both athletic and cultural fronts. Sports enthusiasts can witness thrilling rugby matches as part of the Six Nations Tournament, including a match between France and Italy at the iconic Stade de France. For those interested in arts and film, March is also host to events like Cinema du Reel Film Festival, which showcases thought-provoking documentary films from around the world.
Just like a beautifully woven tapestry showcasing different colors and textures coming together harmoniously, Paris's seasonal events contribute to making this city an exciting destination for visitors from all walks of life.