Unraveling the quintessential Parisian charm of cobblestone streets, quaint bistros, and romantic sunsets will be a high-definition experience in 2023 as the city blends tradition with modern advancements. While you might still savor the timeless allure of iconic landmarks such as the Eiffel Tower and Louvre Museum, there are refreshingly new facets to explore too! Buckle up for an alluring journey as we guide you through a spectacular blend of old-world romance and cutting-edge innovation in our expansive list of "Things to Do in Paris in 2023: A Complete Travel Guide and Itinerary." Your monogrammed tote bag filled with macarons is waiting – let's indulge in the City of Love like never before.
There are plenty of exciting activities and attractions to explore in Paris in 2023. Some top choices include visiting the iconic Louvre Museum, enjoying a Michelin-starred meal at Septime, exploring the converted train station turned shopping hub Ground Control, and experiencing digital artwork projections at Atelier des Lumières. Also be sure to check out the reopening of Villa Savoye, a Le Corbusier masterpiece temporarily closed but slated to open again soon.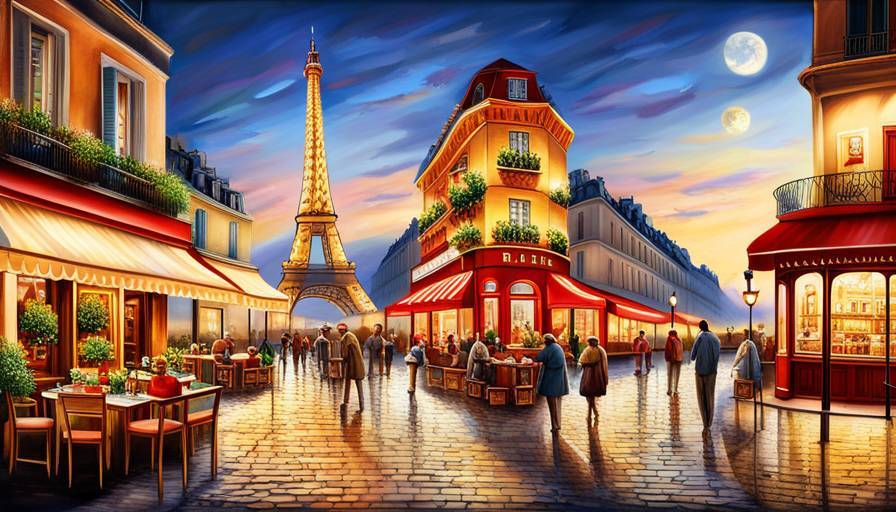 Landmarks and Historical Sights in Paris
Paris, the city of love and light, is teeming with landmarks and historical sights that offer a glimpse into its captivating past. From architectural marvels to iconic monuments, there is no shortage of places to explore and immerse oneself in the rich history of this enchanting city.
One cannot begin to speak about landmarks in Paris without mentioning the illustrious Eiffel Tower. Symbolizing the city and offering breathtaking views from its observation decks, the Eiffel Tower is a must-visit destination for any traveler. Standing tall at 330 meters, it stands as a testament to France's engineering prowess and has become deeply ingrained in the city's identity.
Another notable landmark is the majestic Cathédrale Notre-Dame, which despite its temporary closure due to fire damage, still stands grand on the Île de la Cité. Its Gothic architecture and intricate details are awe-inspiring, while the nearby Sainte-Chapelle boasts stunning stained glass windows that depict biblical scenes with vibrant colors. These landmarks are not only architectural masterpieces but also embody centuries of history.
Venturing further into history, one should explore the Louvre Museum, home to thousands of cultural artifacts from around the world. The Louvre not only showcases exquisite art like the Mona Lisa by Leonardo da Vinci but also exhibits fascinating historical objects such as Egyptian mummies and Greek sculptures. A visit to this vast museum is like traveling through time, immersing yourself in different eras and cultures.
Leaving behind the Louvre's sprawling grounds, be sure to wander through Montmartre, famous for its bohemian atmosphere and artistic heritage. Here you can visit the iconic Sacré-Cœur Basilica perched atop a hill, offering panoramic views of the city. For art enthusiasts, a stroll through Montmartre also means discovering the neighborhood's rich artistic history and perhaps even encountering local artists showcasing their work.
These are just a few examples of the many landmarks and historical sights that await you in Paris. Each corner of the city tells a story, and it is these stories that make exploring Paris such a captivating experience. Whether it's gazing at the illuminated Eiffel Tower at night or getting lost in the narrow streets of Le Marais, every step you take reveals another layer of this charming city's history and heritage.
As of 2022, The Louvre museum in Paris was the world's most-visited museum, with approximately 10.2 million visitors annually.
Paris' restaurant industry has experienced significant growth, with a reported 40,200 establishments and an expected annual growth rate of 1.4% till 2026 according to IBIS World.
According to Statista, despite protests and occasional disruptions, over 30 million tourists visited Paris in 2019, and it remains one of the world's top tourist destinations, with projections for favorable growth by 2023.
The Louvre Tour and Exhibits
Of all the landmarks and cultural institutions in Paris, none captivates visitors quite like the Louvre Museum. As one of the world's largest museums and a historic monument in its own right, the Louvre boasts an awe-inspiring collection that spans centuries and continents.
The museum's pièce de résistance is undoubtedly Leonardo da Vinci's enigmatic masterpiece, the Mona Lisa. Displayed behind protective glass, this iconic painting draws crowds from around the globe who seek to catch a glimpse of her enigmatic smile. While the Mona Lisa receives much attention, there are countless other treasures to explore within the Louvre's expansive halls.
Take a leisurely stroll through the museum's Egyptian Antiquities department, where you can marvel at colossal statues, intricately detailed sarcophagi, and ancient hieroglyphs that transport you back to the time of pharaohs. Or immerse yourself in the world of European art as you wander through galleries featuring renowned works by artists such as Rembrandt, Vermeer, and Delacroix.
If you have an interest in classical sculpture, be sure to visit the Louvre's Greek and Roman antiquities section. Here you will encounter breathtaking marble sculptures depicting mythical figures like Venus de Milo and Winged Victory of Samothrace. These ancient works of art exude beauty and evoke a sense of wonder at humanity's artistic achievements throughout history.
Exploring the Louvre is like embarking on an elaborate treasure hunt, where each exhibit holds a story waiting to be discovered. From the intricate details of ancient artifacts to the brushstrokes of famous paintings, every piece within the museum's walls has its own tale to tell.
To enhance your Louvre experience, consider taking advantage of specialized tours and exhibitions available. For instance, the museum offers a "feminist tour" that highlights artworks created by women or featuring strong female figures, shedding light on often overlooked perspectives. Such unique tours provide a fresh and distinctive way to explore the museum's vast collection.
As you navigate through the Louvre's labyrinthine corridors, don't forget to take pauses and appreciate the architectural splendor surrounding you. The former royal palace itself is a work of art, with its grand galleries adorned with lavish decorations that echo its regal past.
Visiting the Louvre Museum is an immersive journey through history and art. It allows you to connect with humanity's collective cultural heritage while exploring some of the greatest artistic achievements ever produced. Whether you spend hours getting lost in its vast backdrops or focus on particular exhibits that pique your interest, a visit to the Louvre promises an unparalleled experience for any enthusiast of history, art, or simply the wonder of human creativity.
The Louvre Museum in Paris is a must-visit for anyone interested in history and art. It houses an extensive collection of artifacts from different parts of the world, including iconic paintings like the Mona Lisa and sculptures like Venus de Milo. The museum offers specialized tours and exhibitions, such as the feminist tour, which enhances the visitor experience by shedding light on unique perspectives often overlooked in traditional tours. Beyond the exhibits, visitors can also appreciate the architectural splendor of the former royal palace itself, which boasts intricate decorations and reflects its regal past. Overall, a visit to the Louvre promises an unparalleled experience for anyone interested in exploring humanity's collective cultural heritage and artistic achievements throughout history.
Notable 2023 Events in Paris
Paris, known for its vibrant cultural scene and rich history, is set to host an exciting lineup of events in 2023. Whether you're a lover of art, music, sports, or simply want to immerse yourself in the city's unique atmosphere, Paris has something to offer for everyone. Let's take a closer look at some of the notable events happening in Paris in 2023.
One event that stands out is the prestigious Paris Fashion Week. Fashion enthusiasts from around the world flock to this iconic event to witness the latest trends and designs from renowned designers. With runway shows, exhibitions, and exclusive parties, Paris Fashion Week is a must-attend event for anyone interested in fashion and style.
Another notable event is the French Open Tennis Championship at Roland-Garros. Considered one of the most prestigious tennis tournaments worldwide, this grand slam event brings together top players to compete on the clay courts of Roland-Garros Stadium. It's an excellent opportunity to witness thrilling matches and experience the electric atmosphere of a major sporting event.
For music lovers, Rock en Seine music festival is an event worth marking on your calendar. Held annually at Domaine National de Saint-Cloud, this festival showcases an impressive lineup of international artists and bands across various genres. Prepare to be captivated by live performances and enjoy the vibrant atmosphere as you connect with fellow music enthusiasts.
Moving beyond these specific events, let's explore some of the festivals and celebrations that will further enrich your experience in Paris in 2023.
2023 Festivals and Celebrations
Paris is renowned for its fantastic annual events happening every month. These festivals and celebrations provide a glimpse into the city's diverse culture and traditions, making your visit truly memorable.
In January, kickstart the year with Jour de l'An (New Year's Day), which is celebrated with fireworks, parties, and traditional French delicacies. You can also take advantage of the January sales, where shops offer significant discounts, making it a perfect time for some retail therapy.
As spring approaches in April, you can indulge in the Art Paris art fair, where you can admire stunning works from international artists. Let your senses come alive during the April Fool's Day (Poisson d'Avril) celebrations when mischief and pranks are the order of the day.
If you visit in July, don't miss out on Bastille Day celebrations on July 14th. This national holiday commemorates the French Revolution and is marked with various events, including a military parade, fireworks, and street parties. Experience the patriotic spirit and joie de vivre that fills the air during this festive occasion.
As autumn settles in November, wine enthusiasts can celebrate Beaujolais Nouveau Day, which marks the release of new Beaujolais wine. Join in the revelry as locals and visitors alike sample this young wine in bars, restaurants, and wineries throughout Paris.
With these exciting festivals and celebrations ahead of us in 2023, let's now dive deeper into Parisian cultural and entertainment scenes to further enhance your stay in this vibrant city.
Parisian Cultural and Entertainment Scenes
Paris is renowned for its vibrant cultural and entertainment scenes, offering a plethora of experiences that cater to every interest and taste. Whether you're an art enthusiast, a music lover, or a cinema aficionado, the city has something to offer for everyone.
Immerse yourself in the world of art at the iconic Louvre Museum. Home to thousands of cultural artifacts from around the globe, including the enigmatic Mona Lisa, the Louvre is a must-visit attraction. Don't miss the opportunity to witness its architectural marvel, the glass pyramid, which has become an icon in itself. For a unique twist on your visit, consider participating in the museum's "feminist tour," where you'll explore the representation of women throughout history.
If you're a foodie seeking exquisite culinary experiences, make sure to dine at Septime, a Michelin-starred restaurant that entices taste buds with its unique tasting menus and delicate, fresh food. Due to its popularity, booking in advance is highly recommended to secure a table at this culinary gem.
For a dose of retail therapy, head to Merci, a concept store that showcases influential stylists and designers. Here, you'll find everything from luxury stationery and homeware to trendy accessories. Wander through its carefully curated collections and indulge in some unforgettable shopping moments.
A trip to Paris wouldn't be complete without experiencing its vibrant cinema scene. The Louxor stands out as an Egyptian-inspired art-deco cinema with a fascinating history. Step into this time capsule and immerse yourself in its vibrant nightlife scene while enjoying films from various genres.
If you're an enthusiast of independent cinema and want to step into Quentin Tarantino's world for a moment, Le Champo and Filmothèque are two historic cinemas worth visiting. With their rich history and dedication to showcasing diverse films, they are frequented by avid film enthusiasts and offer a unique experience beyond mainstream cinema.
Are you captivated by the intersection of art and technology? Look no further than Atelier des Lumières, a digital art center that projects enormous works of art across its ten-meter-high walls. Using state-of-the-art technology, this immersive experience will transport you to different artistic realms and leave you in awe.
For those seeking a night filled with live music, MU is the perfect destination. Located in a former coal station, this live music hotspot features multiple stages and an edgy atmosphere. Let the rhythm guide you as you enjoy an unforgettable night of music in a unique industrial setting.
Paris also offers architectural gems for those intrigued by design. Although temporarily closed, Villa Savoye, one of Le Corbusier's masterpieces, will reopen soon. This modernist marvel showcases the architect's signature style and offers insights into architectural innovations of the 20th century. Nearby, Val De Seine provides an opportunity to escape the urban landscape and indulge in leisurely activities amidst its forests and fields.
Now that we've explored the vibrant cultural and entertainment scenes in Paris, let's dive into two captivating destinations that are worth exploring: The Futuroscope and Champagne Avenue.
The Futuroscope and Champagne Avenue
Located just outside of Paris, The Futuroscope is an extraordinary theme park dedicated to showcasing cutting-edge technologies and experiences. Here, you'll find attractions that combine thrilling rides with immersive cinematic experiences, taking you on exciting journeys through time and space. From breathtaking simulators to 3D theaters, each attraction at The Futuroscope offers a unique blend of technology and entertainment that will leave you amazed.
After experiencing the wonders of The Futuroscope, take a scenic drive along Champagne Avenue in Épernay. As one of the most famous wine regions in the world, Champagne Avenue is lined with prestigious champagne houses, each offering their own distinct flavors and heritage. Embark on a tour of these renowned houses, where you'll have the opportunity to learn about the art of champagne making and indulge in tastings. Raise a glass and celebrate this sparkling journey through the heart of Champagne.
Must See Attractions in Paris in 2023
Paris, the enchanting capital of France, offers a plethora of breathtaking attractions that are sure to leave you awestruck. As you embark on your journey through the city of love and lights in 2023, be prepared to immerse yourself in the rich history, culture, and art that Paris has to offer. From iconic landmarks that have stood the test of time to hidden gems waiting to be discovered, here are some must-see attractions for your visit.
The Eiffel Tower stands majestically at the heart of Paris and continues to be a symbol of the city's grandeur. Scale its heights and witness panoramic views from its observation decks as you take in the beauty of Paris spread out before you.
For art enthusiasts, a visit to the Louvre Museum is an absolute must. Home to thousands of awe-inspiring masterpieces including Leonardo da Vinci's masterpiece, the Mona Lisa, this world-renowned museum will transport you into a realm of artistic brilliance.
The Notre-Dame Cathedral, with its stunning Gothic architecture and intricate stained glass windows, has long been an iconic symbol of Paris. Though it is still under restoration following the devastating fire in 2019, do not miss the opportunity to admire its exterior beauty and pay homage to its historical significance.
The charming Montmartre neighborhood is another highlight not to be missed. Explore its winding, cobblestone streets and artist-filled squares while soaking in the bohemian atmosphere that inspired artists such as Picasso and Van Gogh.
The Palace of Versailles, located just outside Paris, is an opulent testimony to French royalty. Wander through its immaculate gardens and get lost amidst gilded halls as you step back into a bygone era.
To experience a different side of Parisian culture, visit the vibrant neighborhood of Le Marais. This trendy district is known for its fashionable boutiques, picturesque squares, and delightful cafes. Take a leisurely stroll through its streets and discover hidden gems around every corner.
These are just a few of the many must-see attractions that await you in Paris in 2023. Now, let's explore the anticipated openings and special events that will make your visit even more memorable.
Anticipated Openings and Special Events
Paris is constantly evolving, with new and exciting experiences waiting to be discovered each year. As you plan your visit to the city in 2023, keep an eye out for these anticipated openings and special events that will further enhance your time in Paris.
One highly anticipated event in 2023 is the reopening of the Musée Picasso after an extensive renovation. This museum houses an exceptional collection of works by Pablo Picasso and offers insight into the life and art of this influential artist.
Another exciting development is the completion of the Bourse de Commerce – Pinault Collection. This new contemporary art museum, located within a historic building near Les Halles, will showcase renowned collector François Pinault's impressive collection.
| Event | Date |
| --- | --- |
| Paris Fashion Week | February/March & June/July |
| Bastille Day | July 14 |
| Nuit Blanche | October |
Paris Fashion Week showcases the latest creations from top designers in the fashion industry. Experience runway shows, exclusive parties, and immerse yourself in the world of haute couture.
Bastille Day on July 14th is France's national holiday, celebrated with grand military parades, fireworks, and festivities throughout the city. Join locals along the Champs-Élysées or find a cozy spot along the Seine River to enjoy spectacular fireworks lighting up the night sky.
Nuit Blanche, or White Night, is an annual event where Paris comes alive with contemporary art installations and performances. From dusk till dawn, museums, galleries, and public spaces transform into immersive art experiences that captivate visitors.
With these anticipated openings and special events in mind, your time in Paris in 2023 promises to be filled with cultural enrichment and memorable experiences. Now let's explore some Parisian experiences not to miss during your visit.
Parisian Experiences not to miss in 2023
Paris, the City of Light, never fails to captivate visitors with its timeless charm and rich cultural heritage. In 2023, there are several experiences that you simply cannot miss while exploring this magnificent city. From iconic landmarks to hidden gems, Paris offers a plethora of attractions that will leave you enchanted.
Begin your journey by visiting the world-famous Eiffel Tower. Standing tall at 324 meters, this iconic symbol of France offers breathtaking views of the city from its observation decks. Whether you choose to admire it during the day or witness the captivating light show at night, the Eiffel Tower is an absolute must-see.
Immerse yourself in art and culture at the Louvre Museum, home to masterpieces like Leonardo da Vinci's Mona Lisa and the enigmatic Venus de Milo. With its expansive collection spanning thousands of years, exploring this historic museum is like stepping into a treasure trove of human creativity.
To delve deeper into Parisian history, take a stroll through the charming neighborhood of Le Marais. Lose yourself in its narrow streets lined with elegant mansions and vibrant boutiques. Visit historical sites such as Place des Vosges and Hôtel de Ville, where you can witness the city's architectural splendor.
Indulge in a leisurely cruise along the Seine River, which winds its way through the heart of Paris. Admire picturesque views of monuments like Notre-Dame Cathedral and enjoy a unique perspective of the city's captivating beauty.
For an immersive cultural experience, explore Montmartre, known for its bohemian ambiance and artistic legacy. Wander through its lively streets, visit the famous Sacré-Cœur Basilica perched atop a hill, and be enchanted by street performers showcasing their skills.
Paris is also renowned for its enchanting gardens and parks. Take a peaceful stroll through the Luxembourg Gardens, where lush greenery and vibrant flowers create a serene oasis in the heart of the city. Or, pay a visit to Parc des Buttes-Chaumont, with its picturesque lake, waterfalls, and dramatic cliffs.
As you explore Paris in 2023, don't miss out on the opportunity to attend world-class performances at iconic venues such as the Opéra Garnier or enjoy an evening of cabaret at the Moulin Rouge. Immerse yourself in the vibrant arts scene that has thrived in this city for centuries.
After indulging in Parisian experiences, it's time to discover the unique dining and shopping options that this city has to offer.
Unique Dining and Shopping Options in Paris
When it comes to culinary delights and shopping experiences, Paris is unparalleled. The city boasts a wide range of eateries and boutiques that cater to varying tastes and budgets. Whether you're a food enthusiast or a fashionista, there's something for everyone in the bustling streets of Paris.
For an unforgettable dining experience, venture into exquisite Michelin-starred restaurants, where renowned chefs create culinary masterpieces that are sure to tantalize your taste buds. From classic French cuisine to innovative fusion dishes, these establishments elevate dining into an art form.
It's like savoring a symphony of flavors orchestrated by skilled chefs who transform ingredients into edible works of art.
If you prefer a more casual affair, explore charming artisanal markets like Marché Bastille or Marché des Enfants Rouges, where local vendors offer fresh produce, cheeses, cured meats, and other delectable treats. Indulge in mouthwatering street food such as crepes, falafel wraps, or traditional baguettes as you embark on a culinary adventure through the city.
When it comes to shopping, no visit to Paris is complete without exploring its luxury boutiques and iconic department stores. Rue Saint-Honoré is a paradise for fashion lovers, with renowned designer brands like Chanel, Dior, and Louis Vuitton showcasing their latest collections.
If you're looking for more affordable options, head to Le Marais or the bustling Forum des Halles. Here, you'll find trendy boutiques, vintage shops, and unique concept stores that offer an array of fashion-forward choices.
Apart from fashion, Paris is also known as the world's capital for cosmetics, perfumes, and luxury items. Let's explore some popular destinations for skincare and cosmetics enthusiasts.
"Paris is known as the world's capital for cosmetics, fashion, perfumes, and luxury items. Shopping in Paris is not only a way to enjoy the Parisian experience but also an opportunity to save money and find unique gifts." One renowned destination is Parapharmacie Monge. Located in the heart of Saint-Germain-des-Prés, this famous pharmacy offers a wide range of skincare products, cosmetics, and fragrances at competitive prices. Additionally, they provide services like tax refunds and discounts specifically catered to tourists.
For those seeking high-end luxury brands at discounted prices, La Vallée Village is a popular outlet located near Paris. Here, you can find coveted fashion labels such as Gucci and Prada offering their products at reduced rates.
The city also boasts impressive department stores like Galeries Lafayette and Printemps on Boulevard Haussmann. Galeries Lafayette is the largest department store in Europe, offering an unparalleled shopping experience with its grand architecture and an extensive selection of brands.
Whether you're a food lover or a shopaholic or simply someone looking to immerse yourself in the Parisian experience, this romantic city has something to offer. From breathtaking landmarks to mouthwatering cuisine and fashion-forward shopping, Paris remains an alluring destination for travelers seeking an unforgettable adventure.