Bored of the same old sights? Want a fresh, genuine take on London in 2023? Look no further. This Ultimate Guide to Activities and Attractions in London illuminates the new, the vibrant, and the unexpected. Grab your travel gear and immerse yourself as we journey beyond the traditional red phone booths and royal palaces, into an evolving city that's melding futuristic advancements with centuries-old charm in a distinctly British way. Discover why London in 2023 is nothing like you've ever seen before! Who knows – you might fall head over boots in love with this ever-changing metropolis all over again.
There are a wide variety of fun and exciting things to do in London in 2023. Based on our research, we recommend trying traditional British fish and chips at Josef Traditional Fish and Chips, walking along the Queen's Walk for photo opportunities, visiting Harry Potter Studios in Leavesden, ordering a drink at Old Tom's Bar under Leadenhall Market, standing inside the Inner Circle of Stonehenge at sunset, exploring Churchill's War Rooms on King Charles Street, browsing the oldest bookshop in London at Piccadilly Circus, taking pictures on Tower Bridge, finding vintage records at Camden Market, spending an evening in Soho and Chinatown, and talking with a Beefeater at the Tower of London. Don't forget to check out must-see attractions like the British Museum, Covent Garden, Leicester Square, Piccadilly Circus, Tower Bridge, Portobello Market, Notting Hill, Primrose Hill, Camden, Greenwich and many more.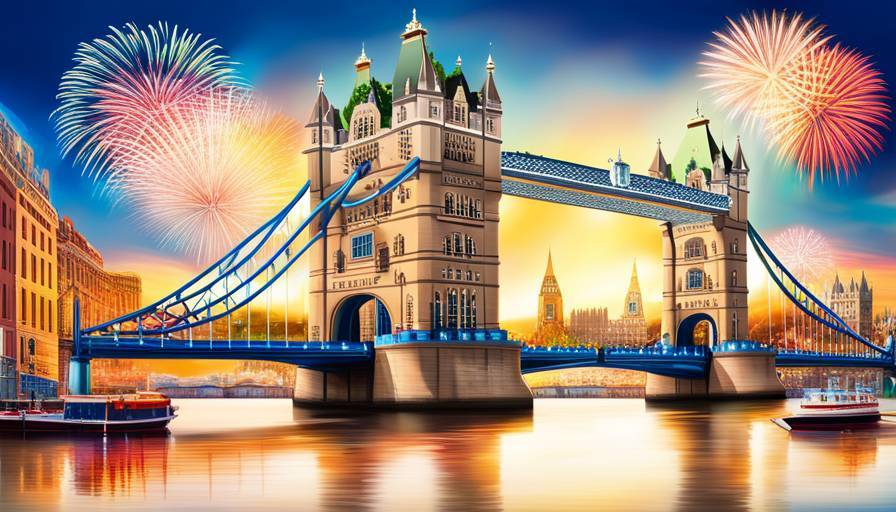 Popular Attractions in London in 2023
London, a city steeped in rich history and vibrant culture, offers a plethora of attractions that cater to every interest. Whether you're a history enthusiast, art lover, or simply seeking adventure, London has something for everyone. In this section, we'll explore some of the most popular attractions that should be on your list when visiting the city in 2023.
London is a diverse and fascinating city that boasts a wide array of attractions to suit any traveler's interests. From historical landmarks to artistic offerings, visitors can expect to have a wealth of experiences to choose from when exploring the city in 2023.
Museums and Historical Landmarks
London is home to an array of world-class museums and historical landmarks that provide visitors with a captivating journey through time. One such iconic landmark is the Tower of London. This historic fortress has served various purposes throughout history, from royal residence to prison. Today, it stands as a UNESCO World Heritage Site, offering visitors the opportunity to explore its magnificent architecture and discover the stories held within its walls.
Another must-visit attraction is Buckingham Palace, the official residence of the British monarchs. Witnessing the Changing of the Guard ceremony outside the palace gates is an experience not to be missed. Additionally, if you visit during the summer months, you may have the chance to explore the State Rooms which are open to the public for a limited time.
For art enthusiasts, no visit to London is complete without a trip to Tate Modern. Situated on the banks of the River Thames, this contemporary art gallery showcases an extensive collection of modern and contemporary artworks from around the world. From thought-provoking sculptures to vibrant paintings, Tate Modern offers a unique artistic experience that will leave you inspired.
If you're interested in British history and culture, Westminster Abbey should be high on your list. This magnificent Gothic abbey has witnessed numerous royal weddings and coronations throughout its existence. Take a stroll through history as you marvel at its stunning architecture and visit the tombs of historical figures like Isaac Newton and Charles Darwin.
But let's not forget about unconventional attractions that offer unique experiences. How about a visit to Madame Tussauds London? Here, you can rub shoulders with wax replicas of celebrities and historical figures from around the world. Strike a pose with Queen Elizabeth II or snap a photo with your favorite movie star, creating memories that will last a lifetime.
From iconic landmarks to unconventional attractions, London has it all in 2023. Now, let's dive deeper into the wealth of museums and historical landmarks that await you in this magnificent city.
Parks and Outdoor Activities
London is not just a concrete jungle; it boasts a plethora of enchanting parks and outdoor spaces that offer a breath of fresh air and a chance to connect with nature. Whether you're a local seeking an escape from the hustle and bustle or a tourist yearning for memorable experiences, London's parks have something for everyone.
One iconic green haven in the heart of the city is Hyde Park. With its sprawling landscapes, serene lakes, and picturesque gardens, this park provides an idyllic setting for leisurely strolls, picnics, or even renting a rowing boat and gliding along the Serpentine lake. As you explore Hyde Park, keep an eye out for notable landmarks such as the Diana Princess of Wales Memorial Fountain and the stunning Kensington Palace.
If you're looking to immerse yourself in the realm of royal history, venture over to St. James's Park. Located adjacent to Buckingham Palace, this vibrant park offers stunning views of the palace itself while also being home to a diverse array of wildlife. Take a leisurely walk around its pathways, spot colorful birds in the lake, or relax on one of its many benches while savoring the royal ambience.
For those seeking tranquility away from the bustling city center, Richmond Park provides an oasis of calm. Spanning over 2,500 acres, this expansive park invites visitors to explore its woodlands, meadows, and ponds. Encounter deer wandering freely among ancient oak trees or enjoy a picturesque picnic overlooking the serene Isabella Plantation.
Beyond these well-known parks, London also offers numerous smaller green spaces such as Regent's Park with its beautiful rose gardens and Primrose Hill with panoramic views of the city skyline. These parks provide opportunities for peaceful walks, jogging tracks, cycling trails, and even outdoor yoga classes.
Engaging in outdoor activities is not limited to parks alone though. The city's waterways also offer delightful experiences. Take a scenic boat ride along the River Thames and admire iconic landmarks like the Tower Bridge, the Houses of Parliament, and the London Eye from a unique perspective. Alternatively, consider renting a bike and pedaling through the picturesque paths of Richmond Park or along The Regent's Canal.
Now that we've explored the wonders of London's parks and outdoor spaces, let's turn our attention to the vibrant cultural events taking place in the city throughout 2023.
Cultural Events in London in 2023
London is renowned worldwide for its rich cultural heritage, and 2023 promises to be a vibrant year filled with exciting events and celebrations. From art exhibitions to music festivals, there are plenty of opportunities to immerse yourself in London's cultural scene.
Art enthusiasts will be delighted by Tate Modern, one of the city's most beloved museums. With an impressive collection ranging from modern masterpieces to contemporary installations, it offers a captivating experience for visitors of all ages. In 2023, expect to see groundbreaking exhibitions showcasing diverse artists and thought-provoking works that challenge societal norms.
For those with a love for music, don't miss out on attending renowned festivals such as Meltdown Festival or Wireless Festival. Meltdown Festival is curated by different artists each year, bringing forth unique lineups and unforgettable performances. Wireless Festival attracts top-tier international acts, creating an electric atmosphere that music lovers simply can't resist.
Imagine finding yourself in a massive crowd, swaying to the rhythm of your favorite artist, sharing smiles and excitement with strangers who have come together from all walks of life. The energy is palpable as the music reverberates through your being.
The theatre scene in London is world-class, with shows running throughout the year. From classic plays at The Old Vic to groundbreaking performances at venues like The National Theatre, there is a theatrical experience for every taste. Keep an eye out for exciting productions and new works hitting the stage in 2023, promising to captivate audiences with their creativity and storytelling prowess.
London also celebrates its diversity through various cultural festivals that take place throughout the year. Chinatown comes alive during Chinese New Year, with colorful parades, vibrant performances, and mouthwatering street food. Not to be outdone, the Notting Hill Carnival adds a Caribbean flair to the city, boasting an extravaganza of music, dancing, and elaborate costumes.
These are just a few examples of the cultural events that London has to offer in 2023. The city's calendar is filled with an abundance of exhibitions, performances, and celebrations catering to different interests and passions.
Festivals and Celebrations
London is a city that knows how to celebrate, and 2023 is no exception. Throughout the year, the city buzzes with numerous festivals and celebrations that showcase its diverse culture, history, and vibrant spirit. Whether you're a visitor or a local, there's something for everyone to enjoy.
One of the highlights is the Notting Hill Carnival, an annual event held on the streets of West London during August bank holiday weekend. This colorful extravaganza celebrates Caribbean culture with lively parades, live music, dance performances, and mouthwatering food stalls offering delicious Caribbean cuisine. The vibrant energy of the carnival is infectious, and it's an excellent opportunity to immerse yourself in London's multicultural atmosphere.
Another must-visit event is Pride in London. Held every summer, this festival commemorates the LGBTQ+ community while promoting equality and diversity. The festivities include a vibrant parade through central London, live performances, parties, art exhibitions, and thought-provoking talks. Pride in London not only provides a platform for celebration but also raises awareness about important issues faced by the LGBTQ+ community.
For history enthusiasts, the Changing of the Guard ceremony outside Buckingham Palace is a quintessential London experience. Witness the impeccable precision of the Queen's Guard as they perform this traditional ritual accompanied by music from military bands. This iconic display showcases British pomp and ceremony at its finest.
If you're in search of culinary delights, don't miss out on the Taste of London Festival. Held in Regents Park over several days in June, this foodie heaven brings together some of London's finest restaurants and chefs under one roof. Sample delectable dishes from various cuisines while enjoying live cooking demonstrations and interactive workshops.
Imagine savoring delicate bites of handmade sushi rolls prepared by renowned Japanese chefs or indulging in rich chocolate desserts crafted by master chocolatiers. The Taste of London Festival is a feast for the senses, offering an opportunity to taste your way through the city's culinary scene.
There are also plenty of cultural celebrations like Diwali, the festival of lights, which brings the city alive with vibrant lights, traditional dances, and firework displays. Diwali is celebrated by the Indian community in various parts of London, especially in Trafalgar Square and iconic venues such as the Royal Albert Hall.
Now that we've explored some of the festive and celebratory events taking place in London in 2023, let's embark on a gastronomic adventure and discover the diverse array of cuisines that this global city has to offer.
Gastronomic Adventures in London in 2023
London has long been recognized as a culinary capital, where you can find an extensive range of dining options that cater to all tastes and preferences. In 2023, the food scene continues to evolve and bring exciting new culinary adventures for both locals and tourists.
If you're seeking a unique tasting experience, Dovetale Food should be at the top of your list. Located at 1 Hotel Mayfair, this restaurant offers a seasonal produce-focused menu that showcases the best ingredients each season has to offer. Diners can indulge in a carefully curated tasting menu that highlights flavors and textures in innovative ways.
For those looking for a fine-dining experience that blends French techniques with seasonal British produce, Pavyllon is an ideal choice. Situated at Four Seasons Hotel London at Park Lane, this restaurant emphasizes precision and elegance in its cuisine. Each dish is thoughtfully crafted to showcase the flavors of the ingredients while offering an exquisite dining experience.
If you're craving seafood delights, look no further than Manzi's. Reviving its legacy as a beloved seafood restaurant, Manzi's boasts nautical-inspired interiors that transport you to the shores of the sea. Located at Bateman's Buildings, this restaurant offers an extensive menu featuring fresh seafood cooked to perfection.
Like a culinary artist, Outcrop combines sustainability and Thai cooking to create a unique dining experience. Situated at 180 The Strand, Outcrop is not just a restaurant but also an arts space that hosts exhibitions and events. Indulge in flavorsome Thai dishes while immersing yourself in the vibrant artistic atmosphere.
Picture yourself at Kima, a Greek-inspired eatery in Marylebone that prides itself on its 'waste not use all' philosophy. The chefs at Kima creatively utilize every part of fish and animal to reduce waste and create delicious dishes that reflect Greek flavors with a modern twist.
London's culinary scene isn't just about international cuisines; it's also about embracing local traditions. Journey to East London and step into Lilienblum, where you'll be greeted with family-style sharing plates inspired by British and European influences. The open kitchen allows you to witness the preparation of each dish, adding to the overall immersive dining experience.
These are just a few examples of the exciting gastronomic adventures awaiting you in London in 2023. From Italian-American fusion at Carlotta in Marylebone to contemporary bistro cuisine at Maene in Spitalfields, the city offers something for every palate and preference.
Traditional British Cuisine and Where to Find Them
When visiting London, indulging in traditional British cuisine is a must-do experience. The city boasts a rich culinary heritage, offering a range of delectable dishes that embody the essence of British culture. From hearty pies to delectable fish and chips, there are numerous options for food enthusiasts to explore.
One iconic British dish that should be on your must-try list is the classic fish and chips. Head to Poppie's Fish & Chips in Spitalfields for a mouthwatering serving of golden-battered fish accompanied by chunky fries and mushy peas—all served in traditional newspaper wrappings. Another renowned establishment for fish and chips is The Golden Hind in Marylebone, which has been serving this quintessential British meal since 1914.
For those looking for a filling and comforting meal, a traditional Sunday roast cannot be missed. Temperatures Restaurant in Covent Garden serves an exceptional Sunday roast, complete with succulent roasted meat, crispy Yorkshire puddings, and tender roasted vegetables—all topped off with rich gravy.
When it comes to satisfying your sweet tooth, treating yourself to a traditional afternoon tea experience is essential. The Ritz London offers a world-renowned afternoon tea service, complete with delicate finger sandwiches, freshly baked scones served with clotted cream and jam, and an assortment of pastries and cakes—all accompanied by a selection of fine teas.
To sample traditional pub grub combined with modern twists, The Harwood Arms in Fulham is the place to go. This Michelin-starred gastropub takes pride in serving elevated versions of classic dishes like beer-battered haddock with triple-cooked chips or their signature venison Scotch egg.
Now that we've delved into the realm of taste sensations, let's turn our attention to the vibrant nightlife that London has to offer in 2023.
Nightlife Experiences in London in 2023
London is known for its vibrant and varied nightlife scene, offering a plethora of options that cater to diverse tastes and preferences. Whether you're seeking sophisticated cocktail bars, energetic nightclubs, or laid-back pubs, the city has something for everyone.
Embarking on London's nightlife is like stepping into a world of endless possibilities. It's an adventure that can take you from enjoying live music performances at renowned venues to dancing the night away in chic clubs.
For those who enjoy upscale experiences, The Box Soho is a must-visit nightclub known for its extravagant and immersive performances. Expect the unexpected as you step into this unique establishment that effortlessly combines theatre, cabaret, and dance music to create an unforgettable experience.
If you're looking for a more relaxed atmosphere with a touch of elegance, head to Piano Kensington. This sophisticated cocktail bar not only serves an extensive list of expertly crafted drinks but also offers live piano music to set the mood and add a touch of class to your evening.
For those seeking a more eclectic and underground vibe, Shoreditch is the place to be. This creative hub boasts numerous quirky bars and clubs like The Original Shoreditch Pub Crawl or the legendary Cargo Club with its diverse range of music genres and vibrant atmosphere.
If you're in the mood for a unique blend of art, culture, and nightlife, Kings Cross will not disappoint. With venues such as Scala hosting live gigs and DJ sets, or The Parcel Yard offering craft beers in a historic railway station setting, this area provides a fusion of entertainment options for all tastes.
While exploring London's nightlife, it's important to remember that everyone's preferences differ. Some may prefer intimate wine bars with cozy atmospheres while others thrive on the energy of bustling nightclubs. The key is to embrace the diversity and find the experiences that resonate with you.
Whether you're passionate about traditional British cuisine or eager to experience the vibrant nightlife, London in 2023 offers a plethora of opportunities to satisfy your cravings and create lasting memories.
In 2019, before the pandemic, London recorded over 20 million visitors and it's projected that by 2023, this number would return to pre-pandemic levels.
Sightseeing visits make up approximately 54% of all inbound visits to London with major attractions like the British Museum, Covent Garden, and Tower Bridge drawing large crowds.
A tourism trend forecast for London in 2023 suggests a continued growth in food and drink tourism, specifically centered around traditional British cuisine such as fish and chips which typically sees around a 30% interest from tourists.
Speakeasys and Bars Worth Visiting
London is not only known for its historical landmarks and cultural attractions but also for its vibrant nightlife. If you're in search of a unique and thrilling experience, consider exploring the city's hidden gem: speakeasys and bars. These establishments offer a glimpse into the past, capturing the essence of the Roaring Twenties with their clandestine atmosphere and innovative cocktails.
Venture into the world of secret drinking establishments by visiting The Nightjar, located in Shoreditch. This speakeasy exudes an intimate ambiance with dim lighting, plush velvet seats, and live jazz music. Their menu boasts an impressive array of handcrafted cocktails that showcase the artistry of mixology.
For those seeking a more mysterious adventure, head to Cahoots in Soho. Transporting guests back to post-war England, this underground spot is designed like an abandoned tube station. Sip on classic cocktails served in vintage teacups while reveling in the nostalgic decor and 1940s music.
If you're looking for a touch of exclusivity, pay a visit to Fitz's Bar at The Bloomsbury Hotel. Inspired by the glamorous 1930s, this hidden gem offers an elegant setting where you can savor meticulously crafted cocktails made with artisanal spirits. Immerse yourself in the sophistication of eras gone by as you unwind and indulge in a truly refined experience.
Picture yourself stepping into Old Street Records in east London – not only will you be greeted by a fantastic range of vinyl records, but also a covert basement bar offering live music performances and delicious concoctions. Let yourself be carried away by the vibrant atmosphere that combines music and mixology in perfect harmony.
Whatever your taste may be, London has a variety of speakeasys and bars waiting to be discovered. From secret entrances to hidden rooms, each venue offers a unique experience that will transport you to a bygone era filled with mystery and excitement.
Now that we've explored the thrill of London's speakeasys and bars, let's move on to another exciting aspect of the city: its shopping destinations in 2023.
Shopping Destinations in London in 2023
London is a paradise for shopaholics, offering an endless array of shopping destinations that cater to all tastes and preferences. Whether you're searching for high-end luxury brands or unique boutiques, the city provides a perfect blend of tradition and modernity when it comes to retail therapy.
Oxford Street, often referred to as the "heart of London shopping," boasts over 300 shops, including iconic department stores like John Lewis, Debenhams, Primark, and Topshop. This bustling street is a haven for fashion enthusiasts looking for everything from trendy clothing to accessories and cosmetics.
For an upscale shopping experience, head to Bond Street, renowned among local residents and celebrities alike. This exclusive destination showcases exquisite fashion houses such as Burberry, Louis Vuitton, Tiffany & Co., and many more. Prepare yourself for glamorous window displays and some serious retail indulgence.
If you're seeking a mix of reasonably priced fashion and historic charm, Regent Street and Jermyn Street are must-visit locations. Here you'll find a blend of well-known brands alongside the oldest stores in the city, including the world-famous Hamleys toy store and Liberty department store.
Knightsbridge holds its own allure as a shopping district known for its trendiest fashion choices. It is home to prestigious brands such as Harrods, Harvey Nichols, and Topshop. Lose yourself in this shopper's paradise as you browse through the latest collections from internationally acclaimed designers.
London takes pride in catering to every type of shopper. Notting Hill offers a hub for various tastes with its vintage shops and high-end designer boutiques. Places like Portobello Road Market and Aimé will cater to your desire for unique fashion finds and stylish accessories.
The King's Road is another must-visit shopping destination, showcasing chic dresses from unique labels and offering a variety of antiques for your home. Covent Garden Market, on the other hand, offers not only one-of-a-kind souvenirs but also trendy fashion wear from brands like Tom Ford and Aram.
Carnaby Street deserves a special mention as the birthplace of the fashion revolution in the 1960s. Brands like Cheap Monday and Paul Smith continue to maintain its legacy while providing fashionable options for every taste.
In addition to these iconic spots, London is dotted with an array of markets that offer unique shopping experiences. Borough Market satisfies food lovers with its abundance of fresh produce, while Camden Market caters to those seeking alternative fashion. Spitalfields is a haven for antique enthusiasts looking to uncover hidden treasures.
Whether you're in search of luxury brands or bargain finds, London's shopping destinations have something for everyone. In this international metropolis, where tradition meets innovation, exploring the city's retail scene becomes an unforgettable adventure.
London shopping offers a mix of luxury brands and unique boutiques, making it a must-do activity in 2023.
Best Markets and Local Shops
London is a city renowned for its vibrant markets and delightful local shops that offer an array of unique products and experiences. Whether you're a fashion enthusiast, a foodie, or simply enjoy exploring local craftsmanship, the city has something for everyone.
One of the must-visit markets in London is Borough Market, a food lover's paradise located near London Bridge. Here, you'll find an incredible selection of fresh produce, gourmet delights, and international cuisines. As you wander through the bustling stalls, savor the aromas of freshly baked bread, sample artisanal cheeses, and indulge in street food from around the world. The market's rich history dating back to the 13th century adds to its charm, making it a favorite among locals and tourists alike.
Another gem is Covent Garden Market, nestled in the heart of London's West End. This iconic market offers a delightful mix of shops selling unique crafts, jewelry, clothing, and antiques. Explore the covered market halls adorned with colorful stalls displaying an assortment of goods. Take a break at one of the charming cafes or bistros and soak in the lively atmosphere while enjoying live street performances by talented artists.
"I had the most amazing experience exploring Camden Market in London! nThe vibrant energy and eclectic mix of stalls selling everything from vintage clothing to quirky home decor made it such a memorable visit." – Jennifer C., avid traveler.
Venturing beyond markets, don't miss out on exploring London's local shops that boast their own distinctive character. From independent bookstores that transport you into literary wonderlands to edgy boutiques showcasing cutting-edge fashion creations, these establishments offer a more intimate experience away from busy tourist spots.
In trendy neighborhoods like Shoreditch and Notting Hill, you'll find an abundance of local shops catering to eclectic tastes. Dive into vintage clothing stores filled with retro gems or browse through independent record shops that celebrate music in its truest form. You may stumble upon hidden gems or meet passionate shop owners who can share their insights and recommendations, adding a personal touch to your shopping experience.
Now that we've explored the best markets and local shops in London, let's dive into the artistic experiences awaiting you in the city in 2023.
Artistic Experiences in London in 2023
London is a hub for art enthusiasts from around the world, offering a diverse range of artistic experiences. Whether you're captivated by classical masterpieces or intrigued by contemporary installations, the city's cultural scene has much to offer.
For those seeking the traditional art experience, a visit to the Tate Modern is an absolute must. This renowned modern art museum features works by influential artists such as Picasso, Warhol, and Hockney. Explore the vast exhibition halls filled with thought-provoking sculptures, paintings, and multimedia installations. Take part in guided tours or attend artist talks to deepen your understanding of the artwork on display.
If you're looking for something more immersive and interactive, consider visiting The Other Art Fair. This unique event showcases works by emerging artists across various mediums. Engage with the artists themselves, learn about their creative processes, and even purchase artwork directly from them. It's an exceptional opportunity to discover new talents and support the thriving art community.
"Attending The Other Art Fair was a revelation! Getting to speak directly with artists about their inspirations and techniques added a whole new dimension to appreciating their work." – Mark D., art enthusiast.
In addition to museums and art fairs, London also hosts a variety of theatrical performances, live music events, and dance shows throughout the year. From grand West End productions to intimate fringe performances, there's always something happening on London's stages.
With so many artistic experiences awaiting you, London truly is a haven for art lovers. Immerse yourself in the city's vibrant cultural scene and let your senses be captivated.
Theatre and Music Events
London is renowned for its vibrant theatre and music scene, offering an array of world-class performances that cater to diverse tastes. Whether you're a fan of musicals, dramas, or classical concerts, there's something for everyone in 2023.
The West End, London's famous theater district, is home to some of the most iconic shows in the world. From long-running favorites like "The Lion King" and "Les Misérables" to exciting newcomers, the options are endless. Immerse yourself in the magic of live performances as talented actors and actresses transport you to different worlds through captivating storytelling.
For music lovers, London boasts a rich line-up of concerts and festivals that cover various genres. The O2 Arena hosts international stars like Adele and Ed Sheeran, while smaller venues like the Camden Roundhouse showcase up-and-coming artists across different genres. Additionally, classical music enthusiasts can enjoy performances by the prestigious Royal Philharmonic Orchestra at iconic venues such as the Royal Albert Hall.
Immerse yourself in the vibrant cultural scene by attending open-air performances in parks and squares like Hyde Park and Trafalgar Square during the summer months. These events often feature renowned artists and are a fantastic way to enjoy music against the backdrop of London's beautiful scenery.
Day Trips from London in 2023
London is not only a city brimming with attractions but also serves as a gateway to numerous fascinating day trip destinations. Here are some recommended day trips from London in 2023:
Cambridge: Known for its history and green spaces, Cambridge offers a charming escape from the capital. Explore the prestigious University of Cambridge, go punting along the River Cam, and visit iconic landmarks like King's College Chapel.
Imagine leisurely gliding on a punt boat as you pass by picturesque college campuses, admiring the architectural marvels and serene atmosphere. Or venture into the past as you explore King's College Chapel, marveling at its exquisite Gothic architecture that has stood the test of time.
Margate: If you're seeking a coastal retreat, Margate is an excellent choice. Enjoy sandy beaches, indulge in top-notch fish and chips, and explore the renowned Turner Contemporary art gallery. For those seeking outdoor activities, cycling along the scenic coast or partaking in beach yoga are popular options.

Stonehenge: Just a short drive from Salisbury train station, Stonehenge beckons with its enigmatic stone circle. Take part in the Stone Circle Experience to learn about the monument's fascinating history and get up close and personal with this iconic UNESCO World Heritage Site.

Bristol: Known for its thriving food scene and award-winning eateries, Bristol offers a delightful day trip experience. Take a walking tour around the city, enjoy a boat trip through its picturesque harborside, and don't miss the opportunity to witness the stunning view from Clifton Suspension Bridge.

Brighton: Famous for its pebbly shores and lively city center, Brighton is an ideal day trip destination from London. Explore boutique shops, indulge in delicious cuisine at trendy restaurants and cafes, and immerse yourself in the vibrant arts and culture scene that Brighton is known for.
These are just a few of the many exciting day trips you can take from London in 2023. Whether you're looking for historical sites, coastal adventures, or cultural experiences, these destinations offer something unique to enhance your visit to England.
Exploring Nearby Cities and Scenic Routes
While London offers a multitude of attractions and activities to keep you entertained, venturing outside the city opens up a whole new world of exploration. Taking day trips to nearby cities or embarking on scenic routes can provide a refreshing change of scenery and offer unique experiences.
One of the popular destinations near London is the historic city of Bath, known for its stunning Georgian architecture and the famous Roman Baths. Strolling along the picturesque streets, you can immerse yourself in the rich history of this UNESCO World Heritage Site. Don't forget to visit Bath Abbey and enjoy a relaxing spa session at Thermae Bath Spa.
Another delightful option is to explore the charming town of Windsor, located just a short distance from London. The main highlight here is Windsor Castle, which happens to be one of the residences of the British royal family. Take a guided tour of the castle and witness the Changing of the Guard ceremony for an authentic royal experience.
If you prefer natural landscapes, consider visiting the Cotswolds, a region renowned for its rolling hills, idyllic villages, and picturesque countryside. Escape from the hustle and bustle of the city as you wander through quaint towns like Bourton-on-the-Water or Bibury. Enjoy scenic walks or indulge in traditional English tea at a local tearoom – it's an enchanting break from urban life.
On the other hand, exploring scenic routes around London can offer breathtaking views and memorable experiences. For instance, taking a boat trip along the River Thames allows you to witness iconic landmarks like Tower Bridge, Big Ben, and the London Eye from a unique perspective. Cruising down the river with commentary provides fascinating insights into the history and culture of London.
Another option is exploring Hyde Park by bicycle or on foot. This vast green oasis in the heart of London offers serene lakes, beautiful gardens, and even the chance to spot wildlife. You can also visit Kensington Gardens and stroll through the enchanting Diana Memorial Playground or admire the stunning Kensington Palace.
Whether you choose to explore nearby cities or embark on scenic routes around London, these experiences will undoubtedly enrich your visit and offer a different perspective on England's vibrant heritage and natural beauty.
Practical Tips for Visiting London in 2023
To make the most of your trip to London in 2023, it's important to be prepared and well-equipped with practical information. Here are some useful tips to ensure a smooth and enjoyable visit:
Think of planning your London adventure like assembling a puzzle – each piece fits together to create the perfect picture of your exploration.
First and foremost, consider choosing the right time to visit. Avoid peak periods such as July and August, European bank holiday weekends, and school breaks when tourist crowds are at their highest. Opting for shoulder seasons or less busy times will allow you to navigate attractions more comfortably while potentially enjoying better prices.
Next, planning the duration of your stay is crucial. For first-time visitors, it's recommended to spend at least 3-4 days in London to see the main landmarks and popular tourist attractions. If you wish to explore places outside of the city or have a more leisurely experience, consider extending your trip to 5-7 days.
When it comes to booking essentials like flights, accommodations, attractions, and activities, doing so in advance is highly advised. This grants you more choices, better prices, and minimizes time wasted queuing. Online bookings often offer discounted tickets for major attractions like Madame Tussauds or the London Eye.
Don't forget to consider purchasing skip-the-line tickets or priority passes for major attractions to save time and make the most of your visit. The London Pass is an option worth exploring as it includes free entrance to many popular attractions in London. However, it's important to evaluate if the pass is worth it based on the number of attractions you plan to visit.
Armed with these practical tips, your journey to London in 2023 will be well-prepared and hassle-free. Now, let's delve into transportation options and accessibility to ensure smooth navigation during your visit.
Transport and Accessibility Options
London, a bustling metropolis that attracts millions of visitors each year, offers a wide range of transportation options to ensure easy accessibility and convenience for both residents and tourists alike. Whether you're exploring the city's iconic landmarks or venturing into its vibrant neighborhoods, understanding the various transport options is essential to make the most of your time in London.
Public Transportation London boasts an extensive public transportation system, making it easy to navigate the city. The Underground, commonly known as the Tube, is one of the most popular modes of transport. With its comprehensive network of lines and stations, it provides quick and efficient travel throughout the city. Trains are frequent, especially during peak hours, ensuring that you can reach your destination in a timely manner.
Picture this: You're standing on the platform of Piccadilly Circus station, waiting for the next train to arrive. As you step onto the Piccadilly Line train, you find yourself surrounded by locals and fellow tourists. The train whisks you away underground, taking you to Leicester Square in just a few minutes. The convenience and efficiency of the Tube allow you to explore different parts of London seamlessly.
A fantastic complement to the Underground is London's iconic red buses. These double-decker buses provide a scenic way to traverse the city's streets while enjoying picturesque views along the way. Simply hop on one of these buses and take in the sights as you travel from one attraction to another. Plus, with contactless payment systems available on all buses, paying for your journey has never been easier.
While public transportation in London is undoubtedly convenient, some might prefer more flexibility and privacy when getting around. In such cases, you may choose to take advantage of London's extensive taxi services or ride-hailing apps like Uber or Lyft. While these options may be pricier than public transportation, they offer the convenience of door-to-door service and allow you to travel at your own pace.
Cycling and Walking If you're someone who enjoys exploring a city on foot, London offers plenty of pedestrian-friendly areas and scenic walking routes. Take a leisurely stroll through the charming streets of Covent Garden, or walk along the banks of the River Thames for stunning views of iconic landmarks such as the Tower Bridge and the London Eye. Exploring London on foot allows you to immerse yourself in the city's vibrant atmosphere and discover hidden gems along the way.
Alternatively, for those looking for a more eco-friendly and adventurous way to get around, cycling is an excellent option. London has implemented initiatives to promote cycling, providing dedicated cycle lanes and bike-sharing schemes throughout the city. Renting a bike from one of the many docking stations and riding along the scenic paths can be a memorable experience while also being a cost-effective mode of transportation.
Imagine pedaling through Hyde Park on a beautiful sunny day, feeling the breeze on your face as you pass by picturesque landscapes. Cycling not only allows you to explore London at your own pace but also provides health benefits and an opportunity to enjoy the city's green spaces.
Conclusion
In this section, we explored the various transport and accessibility options available in London. Whether it's utilizing public transportation like the Tube and buses, opting for taxis or ride-hailing services, walking through the city's vibrant neighborhoods, or embracing cycling adventures, there are plenty of ways to navigate London efficiently and make the most of your time in this vibrant city. With such diverse options at your disposal, exploring all that London has to offer becomes even more accessible and enjoyable.