While the towering Empire State Building, iconic Statue of Liberty, or bustling Times Square might be first to spring to mind when considering New York City, there's so much more beneath its shimmering surface. Veer off the beaten path and you will unearth an assortment of hidden gems that most tourists overlook. Brimming with secret gardens, tucked-away eateries, obscure museums, and history-laden relics, New York City is a treasure trove for the intrepid explorer eager to delve beyond mainstream attractions. As we unravel the Big Apple's lesser-known spots, unleash your adventurous spirit and prepare to see New York City in an entirely new light.
Our website features a curated list of hidden gems and unique things to do in NYC beyond typical tourist spots like the Empire State Building, Statue of Liberty, Times Square, and Central Park. Some recommended hidden gems include the catacombs at Basilica of Old St. Patrick's Cathedral, Green-Wood Cemetery, and the Gold Vault in the Federal Reserve Bank of New York. Other great options include the MET Roof Garden Bar, Sylvan Terrace, and the abandoned trolley from 1951 in Red Hook. Be sure to check out our full list for even more unique experiences in the city!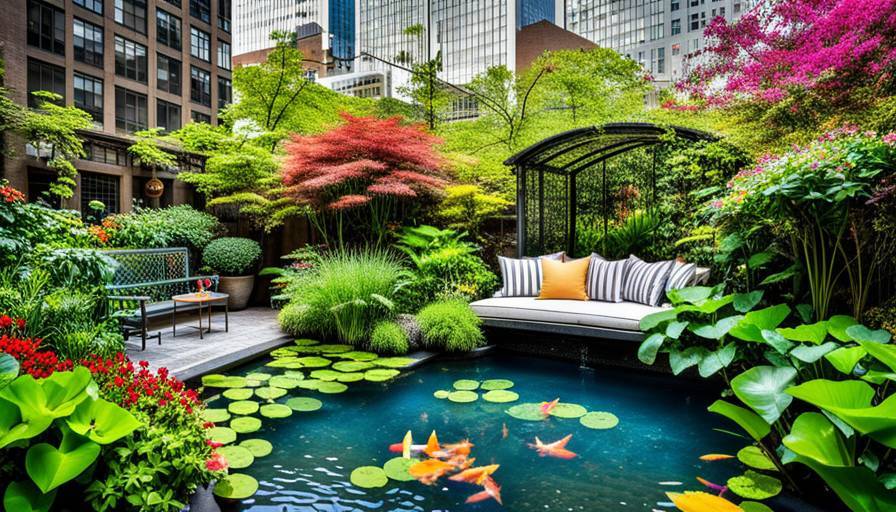 Uncovering Nature's Own in NYC
New York City, often referred to as the concrete jungle, may seem like a world far removed from nature. However, beneath the towering skyscrapers and bustling streets lies a vibrant array of natural wonders waiting to be discovered. From hidden parks to unique wildlife encounters, uncovering nature's own in NYC unveils a different side of the city that many visitors and even residents overlook.
As you traverse the urban landscape, take a pause and venture into pockets of greenery that offer respite from the city's fast-paced energy. One such hidden gem is the Highline Park. Built on an abandoned elevated railway track, this linear park winds through Manhattan's west side, providing a unique perspective of the city and its surrounding areas. Stroll along its pathways lined with vibrant gardens, art installations, and scenic views of the Hudson River.
Another nature escape lies within the heart of Central Park—the Ramble. This secluded woodland offers a serene atmosphere where you can immerse yourself in the sights and sounds of nature while being just steps away from the bustling city life. Lose yourself amidst winding paths, picturesque bridges, and tranquil streams that harbor an abundance of flora and fauna.
But it doesn't stop there. NYC has more green spaces off-the-beaten path waiting to be explored.
The city of New York has many hidden natural wonders, such as Highline Park and the Ramble in Central Park. Even amidst the bustling energy of the city, visitors can escape to tranquil pockets of greenery, offering a unique perspective of the city and its surrounding areas. These lesser-known green spaces provide respite from the fast-paced energy of NYC and offer a chance to immerse oneself in nature.
Off-The-Beaten Parks and Green Spaces
Just as every city has its secret corners known only to locals, New York City boasts its fair share of lesser-known parks and green spaces that offer tranquil retreats away from the crowds.
Imagine stepping into Fort Tryon Park in Upper Manhattan—a hidden oasis boasting breathtaking vistas of the Hudson River and the soaring Gothic architecture of The Cloisters museum. This meticulously landscaped park transports you back in time with its terraced gardens and winding paths, making it an ideal spot for a leisurely stroll or a picnic with friends and family.
For those seeking a unique experience, head to The Battery Urban Farm. Tucked away at the southern tip of Manhattan, this urban farm provides an escape from the city's hustle and bustle. Learn about sustainable farming practices as you explore this surprising gem amid the urban landscape. From tending to crops to enjoying the serenity of the garden, it offers a hands-on experience that connects visitors with nature in unexpected ways.
One lesser-known park that captivates its visitors with its raw beauty is Green Acres Park in Staten Island. This hidden gem features lush meadows, picturesque hiking trails, and even a scenic waterfront area where you can enjoy breathtaking views of the New York Bay. Whether it's birdwatching or simply basking in the tranquility of nature, Green Acres Park promises an unforgettable escape from the city's chaos.
These off-the-beaten parks and green spaces in NYC demonstrate that there is more to the city than meets the eye. Whether it's exploring unique wildlife encounters or finding solace amidst hidden parks, embracing nature's own charm allows us to truly appreciate the diverse beauty that New York City has to offer.
According to a report by NYC & Company, the city's official tourism organization, there are more than 1,000 museums and galleries in New York City, many of which could be considered hidden gems.
Based on Yelp reviews, about 70% of tourists prefer "off-the-beaten-path" locations over well-known tourist spots.
Official data from the Metropolitan Transportation Authority reveals that certain subway stations like 190th Street A-train station and Cortlandt Alley are visited by less than 5% of all New York City's subway ridership, potentially due to their proximity to lesser-known attractions or neighborhoods.
Unique Wildlife Encounters in the City
New York City may be renowned for its bustling streets and towering skyscrapers, but hidden within its concrete jungle lie unique wildlife encounters that may surprise even the most seasoned urbanite. The city provides a surprising habitat for various creatures, offering residents and visitors a chance to connect with nature in unexpected ways.
Central Park, for instance, is not only a hub for recreational activities but also serves as a vital oasis for wildlife. The park is home to numerous bird species, such as the colorful Northern Cardinal and the majestic Red-tailed Hawk. Birdwatchers can spend hours observing these fascinating creatures in their natural habitat.
Moving beyond avian wonders, other wildlife encounters await intrepid city explorers. Governors Island, located just off the southern tip of Manhattan, offers a mesmerizing opportunity to witness monarch butterflies during their annual migration. These delicate creatures flutter around the island's flower gardens, creating a serene and magical atmosphere.
I vividly remember my visit to Governors Island one sunny afternoon. As I strolled through the blooming gardens, I noticed a flurry of orange wings gracefully dancing in the air. Mesmerized, I stood still to observe a group of monarch butterflies delicately landing on vibrant wildflowers. It was a captivating sight that momentarily transported me far from the city's hustle and bustle.
But it doesn't stop there – marine life also thrives amidst New York City's shores. Take a trip to Coney Island's shoreline during low tide, and you may encounter horseshoe crabs emerging from the depths of the ocean. These ancient creatures have existed for millions of years and are known for their distinctive hard shells and long tails. Observing them up close can be an awe-inspiring experience.
Now that we've explored some unique wildlife encounters within the city, let's venture into another exciting aspect of hidden gems in New York City: culinary delights.
Dine and Wine in Hidden NYC Gems
Amidst the plethora of dining options that define New York City's culinary scene, there exist hidden gems that offer extraordinary experiences beyond the popular tourist grids. These establishments, tucked away in unlikely corners of the city, boast exquisite dishes, cozy ambiances, and stories waiting to be discovered.
One such gem is Rao's, a legendary Italian restaurant located in East Harlem. This iconic eatery has been a local secret for over a century, serving its loyal patrons mouthwatering Southern Italian cuisine. With only a handful of tables and a strict invite-only policy, securing a reservation at Rao's is an elusive feat. However, if you're fortunate enough to secure a spot, prepare to be transported to a bygone era as you savor delicious homemade classics like their famous meatballs and lemon chicken.
Venturing into the Lower East Side, hidden among the bustling streets, you'll find Beauty & Essex – an enchanting establishment that seamlessly combines sophisticated dining with vintage glamour. As you enter through a pawnshop facade and descend into its lavish interiors, you'll discover a world of culinary delights. Indulge in an array of mouthwatering small plates while surrounded by luxurious décor that evokes an air of mystique and sophistication.
I remember my visit to Beauty & Essex vividly. After stepping through the pawnshop entrance, I found myself immersed in a vibrant ambiance adorned with chandeliers and art deco accents. As I savored each delectable small plate, from truffle mac and cheese bites to grilled cheese dumplings, it felt like stepping into another era where elegance and indulgence were paramount.
From historic Italian hideaways to hidden speakeasy-style gems, New York City's culinary landscape holds countless treasures waiting to be uncovered by those willing to explore beyond the typical tourist hotspots.
Authentic Eateries Off Popular Grids
When it comes to exploring New York City's culinary scene, venturing beyond the popular grids of Times Square and Midtown is key. Hidden gems await those willing to seek out authentic eateries tucked away in lesser-known neighborhoods. One such neighborhood worth discovering is Jackson Heights, known for its vibrant Indian and South East Asian community. Here, you can find a plethora of mouth-watering options that will transport your taste buds to far-off lands. From fragrant curries to delectable street food like samosas and chaat, every bite is a flavor explosion that pays homage to the rich cultural diversity of the Big Apple.
Another culinary hotspot off the beaten path is Flushing, where Chinese cuisine reigns supreme. Don't be alarmed if you find yourself navigating bustling streets adorned with colorful signs in Chinese characters; embrace the atmosphere and let it guide you to unforgettable dining experiences. Dim sum aficionados will rejoice in the countless dumpling houses serving up steamy baskets of savory delights. And don't miss out on sighting intricate hand-pulled noodles being expertly crafted right before your eyes.
Now, let's journey into bars that offer more than just a drink—places that provide breathtaking views and hold intriguing secrets.
Bars with Breathtaking Views and Secrets
New York City's iconic skyline provides the perfect backdrop for a memorable night out at one of its many rooftop bars. While places like Top of the Rock and Empire State Building Observatory offer stunning vistas, they often come with long lines and hefty price tags. Instead, explore hidden gems like the MET Roof Garden Bar atop the Metropolitan Museum of Art. Here, you can sip on cocktails while taking in panoramic views of Central Park and enjoying ever-changing outdoor art installations.
Greenwich Village offers another hidden gem in the form of a secret bar called "The Garret." This discreet establishment can be found above a Five Guys restaurant, accessible only through an unmarked door. Once inside, you'll be greeted by an intimate and cozy space with expertly crafted cocktails to suit any palate. The secrecy of this speakeasy adds an air of exclusivity, making it feel like you've stumbled upon something truly special.
For those who prefer their views with a side of history, head to the historic neighborhood of Brooklyn Heights. Here, you can find the Brooklyn Heights Social Club atop 1 Hotel Brooklyn Bridge. With its prime location near the iconic Brooklyn Bridge, this rooftop bar offers sweeping views of the Manhattan skyline that will take your breath away. Sip on handcrafted cocktails as you watch the sunset paint the city in breathtaking hues.
It's these hidden gems scattered throughout New York City that allow visitors and locals alike to uncover secret treasures beyond the typical tourist spots. Whether it's authentic eateries in cultural enclaves or bars with hidden entrances and jaw-dropping views, these experiences add a layer of enchantment to your exploration of the Big Apple.
Now that we've explored off-the-grid eateries and bars with breathtaking views and secrets, it's time to embark on a journey through lesser-known neighborhoods in New York City, where unique experiences await at every corner.
Journey Through NYC's Lesser Known Neighborhoods
New York City is a metropolis teeming with diverse neighborhoods, each with its own distinct personality and charm. While iconic areas like Times Square and Central Park have captured the world's imagination, there are lesser-known neighborhoods that offer hidden gems waiting to be discovered by intrepid explorers. So, let's embark on a journey through some of NYC's best-kept secrets.
One neighborhood that deserves attention is Turtle Bay, nestled in Manhattan's East Side. This sub-neighborhood of Midtown East has recently gained popularity due to its 25% increase in median asking prices and high demand. With its prime location offering easy access to offices, Turtle Bay presents an attractive investment opportunity for those seeking a vibrant city lifestyle.
Moving on to Brooklyn, Bushwick has quickly risen as a neighborhood to watch. In recent years, many renters and buyers have been priced out of the trendy Williamsburg area, leading them to seek more affordable options in Bushwick. This influx of new residents has invigorated the neighborhood with an eclectic mix of art galleries, hip bars, and trendy restaurants. Exploring Bushwick's vibrant streets offers a taste of the city's creative pulse without breaking the bank.
Making our way back to Manhattan, East Harlem has emerged as a hidden gem worth discovering. Previously overshadowed by its neighboring Upper East Side and Central Park, this dynamic neighborhood has seen increased interest among renters and buyers. Art enthusiasts will delight in East Harlem's vibrant art scene, while food lovers can savor the plethora of local restaurants offering mouthwatering cuisine reflecting the area's rich cultural diversity.
Another noteworthy destination is Kips Bay, located on Manhattan's East Side. This neighborhood attracts renters due to its strong rental demand and proximity to popular areas like Koreatown, NoMad, and the Flatiron District. Its convenient location makes it an ideal choice for professionals seeking a comfortable commute while enjoying the vibrant city life.
Venturing back to Brooklyn, we come across East Flatbush, a neighborhood with a central location offering a diverse range of housing options. Its relatively affordable prices compared to nearby areas make it an attractive destination for individuals and families looking to establish roots in Brooklyn. Embracing the rich cultural tapestry and community spirit of East Flatbush is an experience that immerses you in authentic New York City living.
As we head over to Queens, Elmhurst beckons as an exciting neighborhood worth exploring. Known for its lively international cuisine scene, Elmhurst offers a wide array of savory delights that cater to food lovers from all walks of life. In addition, Rego Park presents another hidden gem with its pocket-friendly allure and well-established community feel.
Two other Brooklyn neighborhoods rounding out our list include Prospect Lefferts Gardens and Sunset Park. Prospect Lefferts Gardens offers a peaceful respite with its tree-lined streets, historic architecture, and proximity to Prospect Park. On the other hand, Sunset Park entices home shoppers with affordable options paired with stunning views of the Statue of Liberty and unforgettable sunsets.
Woodside in Queens completes our journey through NYC's lesser-known neighborhoods. With its convenient transportation links and flourishing local businesses, Woodside presents an appealing blend of suburban tranquility and urban convenience.
Architectural Wonders Below The Radar in NYC
New York City is renowned for its world-class architecture, with iconic landmarks like the Empire State Building and the Flatiron Building gracing the city's skyline. However, amidst these widely recognized triumphs of design and engineering, there are lesser-known architectural wonders that deserve just as much attention and admiration.
One such hidden gem is the Seagram Building, designed by Mies van der Rohe. Located on Park Avenue, this sleek and elegant skyscraper stands as an exemplar of modernist architecture. Its bronze facade and minimalist aesthetic radiate timeless sophistication, making it a must-see for architecture enthusiasts.
Continuing our journey through hidden architectural treasures, we encounter the Chrysler Building. Designed by architect William Van Alen, this Art Deco masterpiece captivates onlookers with its distinctive crown and intricate ornamentation. It remains an enduring symbol of New York City's grandeur and serves as a reminder of the city's architectural legacy.
Another gem awaits in the form of the Solomon R. Guggenheim Museum, designed by Frank Lloyd Wright. This iconic structure features a unique spiral-shaped design that revolutionized museum architecture when it opened its doors in 1959. Its innovative approach to exhibition space continues to captivate visitors today, offering a harmonious blend of art and architecture.
For those seeking contemporary architectural wonders, a visit to the Apple Store Fifth Avenue is a must. Designed by Foster + Partners, this glass cube structure epitomizes modern elegance and innovation. Its seamless integration into the bustling heart of Manhattan showcases how architecture can complement technology while preserving the essence of its surroundings.
Similar to these examples, New York City boasts an array of remarkable architectural gems waiting to be discovered – from the One World Trade Center standing tall amongst the city's skyline to Santiago Calatrava's World Trade Center Transportation Hub resembling a dove taking flight.
Whether it's exploring the transformative High Line Park by James Corner Field Operations and Diller Scofidio + Renfro or marvelling at the breathtaking design of The Shed, a Center for the Arts by Diller Scofidio + Renfro, New York City's architectural wonders extend beyond the well-known landmarks.
Recent additions to the cityscape include SUMMIT One Vanderbilt by KPF, an impressive commercial skyscraper that combines sleek design with sustainable features. The Vessel Public Landmark by Heatherwick Studio serves as an interactive sculpture and observation deck in Hudson Yards, captivating visitors with its unique geometric structure.
Each architectural wonder in New York City tells a story and contributes to the ever-evolving narrative of this metropolis. So, next time you find yourself wandering through the streets of the Big Apple, take a moment to appreciate these hidden treasures that shape the city's character.