Dive into the bustling heart of New York City, an enchanting paradise for globetrotters where lights never dim and adventures never halt. This pulsating metropolis, bursting with timeless iconography and contemporary charisma, is a treasure trove waiting to be explored. Find yourself swept in a whirl of charismatic neighborhoods, iconic landmarks, culinary delights and hidden nooks that narrate captivating tales of this remarkable city. Whether you're a seasoned returning visitor or setting foot for the first time on New York's vibrant streets, this guide will unveil top places to visit and undercover gems often overshadowed by the city's towering fame. Step beyond the cliches and explore New York City's authentic spirit with us as we unmask its profound allure in ways you've never seen before. Experience the Big Apple from a whole new perspective!
There are many iconic attractions in New York City that you won't want to miss, such as the Statue of Liberty, the Empire State Building, Times Square, Central Park, and the 9/11 Memorial & Museum. Other popular experiences include exploring neighborhoods like Greenwich Village or SoHo, visiting museums like MoMA or the American Museum of Natural History, or catching a Broadway show. With so much to see and do in NYC, it's important to plan your itinerary in advance to make sure you don't miss out on any of the city's unique charms!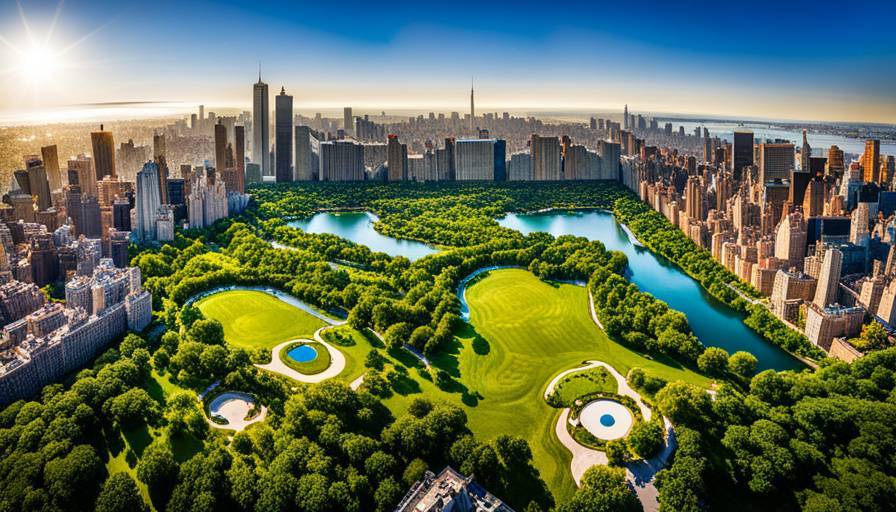 Iconic Places to Visit in New York City
New York City, the city that never sleeps, is a vibrant and eclectic destination with countless iconic places to explore. From famous landmarks to hidden gems, there's something for everyone in the Big Apple. Whether you're a first-time visitor or a seasoned traveler, these top places are not to be missed.
Central Park
Tucked away amidst the towering skyscrapers of Manhattan lies the sprawling oasis known as Central Park. Spanning 843 acres, this iconic green space offers a refreshing respite from the bustling city streets. As you step into the park, you'll be greeted by lush landscapes, winding pathways, and tranquil bodies of water. The park's diverse range of attractions ensures there's never a shortage of things to see and do.
One of the must-visit spots within Central Park is Strawberry Fields, dedicated to the memory of music legend John Lennon. Located near West 72nd Street, this serene memorial features the famous "Imagine" mosaic as a tribute to Lennon's contributions to peace and music. Visitors often come here to pay their respects or simply find solace in the serene atmosphere.
Another iconic feature of Central Park is the Bow Bridge. As you stroll along its elegant archway, you'll be immersed in picturesque views of the park's beautiful surroundings. The bridge's romantic charm has made it a popular spot for couples looking to capture memorable moments or enjoy a leisurely walk hand-in-hand.
For those seeking scenic spots for stunning photographs, Bethesda Terrace is an absolute gem. This architectural masterpiece boasts intricate details and grandeur that make it an ideal backdrop for photoshoots or simply soaking in the beauty. Feel free to sit on one of the inviting benches overlooking Bethesda Fountain and watch as life unfolds around you.
Beyond these specific attractions, Central Park offers a diverse array of activities to suit every interest. From horse-drawn carriage rides and ice skating in winter to picnicking on the Great Lawn and attending concerts at the SummerStage, there's always something happening within this urban oasis.
The beauty of Central Park lies not only in its physical attributes but also in its ability to transport visitors away from the frenetic pace of city life. It serves as a sanctuary where New Yorkers and tourists alike can find solace, immerse themselves in nature, and partake in various recreational activities.
Just like the city itself, Central Park is an ever-evolving tapestry that offers a unique experience with each visit. It's these experiences, whether it's watching vibrant fall foliage or catching a glimpse of the iconic Dakota Apartments from "Home Alone 2," that make each trip to Central Park memorable in its own way.
The National September 11 Memorial & Museum is visited by over 5 million people every year, according to NYC statistics.
Central Park, on the other hand, sees a massive annual count of about 42 million visitors – making it one of the most populous urban parks in the United States.
The Top of the Rock observation deck, providing unparalleled views of New York City's skyline, is estimated to have around 2.5 million visitors every year.
The Empire State Building
Rising majestically into the Manhattan skyline, the Empire State Building is a symbol of New York City's grandeur and a must-visit attraction for any traveler. This architectural masterpiece stands at an impressive height of 1,454 feet (443.2 meters), offering breathtaking panoramic views of the city from its observation decks on the 86th and 102nd floors.
As you ascend to the observation decks in one of their sleek elevators, you'll be greeted by stunning vistas that stretch as far as the eye can see. Marvel at iconic landmarks such as Central Park, Times Square, and the Statue of Liberty, all while immersed in the electrifying energy that defines New York City.
Picture this: Watching the sun dip below the horizon, casting hues of orange and purple across a sprawling metropolis. The glittering lights of skyscrapers flicker to life, illuminating an urban wonderland beneath your feet. It's moments like these that create lasting memories and remind us why the Empire State Building holds a special place in our hearts.
The observatories provide not only incredible views but also historical context through informative exhibits. Learn about the building's construction during the Great Depression and how it became a beacon of hope for the city. Gain insights into its importance as a cultural icon, featured prominently in movies, art, and popular culture throughout history.
And if you're looking for a truly unforgettable experience, consider visiting during sunset or at night when New York City transforms into a glowing spectacle. Witnessing this vibrant city bathed in twinkling lights is an absolute feast for the senses.
Whether you're a first-time visitor or returning to relive cherished memories, exploring the Empire State Building invites you to connect with New York City's rich past and vibrant present while marveling at its ever-evolving future.
Now that we've explored the allure and majesty of the Empire State Building, let's move on to another iconic destination: Times Square.
Times Square
Step into the heart of New York City's bustling theater district, and you'll find yourself engulfed in the vibrant energy of Times Square. Known as "The Crossroads of the World," this iconic destination offers a sensory overload like no other, with its bright neon billboards, Broadway marquees, and bustling crowds.
Imagine being surrounded by towering digital screens displaying larger-than-life advertisements for your favorite brands. The animated billboards light up the night sky as street performers captivate passing audiences with their acts of music, magic, and dance. The atmosphere is electrifying—an amalgamation of cultures and languages blending seamlessly into a vivid tapestry that showcases New York City's diversity and dynamism.
Apart from being a hub for renowned theaters that stage Tony award-winning productions, Times Square offers a myriad of shopping opportunities. Explore flagship stores of international brands or hunt for unique souvenirs in quirky boutiques. Satiate your taste buds at a diverse range of eateries, from gourmet restaurants to food trucks selling delectable street fare.
As you navigate through the buzzing streets, take a moment to appreciate some hidden gems within Times Square itself. Discover Duffy Square, where you can lounge on bright red chairs while people-watching. Find solace in Father Duffy Square's statue commemorating Colonel Francis P. Duffy, providing a tranquil spot amid the city's constant motion.
Amongst all the excitement, don't forget to visit the TKTS booth located in Times Square where you can find discounted tickets for Broadway shows. It's an opportunity not to be missed if you're looking to catch world-class performances at more reasonable prices.
Times Square undoubtedly embodies the pulsating heartbeat of New York City. As we wrap up our exploration of this exhilarating destination, take a moment to reflect on the vibrant energy and dynamic spirit that defines the city that never sleeps.
Hidden Gems: Unique NYC Sites
New York City is famous for its iconic landmarks, but beyond the Empire State Building and Times Square, there are numerous hidden gems waiting to be discovered. These unique NYC sites offer a different perspective on the city, allowing visitors to delve into its rich history and vibrant culture.
One such hidden gem is the High Line Park, an elevated linear park built on a historic freight rail line. This urban oasis stretches over a mile and offers stunning views of the city skyline while showcasing beautiful gardens, artwork, and unique architecture. Walking along the High Line is a tranquil experience away from the bustling streets below.
Another hidden gem worth exploring is Roosevelt Island. Located in the East River between Manhattan and Queens, this small strip of land offers a peaceful escape from the city's noise. Take the Roosevelt Island Tramway for breathtaking views as you make your way to the island. Once there, stroll along the scenic waterfront promenade or visit attractions like Franklin D. Roosevelt Four Freedoms Park or The Smallpox Hospital Ruins.
For art enthusiasts, a visit to Socrates Sculpture Park is a must. Located in Long Island City, this outdoor museum showcases contemporary sculptures and installations within an expansive waterfront park. You can admire unique artworks while enjoying picnics or attending art performances and events that take place throughout the year.
Now that we've explored some hidden gems in NYC, let's dive into specialty museums that offer a more niche and fascinating glimpse into various subjects.
Specialty Museums
While New York City is home to world-renowned museums like The Metropolitan Museum of Art and MoMA, it also boasts a range of specialty museums that cater to specific interests or themes. These museums provide an opportunity to delve deeper into niche subjects and gain specialized knowledge.
One notable specialty museum is The Tenement Museum on the Lower East Side. It offers a unique interactive experience, taking visitors back in time to explore the lives of immigrants who lived in the building during different eras. Through guided tours and recreated living spaces, you can gain insight into the challenges, dreams, and successes of generations past.
If you have an interest in mathematics or are simply curious about its applications, a visit to The Museum of Mathematics is a must. Located in Manhattan, this interactive museum showcases the wonders of math through hands-on exhibits and engaging activities. From exploring geometric shapes to discovering how math impacts our daily lives, this museum makes math fun and accessible for all ages.
For those fascinated by technology and innovation, The Intrepid Sea, Air & Space Museum offers a captivating experience. Housed inside the Intrepid aircraft carrier on the Hudson River, this museum allows you to explore historic military aircraft, a space shuttle prototype, and even climb aboard a submarine. The museum also hosts special exhibitions and events that highlight the history and significance of sea, air, and space exploration.
Think of specialty museums as hidden treasure troves within the vast cultural landscape of New York City. They provide opportunities to immerse yourself in specific areas of interest and discover new passions along the way.
Lesser-Known Neighborhood Landmarks
While New York City is famous for its iconic landmarks like the Statue of Liberty and Times Square, the city is also brimming with lesser-known neighborhood landmarks that are worth exploring. These hidden gems offer a glimpse into the rich history and unique character of different neighborhoods throughout the city.
In the hipster haven of Williamsburg, Brooklyn, you can stumble upon the stunning Bushwick Collective. This vibrant outdoor street art gallery showcases the work of local and international artists on warehouse walls and storefronts. Take a leisurely stroll through this colorful open-air museum and immerse yourself in the dynamic artistic energy of the neighborhood.
Venturing into the Bronx, make sure to visit Wave Hill, a beautiful public garden nestled on a hill overlooking the Hudson River. This tranquil oasis offers breathtaking views, winding trails, and impeccably manicured gardens. It's an ideal escape from the bustling city streets, where you can relax and reconnect with nature.
If you find yourself in Queens, don't miss out on Flushing Meadows-Corona Park, home to the iconic Unisphere. Built for the 1964 World's Fair, this enormous stainless steel globe has become an emblematic symbol of the park and represents global unity. As you explore this expansive green space, you'll discover many other attractions such as the Queens Museum, which houses intriguing displays about New York City history.
A visit to Staten Island wouldn't be complete without stopping by Snug Harbor Cultural Center & Botanical Garden. This historical site was once a retirement home for sailors and now serves as a vibrant cultural hub with exquisite botanical gardens. Marvel at the architecture of Greek Revival-style buildings while immersing yourself in various art exhibitions and performances.
These are just a few examples of lesser-known neighborhood landmarks in New York City. Exploring these hidden gems will allow you to gain a deeper appreciation for the diverse history, culture, and artistic expressions found within the city's neighborhoods.
Dining and Shopping: NYC Experiences
When it comes to dining and shopping in New York City, the options are practically limitless. From world-renowned restaurants to eclectic street markets, the city offers a culinary and retail experience like no other.
For food enthusiasts, a visit to Midtown Manhattan is a must. This bustling neighborhood is home to iconic spots like Katz's Delicatessen, famous for its mouthwatering pastrami sandwiches, and Eataly, a sprawling Italian marketplace where you can indulge in a wide array of Italian delicacies. Embark on a food tour through Midtown and savor the diverse flavors that make up this vibrant culinary landscape.
In the trendy neighborhood of Williamsburg, Brooklyn, you'll find an abundance of unique dining experiences. From artisanal coffee shops like Devoción to trendy rooftop bars like Westlight, there is something for every palate and preference. Explore local favorites such as Peter Luger Steak House, renowned for its perfectly cooked steaks, or indulge in creative farm-to-table cuisine at Olmsted.
When it comes to shopping, Greenwich Village is a haven for fashionistas with its charming boutiques and vintage shops. Stroll along Bleecker Street and discover hidden gems like Marc Jacobs' Bookmarc store or browse through high-end designers at Kirna Zabête. If you're looking for unique pieces, head to the Chelsea Market in the Meatpacking District, where you'll find a curated selection of artisans selling everything from handmade jewelry to gourmet chocolates.
To truly immerse yourself in the local food scene and get a taste of authentic New York City culture, be sure to explore the diverse food trucks scattered throughout different neighborhoods. These mobile culinary delights offer a unique and affordable way to sample a variety of cuisines, from mouthwatering tacos at Taco Trucks in the Bronx to savory dumplings at Jamaican Dutchy Food Truck in Midtown.
With so many culinary and retail experiences awaiting you, New York City truly caters to every taste and budget. Whether you're a foodie or a shopaholic, the city offers an endless array of options that will leave you craving more.
Best Local Cuisine
When it comes to exploring a city's vibrant food scene, New York City never disappoints. With its diverse population and rich culinary heritage, there is an endless array of local cuisine to satisfy every palate. From world-famous delicacies to hidden gems tucked away in neighborhood corners, the city offers a culinary journey unlike any other.
Start your culinary adventure by indulging in some quintessential New York dishes like pizza and bagels. Head over to legendary pizzerias such as Di Fara Pizza in Brooklyn or Joe's Pizza in Greenwich Village for a slice of heaven. Treat yourself to a freshly baked bagel with lox and cream cheese from iconic spots like Ess-a-Bagel or Russ & Daughters.
But the culinary journey doesn't stop at these classics. NYC is also renowned for its international flavors. Explore the diverse neighborhoods for authentic cuisine from around the world. In Queens, you'll find delicious Indian, Colombian, Chinese, and Greek restaurants that will transport your taste buds to different corners of the globe. Don't miss out on trying delectable dim sum in Chinatown or savoring aromatic spices at Little India in Jackson Heights.
For a taste of the city's melting pot culture, venture into the trendy food halls and markets like Chelsea Market or Smorgasburg. These bustling hubs bring together an array of vendors serving up everything from artisanal chocolates to gourmet tacos. It's a paradise for food lovers seeking unique flavors and innovative culinary creations.
Additionally, explore the city's thriving street food scene. From hot dogs and pretzels on street corners to halal carts serving mouth-watering chicken over rice, these affordable options offer a quick taste of New York's culinary landscape while you explore the city streets.
Remember, part of experiencing local cuisine is also immersing yourself in the ambiance of iconic dining establishments that have stood the test of time. Step into Katz's Delicatessen on the Lower East Side, a New York institution known for its towering pastrami sandwiches. Take a seat at one of the classic diners like Tom's Restaurant in Brooklyn and soak up the retro vibes along with your breakfast.
Whether you're a food connoisseur or simply a hungry traveler looking for an authentic taste of New York City, exploring the local cuisine will be an adventure that satisfies both your appetite and curiosity.
Now that we've explored the fascinating world of New York City's culinary scene, let's dive into another aspect that makes this city truly special—the boutique shopping experience in Soho.
New York City's culinary scene offers an endless array of diverse and authentic cuisine options from classic dishes like pizza and bagels to international flavors found in various neighborhoods. Food halls, markets, and street vendors provide unique and innovative culinary creations, while iconic dining establishments offer a glimpse into the city's history. The experience of exploring local cuisine is an adventure that satisfies both appetite and curiosity for any food lover or traveler in New York City.
Boutique Shopping in Soho
When it comes to fashion and style, few neighborhoods possess the same level of allure as Soho. Situated in downtown Manhattan, Soho offers a unique shopping experience unlike any other. Renowned for its cobblestone streets, cast-iron architecture, and vibrant atmosphere, this neighborhood is a haven for fashion enthusiasts and trendsetters alike.
Soho is home to a myriad of boutique stores featuring both established designer labels and emerging talent. Wander through the charming streets lined with storefronts showcasing cutting-edge fashion, handcrafted accessories, and unique homeware items. From high-end luxury brands like Chanel and Prada to independent designers pushing the boundaries of creativity, you'll find an eclectic mix of styles to suit every taste.
Picture yourself stepping into a chic boutique where racks are adorned with carefully curated clothing pieces tailored to reflect the latest fashion trends. You might discover one-of-a-kind dresses created by local designers or stumble upon luxurious leather goods handmade by skilled artisans. Unlike mainstream department stores, these boutiques offer personalized service and knowledgeable staff who can guide you towards finding pieces that truly resonate with your personal style.
In addition to exploring the fashion boutiques, Soho is also a treasure trove for unique vintage and consignment shops. Dive into hidden gems like What Goes Around Comes Around, where you can unearth timeless designer pieces that carry a story from the past. These vintage havens provide an opportunity to embrace sustainable fashion while making a statement with your wardrobe.
Apart from clothing and accessories, Soho boasts a vibrant art scene, with galleries showcasing cutting-edge contemporary art. Take a break from shopping and immerse yourself in the creative energy of these spaces.
Remember to explore the side streets and smaller alleyways as well. Sometimes the most unexpected finds are tucked away in nondescript storefronts or pop-up boutiques waiting to be discovered.
Now that we've explored the fashionable delights of Soho, it's time to delve into the next section of our NYC travel guide: "Things to Do: NYC Style."
Things to Do: NYC Style
New York City, known as the city that never sleeps, is a vibrant metropolis offering a multitude of activities for all types of travelers. When it comes to things to do in NYC, it's all about experiencing the city's unique style and soaking up its energetic atmosphere. Whether you're a first-time visitor or a seasoned traveler, here are some must-see attractions and hidden gems that will help you discover the essence of NYC.
One iconic experience that encapsulates NYC style is exploring the diverse neighborhoods. From the bustling streets of Times Square to the artistic haven of SoHo, each neighborhood has its own character and charm. Take a leisurely stroll through Greenwich Village and immerse yourself in its bohemian atmosphere. Discover hidden speakeasies and boutique shops tucked away in the enchanting streets of the West Village. Explore the trendy boutiques and innovative art galleries of Williamsburg in Brooklyn. By venturing beyond the tourist hotspots, you'll truly get a taste of New York City's unique style.
Another quintessential NYC activity is indulging in culinary delights. The city boasts an unparalleled food scene, with countless restaurants serving cuisine from around the world. Grab a delicious slice of New York-style pizza from a local pizzeria or savor an authentic bagel with cream cheese from a neighborhood deli. For more adventurous foodies, explore the diverse offerings at street food markets like Smorgasburg or venture into ethnic neighborhoods such as Chinatown for delectable dumplings and mouth-watering dim sum. Dining experiences in NYC go far beyond satisfying your hunger; they offer glimpses into different cultures and culinary artistry.
Art enthusiasts can immerse themselves in NYC's world-renowned museums and galleries. Visit iconic institutions like the Metropolitan Museum of Art or the Museum of Modern Art (MoMA) to admire masterpieces by renowned artists. For a more offbeat art experience, explore the streets of Bushwick in Brooklyn, where vibrant murals adorn the buildings and ever-changing street art is on display. You can even stumble upon hidden galleries showcasing emerging artists and experimental installations. With its incredible range of artistic expressions, NYC offers something for every art lover.
These are just a few examples of the multitude of activities that embody NYC style. Exploring the city's neighborhoods, savoring its diverse culinary scene, and immersing oneself in its thriving art scene are just some of the many ways to experience New York City's unique atmosphere.
Now that we've explored things to do in NYC that capture its distinctive style, let's dive into another aspect that makes this city famous: its vibrant nightlife.
NYC Nightlife Adventures
When the sun sets over the iconic New York City skyline, the city comes alive with a vibrant nightlife like no other. Whether you're seeking sophisticated cocktail bars or energetic nightclubs, NYC offers an abundance of options to suit any taste. Get ready for unforgettable nights full of music, dancing, and unforgettable experiences.
One hotspot for nightlife aficionados is Avant Gardner, located in Brooklyn. This sprawling venue hosts some of the best EDM and techno shows in the city, drawing crowds with its state-of-the-art sound system and immersive visual displays. The club also utilizes convenient wristband payments, allowing you to enjoy the night without worrying about carrying cash or cards.
For those looking for a different kind of nightlife experience, House of Yes in Brooklyn brings together theater, cabaret, and circus performances to create an electrifying atmosphere. Immerse yourself in an evening of creativity, outrageous costumes, and mesmerizing acts that will leave you awestruck.
If rooftop views are your preference, head to Fleur Room atop the Moxy Chelsea Hotel. This classy rooftop bar and club provide stunning panoramic views of the city skyline while serving up expertly crafted cocktails. It's the perfect spot to enjoy a glamorous night out with friends or that special someone.
When it comes to nightlife experiences in NYC, the options are limitless. Each club and bar offers its own unique vibe, from the grungy basement atmosphere of Electric Room to the cozy, hipster-friendly ambiance of Bossa Nova Civic Club. Whether you're into live jazz music at Special Club or exploring the varied decor and bright colors at Rumpus Room, there is truly something for everyone.
Exploring NYC's vibrant nightlife opens up a world of excitement and entertainment. From dance floors pulsating with energy to cozy cocktail bars with live music, each venue offers a different experience that adds to the endless allure of this city.
Outdoor Activities in Central Park
Central Park in New York City is not only a green oasis in the midst of the bustling metropolis, but it also offers a plethora of outdoor activities that cater to a wide range of interests. Whether you're a nature lover, art enthusiast, sports aficionado, or just looking for a peaceful escape from the city's chaos, Central Park has something for everyone.
One popular activity in Central Park is biking. With its extensive network of bike paths and scenic routes, cycling through the park allows visitors to explore its vast landscapes at their own pace. You can rent bikes from various rental shops located near the park's entrances and choose from a variety of options such as traditional bicycles, tandem bikes, or even electric bikes for an effortless ride. As you pedal along the winding paths, you'll be treated to panoramic views of lush greenery, stunning lakes, and iconic landmarks like Belvedere Castle.
Imagine cruising on a bike with a gentle breeze against your face as you discover hidden corners and lesser-known spots within the park. You might stumble upon Shakespeare Garden with its enchanting flowers and plants mentioned in the bard's works. Or perhaps you'll come across The Ramble, a tranquil woodland area teeming with birdlife where you can escape into nature and forget about the hustle and bustle of city life.
If biking isn't your cup of tea, another fantastic outdoor activity worth trying is horseback riding. Yes, right in the heart of New York City! The park boasts several stables that offer guided horseback rides through designated trails within Central Park. It's an opportunity to experience a unique blend of urban and rural environments as you navigate alongside towering skyscrapers while being surrounded by nature's beauty.
Aside from biking and horseback riding, Central Park provides ample space for various sports and recreational activities such as picnicking, rollerblading, jogging, and yoga. You can gather with friends or family for a leisurely picnic on the Great Lawn while enjoying stunning views of the park's landscape. Or strap on a pair of rollerblades and zoom through the park's smooth paths, feeling the wind in your hair.
For those who prefer more relaxing pursuits, Central Park features several boating options. Head over to the iconic Loeb Boathouse and rent a rowboat or a gondola for an idyllic cruise across one of the park's beautiful lakes. As you glide along the water, you'll be surrounded by tranquility and breathtaking views of Manhattan's skyline.
These are just a few examples of the many outdoor activities that Central Park offers. Whether you're seeking adventure, nature exploration, or simply a peaceful retreat, this beloved park is sure to exceed your expectations.