Imagine experiencing eclectic cosmopolitan charm, natural beauty beyond measure, and pulsating events that leave you wanting for more; welcome to Ontario 2023! From the urban allure of Toronto to the panoramic delights of Niagara Falls; the cultural diversity of Ottawa to the vine-clad tranquility of Prince Edward County, Ontario is all this and more. This Ultimate Guide is your key, not only to navigate but truly savor what's on offer in terms of top attractions and events this 2023. Buckle up for an undeniably exciting ride across Ontario, emblazoned with unmatched joys and unforgettable experiences!
There are endless possibilities for fun and adventure in Ontario in 2023. Some popular activities include visiting Niagara Falls, exploring Toronto's museums and landmarks, taking a scenic drive along Lake Superior's North Shore, enjoying outdoor recreation in Algonquin Provincial Park, attending festivals like the Canadian National Exhibition, and much more. Keep an eye out for special events and attractions throughout the year as well.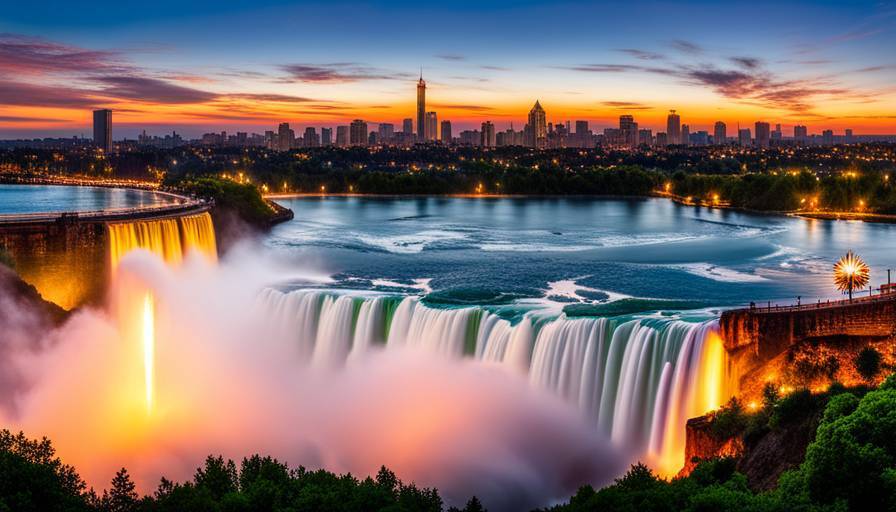 Discovering Ontario in 2023
Ontario, the breathtaking province nestled in the heart of Canada, is a treasure trove of diverse experiences waiting to be discovered in 2023. From vibrant cities to natural wonders, this region offers an abundance of attractions and events that are sure to captivate visitors from around the world.
One of the most popular cities in Ontario is Toronto, a vibrant metropolis that never fails to impress. As you venture through its streets, you'll be greeted by a mesmerizing blend of towering skyscrapers and charming neighborhoods. Take a stroll along the bustling streets of downtown, where you can explore eclectic shops, indulge in culinary delights from around the globe, and immerse yourself in the city's rich cultural scene.
If you're seeking to connect with nature, make your way to one of Ontario's stunning national parks or conservation areas. For instance, Algonquin Provincial Park offers an unparalleled opportunity to experience the beauty of Canada's wilderness. Embark on a canoe trip along pristine lakes and meandering rivers, hike through lush forests teeming with wildlife, or simply bask in the serenity of this untouched oasis.
| City | Top Attractions |
| --- | --- |
| Toronto | CN Tower, Distillery Historic District |
| Ottawa | Parliament Hill, Rideau Canal |
| Niagara | Niagara Falls, Butterfly Conservatory |
| Kingston | Fort Henry National Historic Site, Kingston Waterfront |
Exploring Ontario is like flipping through the pages of a captivating storybook – each city offering its own unique tale waiting to be unraveled.
Now that we've set foot on the enchanting lands of Ontario let's uncover some notable highlights awaiting us in Toronto for 2023.
According to GetYourGuide, there are 108 registered activities available in Ontario for 2023.
While specific rankings aren't provided, these activities' popularity is determined by key factors including customer rating, availability, diversity, performance over time, and revenue generated.
Even without exact detail on individual activities, future tourism projection reports suggest high attendance numbers at landmarks like Niagara Falls, Toronto city tours and Ottawa museums reflecting a significant interest in cultural and historical exploration amongst tourists visiting Ontario.
Ontario, Canada is a treasure trove of diverse experiences encompassing vibrant cities and natural wonders that promise to captivate visitors from around the world in 2023. From exploring the bustling streets of downtown Toronto with its eclectic shops and diverse culinary scene to connecting with nature in Algonquin Provincial Park, Ontario seems like a perfect destination for people looking to unwind and discover. Each city in Ontario offers its unique tale waiting to be unraveled like Kingston's Fort Henry National Historic Site or Ottawa's Rideau Canal. In all, exploring Ontario is like flipping through pages of a captivating storybook with each turn leading us closer to a unique experience.
Visiting Toronto's 2023 Highlights
Toronto, the bustling capital of Ontario, promises an unforgettable experience with its array of attractions and events. In 2023, the city is brimming with excitement, making it an ideal destination for every traveler. From cultural festivals to iconic landmarks, Toronto offers a tapestry of experiences that will leave you in awe.
Begin your exploration by scaling new heights at Toronto's iconic CN Tower. As you ascend to its observation deck, relish the panoramic views of the city's skyline stretching out in all directions. Dare to venture onto the EdgeWalk, where you can circumnavigate the tower's edge while harnessed safely – a thrilling adventure that few can resist.
Immerse yourself in Toronto's rich history by visiting the Distillery Historic District. This captivating neighborhood boasts preserved Victorian-era buildings that now house art galleries, boutiques, and restaurants. Meander through cobblestone streets lined with charming shops and take a moment to savor delectable culinary delights or indulge in unique craft beers distilled on-site.
| Event | Date |
| --- | --- |
| Toronto Jazz Fest | July 18 – August 4, 2023 |
| Canadian National Exhibition (CNE) | August 18 – September 4, 2023 |
| Taste of Toronto | June 15 – June 18, 2023 |
And this is just the beginning! Toronto has so much more in store for visitors eager to uncover its hidden gems and vibrant events.
What's new in Niagara
Niagara Falls is a bucket-list destination that continues to captivate visitors with its natural beauty and awe-inspiring attractions. In 2023, Niagara offers exciting new experiences and enhancements that will elevate your visit to this iconic destination.
One of the notable additions is the Niagara Speedway, North America's largest elevated go-kart track. Strap into one of their state-of-the-art electric go-karts and race against family and friends on a spiraling track filled with twists, turns, and exhilarating drops. The Niagara Speedway is sure to provide adrenaline-pumping fun for the whole family.
Another exciting addition is the Riverside Gazebo, a brand-new venue located in Queen Victoria Park. With stunning views of the falls and the mighty Niagara River, this beautiful space offers an ideal setting for weddings, concerts, and other special events. Imagine exchanging your vows with the majestic falls as your backdrop or attending a live music performance in this picturesque location.
Additionally, if you're a fan of craft beverages, you'll be thrilled to learn about the Niagara Distillery. This new establishment allows visitors to embark on a journey through the world of spirits, from learning about the distillation process to sampling handcrafted gin, vodka, whisky, and more. Immerse yourself in the art of craft distilling and indulge in tastings of innovative concoctions made with local ingredients.
With these new additions to Niagara's already impressive lineup of attractions and experiences, there's no doubt that 2023 will be an unforgettable year for visitors seeking adventure and new discoveries.
Exciting Weekend Activities for 2023
Weekends are precious moments where we have the opportunity to explore, unwind, and create lasting memories. In Ontario, there is no shortage of exciting activities to fill your weekends with joy and adventure in 2023. Whether you're a nature enthusiast, an art lover, or a foodie, Ontario has something to offer everyone.
For nature-lovers, why not head to Algonquin Provincial Park and immerse yourself in the breathtaking beauty of the wilderness? With its lush forests, sparkling lakes, and abundant wildlife, Algonquin Provincial Park is a haven for outdoor enthusiasts. Explore the park's extensive network of hiking trails, paddle along its scenic rivers and lakes, or simply relax and soak in the tranquil surroundings. Capture stunning photographs of the fall foliage or witness the dramatic displays of wildlife during different seasons.
If you're more inclined towards cultural experiences, consider visiting the vibrant city of Toronto. Take a stroll through Kensington Market, where multiculturalism comes alive through eclectic boutiques, vibrant street art, and diverse culinary offerings. Indulge your taste buds with international cuisine from various food stalls and restaurants as you navigate through this bohemian neighborhood full of character and charm.
Art enthusiasts will find their bliss at the Art Gallery of Ontario (AGO). Explore world-class collections spanning from ancient works to contemporary masterpieces. Marvel at renowned artists such as Group of Seven members or immerse yourself in provocative installations that push the boundaries of art. AGO offers a space for inspiration and contemplation.
Ontario's weekend offerings are truly diverse and cater to a wide range of interests. Whether you seek adventure in nature, cultural immersion in bustling cities, or artistic inspiration in galleries and museums, there are endless possibilities for unforgettable weekend experiences in Ontario in 2023.
2023 Scenic Routes
Ontario, with its vast and diverse landscapes, offers a plethora of scenic routes that showcase the province's natural beauty. Whether you're a nature lover or simply enjoy picturesque drives, exploring these scenic routes in 2023 is an absolute must.
One such route that comes highly recommended is the St. Lawrence Parkway. This quiet and well-maintained road runs parallel to the St. Lawrence River, providing breathtaking views of the water and surrounding countryside. Along the way, you'll find numerous picnic spots where you can pause and take in the serene atmosphere. For those who prefer more active pursuits, there's also a dedicated path for biking, running, rollerblading, and other outdoor activities.
Another noteworthy scenic drive is along the Grand River. As you meander through this route, you'll be treated to stunning vistas of farmland and the winding river itself. The peacefulness and tranquility offered by this route make it an ideal choice for a leisurely drive or even a Sunday afternoon picnic.
For those seeking a more adventurous experience, Ontario has several hiking opportunities on rocky terrains with awe-inspiring views. Imagine standing on top of ancient cliffs overlooking turquoise waters or being surrounded by lush forests and cascading waterfalls. These hiking trails not only offer incredible scenery but also provide an opportunity to immerse yourself in nature and reconnect with the wilderness.
One such hike worth mentioning is the Bruce Peninsula National Park's Bruce Trail, which spans over 890 kilometers and offers breathtaking views of Georgian Bay. This trail is suitable for hikers of all skill levels and provides glimpses of unique geological formations such as caves and limestone cliffs.
From coastal drives to rugged hikes, Ontario's scenic routes offer something for everyone. It's important to note that some routes can get crowded with traffic during peak tourist seasons, so planning your visit accordingly can help you have a more enjoyable experience. Additionally, it's always recommended to travel in a group and follow existing hiking paths when exploring the region, as wildlife presence can pose potential risks.
Now that we've explored the scenic routes in Ontario for 2023, let's shift our focus to another aspect of tourism: family vacation spots and top picks for the year.
Family Vacations Spot: 2023 Picks
Ontario is not only a fantastic destination for adventure seekers but also an ideal location for unforgettable family vacations. With a diverse range of attractions and activities, there's something to keep every member of the family entertained. Whether you're looking for educational experiences, thrilling adventures, or simply quality time together, Ontario has got you covered.
One popular family vacation spot is Canada's Wonderland. Located just outside of Toronto, this amusement park is home to exhilarating roller coasters, water slides, live entertainment shows, and much more. From heart-pounding thrills to gentle rides suitable for younger children, Canada's Wonderland offers a variety of attractions that cater to all ages.
Another great choice for families is The Toronto Zoo, which showcases a wide array of animals from around the world. Kids can learn about different species while observing them up close in their natural habitats. The zoo also offers interactive experiences such as feeding giraffes or participating in educational programs.
If your family loves outdoor adventures, consider visiting Algonquin Provincial Park. This sprawling wilderness area is perfect for camping trips and nature exploration. You can go hiking on various trails, canoeing or kayaking on pristine lakes, or even embark on wildlife spotting excursions. Algonquin Provincial Park provides an excellent opportunity to disconnect from technology and immerse yourselves in the beauty of nature.
These are just a few examples of the many options available for families in Ontario. Whether you're interested in exploring museums, enjoying water sports, or embarking on scenic hikes, there's a wide range of activities to choose from. Plan your family vacation in Ontario for 2023 and create memories that will last a lifetime.
Adventures and 2023 Special Events
Ontario, the land of diverse landscapes and vibrant cities, offers an array of adventures and special events to make your 2023 unforgettable. Whether you're seeking adrenaline-pumping activities or looking to immerse yourself in the cultural fabric of the region, Ontario has something for everyone.
One of the must-try adventures in Ontario is ziplining through the lush forests of Niagara Falls. Picture yourself soaring through the air, feeling a rush of excitement as you admire breathtaking views of this natural wonder. It's an experience that combines thrill with awe-inspiring beauty, leaving you with memories that will last a lifetime.
Another exhilarating adventure awaits at Niagara Falls Canada with Wet Jet boat tours. Feel the mist on your face as you cruise through the rapids beneath the falls, experiencing the power and grandeur up close. The sheer force of nature will leave you in awe and provide a truly unique perspective on this iconic destination.
If you're craving stunning panoramic views from above, consider taking a helicopter tour over Toronto. Soar high above the skyline and take in the city's impressive architecture, sprawling parks, and glittering waterfront. It's an opportunity to see Toronto from a different angle while enjoying an unforgettable bird's-eye view.
In addition to these thrilling adventures, Ontario also hosts a multitude of special events throughout 2023 that are bound to pique your interest.
Mark your calendar for the Toronto Fringe Festival, where creativity takes center stage. With 160 shows across 45 venues, this festival showcases a wide range of entertainment forms like indie theatre, dance, visual art, and live music. Immerse yourself in artistic expressions that push boundaries and celebrate diversity.
For music lovers, don't miss out on the Beaches International Jazz Festival, Canada's largest free jazz festival. From jazz to Latin rhythms, big band to reggae, this festival offers an eclectic mix of musical genres that will have you tapping your feet and swaying to the rhythm. With a plethora of performances across various stages, you'll discover new sounds and experience the magic of live music.
Some might argue that attending special events can be daunting due to large crowds and potential logistical challenges. However, it's important to note that organizers prioritize safety and work diligently to create enjoyable experiences for attendees. By following public health advice and staying updated on COVID-19 information, you can make informed decisions about attending events while minimizing any potential risks.
Outdoor Excursion Planning for 2023
Ontario's natural beauty provides the perfect backdrop for outdoor excursions in 2023. Whether you're a nature enthusiast, an adventure seeker, or simply looking to unwind amidst serene surroundings, Ontario has plenty to offer.
If you're looking to explore Ontario's stunning landscapes and rugged wilderness, consider embarking on a full-day tour that takes you through iconic sites like Algonquin Provincial Park. Immerse yourself in the vibrant fall colors, while hiking along picturesque trails and experiencing the tranquility of nature.
For a more historical and educational outdoor adventure, opt for a bus tour that takes you through significant landmarks such as the historic Distillery District in Toronto or Queenston Heights Park near Niagara-on-the-Lake. These tours provide fascinating insights into Ontario's rich history while allowing you to appreciate the architectural marvels and cultural heritage of the region.
Stand-up paddleboarding is gaining popularity among outdoor enthusiasts, and Ontario's pristine lakes offer the perfect setting for this activity. Imagine gliding across calm waters, surrounded by breathtaking views of nature. It's not only a great way to stay active but also an opportunity to connect with the serene beauty of Ontario's lakeshores.
When planning your outdoor excursions in 2023, it's advisable to book in advance, especially for popular activities. Many experiences offer free cancellation up to 24 hours in advance, so you have the flexibility to make changes if needed. Keep in mind that certain activities are likely to sell out quickly based on booking data, so it's best to secure your spot early.
Ontario's diverse landscapes and vibrant events await your exploration in 2023. Whether you're seeking heart-pounding adventures or cultural delights, this province has it all. Pack your sense of adventure, delve into the wonders of nature, and immerse yourself in the art and music that ignite the spirit of Ontario.
Top Events to Attend in 2023
Ontario is a vibrant province with a diverse range of events and attractions that cater to all interests. Whether you're a music enthusiast, a foodie, or a lover of the arts, there's something for everyone in Ontario in 2023. Let's explore some of the top events you won't want to miss this year.
One event that is sure to captivate music lovers is TD Harbour Nights. Held in various locations throughout Ontario, this concert series showcases talented musicians from different genres, providing unforgettable evenings of entertainment under the open sky. From soulful jazz tunes to upbeat rock performances, these concerts offer an opportunity to experience the magic of live music in picturesque surroundings.
For those with a passion for culinary delights, Ontario hosts several food and beverage events that are must-attend experiences. Train Days with the Golden Horseshoe Live Steamers is a unique event that combines train rides with delicious food offerings. Imagine enjoying mouthwatering treats while taking a ride on a vintage steam train – it's a one-of-a-kind experience that will delight both young and old alike.
Another notable event on the food and beverage calendar is Midnight Madness in Bracebridge. As the clock strikes midnight, the streets come alive with food vendors offering delectable treats, live music filling the air, and an electric atmosphere that is truly unforgettable. It's the perfect occasion to indulge in local cuisine while immersing yourself in the vibrant energy of Ontario's nightlife.
If you're an art enthusiast, THE FILM HOUSE program is not to be missed. Running from March to October, this event features curated film screenings showcasing a wide range of cinematic works from across the globe. Whether you're a fan of classic movies or enjoy exploring avant-garde filmmaking, THE FILM HOUSE offers an enriching cultural experience that allows you to immerse yourself in the world of cinema.
Ontario also boasts a variety of festivals that celebrate different cultures and traditions. Mississauga Italfest is a prime example, bringing the vibrant flavors, music, and artistry of Italy to the heart of Ontario. Indulge in authentic Italian cuisine, witness captivating performances, and get swept away by the warm hospitality that characterizes this beloved cultural festival.
For those looking to embrace the great outdoors while enjoying live entertainment, Kempenfest 2023 in Barrie is a must-visit event. This festival combines art, crafts, live music, and outdoor activities set against the picturesque backdrop of Kempenfelt Bay. From exploring unique crafts to grooving to eclectic musical acts, Kempenfest promises an unforgettable experience for visitors of all ages.
These are just a few examples of the exciting events happening in Ontario in 2023. Whether you have a specific interest or simply want to explore new experiences, Ontario's vibrant festival and event scene will provide endless opportunities for fun and discovery.
If you're planning your itinerary or seeking inspiration for things to do in Ontario this year, consider attending these top events to make your visit truly memorable. Regardless of which events you choose, one thing is certain – you'll be immersed in the spirit of Ontario's culture, arts, cuisines, and entertainment scene. So mark your calendars and get ready to create unforgettable memories at these incredible events happening throughout the province in 2023.