From the pulsating rhythm of summer music festivals to the vibrant spectacle of cultural celebrations, over-the-top carnivals and captivating shows, Toronto's event schedule for 2023 is brimming with opportunities for unforgettable experiences. This definitive guide dives into the heartland of Canada's largest city to unravel an array of events spoiling both locals and tourists alike with an unparalleled medley of entertainment, artistry and excitement. Brace yourself as we journey through this roster of spectacular 2023 happenings in Toronto – a city that never sleeps, fuelled by its multi-ethnic charm and ceaseless energy. Your calendar won't remain empty for long! Get ready to bookmark dates, draft plans and immerse yourself in the thriving pulse of Toronto!
There are a variety of upcoming events happening in Toronto, including Vegandale @ Polson Pier & Cabana Pool Bar, NEIGHBOURHOODING – Caribana Edition, DANCEHALL KARAOKE Caribana Edition pt.2, Toronto Diversity Festival 2023 – Nathan Phillips Square, Google I/O Extended 2023 – Toronto, MUSIC FESTIVAL, THAT SLOW JAM PARTY – CUFFIN SEASON, RANGTAALI 2023 – By Aishwarya Majmudar | Open Ground Garba, JERK, Afrobana (Caribana Saturday), ALL WHITE BOAT RIDE, TASTE OF INDA FESTIVAL 2023, Toronto Caribana Boat Party 2023, and Blockobana 2023. More information on these events can be found on their respective event pages or on resources such as the City of Toronto website, Kiss 92.5 audio, Festivals of Vaughan website, Destination Toronto website, Veld Music Festival website, and Blog.to.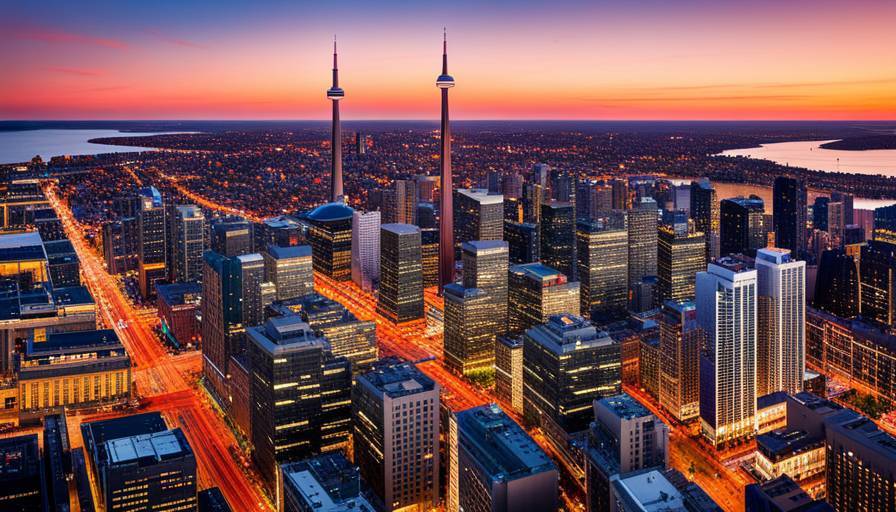 Annual Signature Events in Toronto
Toronto, the vibrant and culturally diverse city in Canada, is renowned for its annual signature events that attract both locals and visitors from around the world. From music festivals to cultural celebrations, these events offer a plethora of experiences that cater to various interests and tastes. Let's explore some of the must-attend annual signature events in Toronto that are sure to leave you captivated and inspired.
One of the most highly anticipated events in Toronto is the Toronto International Film Festival (TIFF). Held annually in September, this 11-day extravaganza showcases a dazzling array of films from all genres, including international premieres and critically acclaimed works. As one of the largest publicly attended film festivals globally, TIFF presents an unparalleled opportunity for movie enthusiasts and industry professionals to celebrate cinema.
The festival hosts screenings at several venues throughout the city, including the iconic TIFF Bell Lightbox. This world-class facility not only features state-of-the-art cinemas but also serves as a hub for film-related exhibitions, workshops, and panel discussions. During TIFF, Toronto truly comes alive with its bustling red carpets, exciting celebrity sightings, and an atmosphere brimming with artistic energy.
Apart from film screenings, TIFF also hosts special events such as Q&A sessions with filmmakers and actors, industry conferences, masterclasses, and immersive virtual reality experiences. It's an excellent platform to connect with fellow cinephiles and gain deeper insights into the art of filmmaking.
For instance, imagine yourself attending a screening of a thought-provoking documentary that sheds light on a pressing social issue. Afterward, you head to a panel discussion where esteemed directors and activists engage in a lively conversation about the film's impact on society. Such experiences not only foster intellectual curiosity but also create lasting memories.
Now that we've gained an overview of what the Toronto International Film Festival has to offer let's delve deeper into some of its key highlights, such as notable screenings, ticket options, and captivating events that make it a must-attend event on the global film calendar.
Toronto International Film Festival
The Toronto International Film Festival, also known as TIFF, is a renowned celebration of cinema that takes place annually in September. Established in 1976, this prestigious festival has gained global recognition for its exceptional selection of films and captivating events that attract industry professionals and film enthusiasts from around the world.
The festival showcases an extensive lineup of films, ranging from highly anticipated Hollywood releases to independent and international gems. These screenings span various genres and provide a platform for emerging talents as well as established directors to showcase their works on a global stage.
In addition to the diverse film selection, TIFF offers an array of special events that immerse attendees in the world of cinema. From red carpet premieres to intimate conversations with filmmakers, these events provide an opportunity to engage with industry insiders and gain a deeper understanding of the filmmaking process.
One highlight of TIFF is the annual TIFF Tribute Awards gala fundraiser held at the esteemed Fairmont Royal York hotel. This star-studded event celebrates outstanding contributors to the film industry and serves as one of TIFF's major fundraising initiatives. Notable past recipients include esteemed actors like Meryl Streep and Benedict Cumberbatch, as well as talented filmmakers like Taika Waititi and Joaquin Phoenix.
Here are some key details about Toronto International Film Festival:
| Dates | September 7-17, 2023 |
| --- | --- |
| Ticket Prices | Regular screenings: $26 – $32 |
| | Premium screenings: $39 – $88 |
| Key Events | – TIFF Tribute Awards gala |
| | – Special screenings |
| | – Industry conferences |
| | – Panel discussions |
Whether you're a film enthusiast or simply appreciate the art of storytelling, the Toronto International Film Festival provides an unparalleled opportunity to immerse yourself in the world of cinema and be captivated by thought-provoking films from around the globe.
Caribana: A Vibrant Caribbean Celebration
One of the most anticipated events in Toronto is Caribana, a radiant and energetic celebration of Caribbean culture. Taking place over three weeks in August, this festival has been captivating locals and attracting tourists from all over the world since its inception in 1967. With its vibrant colors, infectious music, delectable food, and captivating performances, Caribana has become North America's largest cultural festival.
The festivities kick off with the Official Festival Launch at Nathan Phillips Square, where attendees are greeted by a lively atmosphere filled with live music, Caribbean food stalls, art displays, and theatrical performances. It's an excellent opportunity to immerse yourself in the rich cultural heritage of the Caribbean communities that call Toronto home.
Throughout the festival, there is an impressive lineup of events and parties that cater to various tastes and interests. From Dayfete on the Roof to Oasis and Carnival Pool Experience, DayLit at Cabana Pool Bar, Sunday Blocko at Rebel nightclub, and many more – there is something for everyone to enjoy. These events provide an opportunity to dance to Soca beats, indulge in delectable Caribbean cuisine, and revel in the vibrant and inclusive atmosphere that Caribana offers.
But perhaps the crown jewel of Caribana is the grand parade itself. Held at Exhibition Place & Lakeshore Boulevard on the August long weekend, this magnificent event showcases stunning costumes adorned with feathers and sequins as thousands of participants take to the streets to celebrate Caribbean culture. The parade is a mesmerizing spectacle with vibrant floats, energetic dancers, pulsating rhythms of Calypso and Soca music filling the air.
Picture this: you find yourself immersed in a sea of colorful costumes, dancing alongside performers who exude joy and pride in their heritage. The infectious beats resonate through your being as you dance down the streets surrounded by cheering crowds. The energy and vibrancy of the parade create an atmosphere that is simply electrifying, leaving an indelible mark on all who experience it.
From the mesmerizing costumes to the lively music, Caribana offers a unique and unforgettable experience that celebrates the cultural diversity and richness of Toronto.
Toronto Marathon: A Citywide Race
For fitness enthusiasts and avid runners, the Toronto Waterfront Marathon presents an exhilarating opportunity to test their limits and be part of a citywide race. Scheduled for October 15, 2023, this event offers three different race categories – Marathon, Half Marathon, and a 5K race – catering to participants of varying levels of experience and fitness.
Runners have the option to choose between participating in-person or virtually. Those who opt for the in-person race get to join thousands of fellow runners as they navigate through Toronto's scenic waterfront route, providing breathtaking views of the city's skyline alongside Lake Ontario. It's not just a race; it's a chance to be part of a vibrant community united by their love for running and challenging personal goals.
The virtual race option provides flexibility for those unable to participate in person. With a month-long timeframe from October 1-31, participants can complete their chosen distance at their own pace and location while still feeling connected to the larger marathon community.
Imagine waking up early on a crisp autumn morning, donning your running gear, and joining other enthusiastic participants at the starting line. The anticipation fills the air as you mentally prepare yourself for the challenge ahead. As the starting horn sounds, you set off on your journey, feeling the adrenaline surge through your veins. As you push through each kilometer, spectators cheer you on from the sidelines, motivating you to keep going. Crossing the finish line brings an overwhelming sense of accomplishment and pride in what you have achieved.
Whether you're a seasoned marathon runner or someone looking to take on a new fitness challenge, the Toronto Marathon offers a unique and invigorating experience that brings together runners from all walks of life.
Season-Specific Festivities in Toronto for 2023
Toronto, the vibrant and culturally diverse city, offers a plethora of festivities throughout the year. With each season bringing its own unique charm, residents and visitors alike have an array of events to look forward to in 2023. From spring blossoms to summer music festivals and fall harvest celebrations, there's something for everyone in this bustling metropolis.
In spring, as the flowers start to bloom and temperatures rise, Toronto comes alive with exciting events. One must-not-miss event is the cherry blossom festival held at High Park. This annual tradition celebrates the arrival of spring with stunning displays of cherry blossoms, creating a captivating sight that attracts thousands of visitors. Strolling through this sea of delicate pink petals is an experience that will leave you feeling enchanted and rejuvenated.
Another popular spring event is the Canadian Music Week, which showcases a diverse range of musical talents from local artists to international sensations. This week-long event features live performances across various venues throughout the city, giving music enthusiasts the opportunity to discover new talent and enjoy their favorite genres.
Spring in Toronto can be likened to a symphony orchestra tuning up before a grand performance. The anticipation builds as each note resonates through the air, setting the stage for an unforgettable experience.
As spring transitions into summer in Toronto, the city becomes a hub for exciting outdoor activities and festivals that celebrate art, culture, and diversity.
Toronto hosts more than 25 major annual festivals, according to the City of Toronto's Economic Development and Culture division.
In 2019, it was reported that around 40% of the city's residents attend a festival or significant cultural event every year.
A study by Destination Toronto disclosed that in 2021, the direct economic impact from major festivals and events in Toronto was about $850 million CAD, demonstrating their significant contribution to the local economy.
Toronto is a city that thrives in all seasons, offering a rich cultural experience year-round. With a variety of festivals and events celebrating everything from music to nature to food, there is never a dull moment in this vibrant city. Whether you're a local or just visiting, Toronto's ever-changing landscape promises to provide an immersive and enchanting experience that will leave you yearning for more.
Must-Attend Spring and Summer Events
One festival that should be on every art lover's radar is the Toronto Outdoor Art Fair. Now in its 62nd year, this event showcases original works by nearly 350 artists from various disciplines. With its picturesque setting at Nathan Phillips Square, art enthusiasts have the opportunity to browse and purchase unique pieces while engaging with artists directly. The fair attracts over 100,000 visitors and has become a must-visit event for both locals and tourists.
For those who have a passion for music, the Toronto Jazz Festival is an absolute highlight of the summer season. This renowned festival features big names in jazz as well as emerging talents, captivating audiences with their mesmerizing performances. From ticketed concerts to free shows at various outdoor venues, the Toronto Jazz Festival offers a vibrant atmosphere where music aficionados can immerse themselves in the soulful sounds of jazz.
Imagine lounging on a blanket under the starry sky, sipping your favorite beverage, while surrounded by a sea of fellow music enthusiasts grooving to captivating melodies. The Toronto Jazz Festival creates an ambiance that will transport you to another realm, leaving you longing for more.
In addition to these events, Toronto also hosts the TD Salsa On St. Clair festival, which transforms the streets into a lively Latino-themed party. Dance classes, workshops, live music, and delicious cuisine give visitors a taste of Latin American culture. This festival even offers a Salsa for Seniors program, promoting inclusivity and ensuring people of all ages can participate in the festivities.
As we bid adieu to spring and summer unfolds its warm embrace, there are still more exciting events lined up in Toronto. Let's delve into the noteworthy fall festivals that will capture your imagination and bring joy to your autumn days.
Noteworthy Fall Festivals
Fall in Toronto brings a vibrant tapestry of festivals and events that celebrate the changing season and showcase the city's diverse cultural fabric. Here are some noteworthy fall festivals in 2023 that you should mark on your calendar:
1. Fall Fest 2023
On October 14th, head over to Cedar Lake Cellars for the Fall Fest 2023. This festival promises a delightful day filled with live music, local vendors, food trucks offering delicious seasonal treats, and activities for the whole family. Imagine strolling through the picturesque grounds, basking in autumn colors, and enjoying the festive atmosphere.
2. Portugalo Fest
Mississauga Celebration Square comes alive on a weekend in fall with the highly anticipated Portugalo Fest. Celebrate Portuguese culture and heritage through music, dance, art exhibitions, and traditional cuisine. Immerse yourself in the sights, sounds, and flavors of Portugal as you explore this lively festival.
3. Fall in Park Discovery Walk
For nature enthusiasts, the Fall in Park Discovery Walk is an excellent opportunity to embrace the beauty of the season while exploring Dorchester Drive on October 1st. Join fellow adventurers for a guided walk through lush greenery adorned with vibrant autumn hues. Learn about native plants and wildlife from knowledgeable guides who will share fascinating insights along the way.
Winter Festivities to Bookmark
Toronto may be known for its cold winters, but it doesn't dampen the city's spirits when it comes to celebrating with winter festivities. Here are some winter activities to bookmark in 2023:
1. Winterlicious
From January 27th to February 9th, Toronto's culinary scene comes alive with Winterlicious. This highly anticipated gastronomic event offers residents and visitors an opportunity to indulge in specially curated menus at various restaurants across the city. Treat yourself to a delectable three-course meal at a discounted price and savor the flavors of Toronto's diverse culinary landscape.
2. Bloor-Yorkville Icefest
Get ready to witness breathtaking ice sculptures and carving demonstrations at the Bloor-Yorkville Icefest. Taking place on February 18th and 19th in Toronto's cultural district, this festival showcases the immense talent of ice sculptors who transform blocks of ice into stunning works of art. Bundle up, grab a warm drink, and marvel at the intricate frozen masterpieces.
3. Celebrate Toronto
On March 6th, Nathan Phillips Square will come alive with celebrations for Toronto's 189th anniversary. This event, aptly named "Celebrate Toronto," offers an array of activities, live performances, and interactive displays that showcase the city's rich history and vibrant culture. Join fellow Torontonians in commemorating the city you call home or enjoying its allure as a visitor.
Whether you're basking in the colorful festivities of fall or embracing the winter wonderland that Toronto transforms into, these events offer an opportunity to immerse yourself in unforgettable experiences.
Unique Cultural Exhibitions in 2023
Toronto is a vibrant city that celebrates its diversity through a wide range of unique cultural exhibitions. In 2023, residents and visitors alike can look forward to an exciting lineup of events that showcase the rich tapestry of art, history, and traditions from around the world.
One notable exhibition to watch out for is the "Artistry Across Continents" at the Royal Ontario Museum. This exhibit aims to present a global perspective on artistic expression by featuring artwork from different continents. From African sculptures to Asian paintings and European masterpieces, visitors will have the opportunity to engage with diverse art forms and gain insight into various cultural narratives.
Imagine immersing yourself in a room filled with vibrant colors and intricate designs, admiring the craftsmanship that reflects centuries-old traditions. You may stumble upon a stunning Chinese calligraphy piece or marvel at an ancient Egyptian artifact. The "Artistry Across Continents" exhibition invites individuals to broaden their horizons and appreciate the interconnectedness of human creativity.
Another cultural exhibition worth mentioning is "Sights and Sounds: A Celebration of Indigenous Cultures" at the Aga Khan Museum. This event aims to shed light on the artistic heritage of Indigenous peoples from different parts of Canada. Through immersive exhibits, live performances, and storytelling sessions, attendees will gain a deeper understanding of Indigenous cultures' resilience and contributions to society.
Picture yourself being captivated by traditional drumming, witnessing mesmerizing dance performances, or engaging in thought-provoking discussions about contemporary Indigenous issues. The "Sights and Sounds" exhibition offers a transformative experience that encourages dialogue, appreciation, and reconciliation with Canada's Indigenous communities.
Toronto's cultural scene is undoubtedly diverse and ever-evolving. These exhibitions serve as reminders that art has the power to transcend boundaries, foster understanding, and bring communities together. As you plan your calendar for 2023, be sure to mark these cultural exhibitions as must-see events.
Sports Events: From Marathons to Matches
Toronto is not only a city known for its art and culture, but it also boasts a thriving sports scene that caters to enthusiasts of various athletic disciplines. Whether you're a fan of high-energy team matches or prefer spectating endurance events, there's something for everyone in the realm of sports events in Toronto.
One of the highly anticipated sports events in 2023 is the Toronto Marathon. This renowned race attracts both amateur and professional runners from around the world to challenge themselves on the scenic streets of Toronto. Imagine the exhilaration as thousands of participants dash through iconic landmarks like the CN Tower and Lake Ontario shoreline, cheered on by enthusiastic crowds.
As you stand among the cheering spectators lining the route, you witness stories unfold – tales of personal triumph, perseverance, and sheer determination. The Toronto Marathon embodies the spirit of camaraderie and pushes individuals to conquer new limits while showcasing the city's vibrant energy.
In addition to marathons, Toronto hosts a plethora of team matches that ignite passion and rivalry amongst sports fans. The Scotiabank Arena is home to the Toronto Maple Leafs and Toronto Raptors, who regularly dazzle audiences with their exceptional skills and teamwork. Attending a live hockey or basketball game is an electrifying experience that brings together people from all walks of life.
Picture yourself amidst a sea of jersey-clad fans, sharing in collective excitement as your favorite team scores a winning goal or makes a game-changing play. The cheers reverberate through the arena, uniting strangers momentarily in celebration or friendly competition.
While marathons and team matches are highlights on the sporting calendar, Toronto also offers numerous opportunities to engage in niche sports events throughout the year. From tennis tournaments at Aviva Centre to cricket matches at Sunnybrook Park, enthusiasts can witness top-level athletes in action, showcasing their skills and dedication to their respective sports.
Toronto's sports events cater to various interests and provide avenues for individuals to come together, bond over shared passions, and celebrate the spirit of athleticism. So whether you're a dedicated athlete or simply enjoy the thrill of spectating, make sure to explore the range of sports events happening in the city throughout 2023.