In the heart of Canada lies a vibrant, bustling city known for its towering skyscrapers, picturesque landscapes, and rich multicultural heritage – Toronto. As the world opens up its doors yet again after the pandemic years, this urban metropolis eagerly awaits to mesmerize you with its allure. Here, tranquility meets modernity, creating an intricate blend of flourishing art scenes, historical enclaves, culinary delights, and sports arenas teeming with indomitable spirit. Not a tourist? It doesn't matter! Whether you're backpacking, on a business trip or visiting relatives; our handpicked list goes beyond just sightseeing. So buckle up as we take you on a whirlwind journey through our top 10 must-see attractions and hidden gems in Toronto that promise to captivate your senses and leave you craving for more.
Toronto is a vibrant city with many attractions. Some of the must-see places include the CN Tower, Royal Ontario Museum (ROM), Ripley's Aquarium of Canada, Art Gallery of Ontario (AGO), and Niagara Falls. There are also great neighborhoods to explore like Entertainment District, Kensington Market, Yorkville and Queen West. The city offers various cultural and natural experiences like skating at Nathan Philips Square or enjoying the waterfront trail views while riding a Green Public Bike.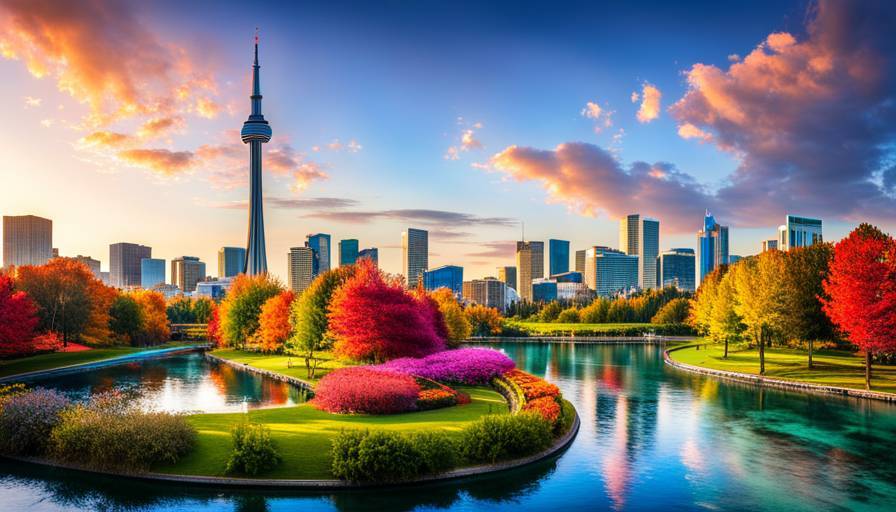 Must-See Landmarks in Toronto
Toronto, the vibrant and culturally diverse city in Canada, is home to numerous iconic landmarks that are a must-visit for tourists. From towering architectural marvels to historical sites steeped in culture, Toronto offers a rich tapestry of attractions. Let's delve into some of the must-see landmarks that will leave you awe-inspired.
One such prominent landmark is the CN Tower, a globally recognized symbol of Toronto's skyline. Rising high above the city at a staggering height of 553 meters, the CN Tower offers an unparalleled vantage point to behold the sprawling beauty of Lake Ontario and the urban landscape below.
CN Tower: An Architectural Wonder
Upon reaching its observatory decks via high-speed elevators, visitors are treated to breathtaking panoramic views that stretch across Toronto and beyond. The observatory areas feature floor-to-ceiling windows that showcase stunning vistas, allowing you to capture incredible photos and create lasting memories.
But the CN Tower experience doesn't stop there. For those seeking an adrenaline rush, the EdgeWalk provides a once-in-a-lifetime opportunity to walk on the outside ledge of the tower's main pod while securely harnessed. This thrilling adventure offers adrenaline junkies an exhilarating perspective as they peer down at the bustling city below.
For those seeking a more relaxed experience, the Glass Floor awaits on the observation level. Step onto this transparent floor and feel like you're walking on air as you gaze down at street-level views from dizzying heights.
Imagine feeling like you're floating above the world as you walk on this breathtaking glass floor, capturing Instagram-worthy shots and enjoying a unique moment suspended in mid-air.
In addition to these extraordinary features, the CN Tower offers a culinary experience like no other. Both 360 Restaurant and Horizons Restaurant provide a feast for your taste buds along with stunning views. Indulge in a meal high above the cityscape, savoring delectable dishes while taking in the ever-changing panorama.
As an architectural wonder and world-renowned landmark, the CN Tower continues to captivate visitors from around the globe for its blend of adventurous attractions, awe-inspiring views, and culinary delights. Whether you're a thrill-seeker, a photography enthusiast, or simply eager to experience the magnificence of Toronto from above, the CN Tower should be at the top of your must-see landmarks list.
Now that we've explored the marvels of the CN Tower, let's continue our journey through Toronto's top-notch attractions and hidden gems.
Diverse Marine Life at Ripley's Aquarium
Immerse yourself in a captivating underwater world at Ripley's Aquarium of Canada, where you'll be amazed by the diverse and vibrant marine life on display. Situated at 288 Bremner Boulevard, this top-rated attraction offers an awe-inspiring experience for visitors of all ages.
As you step into the aquarium, you will find yourself surrounded by an array of stunning aquatic habitats, each showcasing different ecosystems and species. One notable feature is the mesmerizing underwater tunnel, providing a unique perspective as you leisurely stroll through while being enveloped by marine life swimming above and around you. It truly feels like diving into the depths of the ocean without getting wet!
Ripley's Aquarium boasts an impressive collection of over 20,000 marine creatures from around the world. You'll encounter fascinating sea turtles gliding gracefully through the water, playful and curious sea otters frolicking about, mesmerizing jellyfish gracefully pulsating through their tanks, and schools of colorful tropical fish darting among delicate coral reefs.
One highlight is the Dangerous Lagoon, a breathtaking exhibit that transports you to an underwater paradise filled with mesmerizing creatures like sand tiger sharks, stingrays, and even sawfish. As you navigate through a moving walkway suspended over these majestic creatures, it's hard not to marvel at their beauty and grace.
For those seeking interactive experiences with marine life, there are opportunities to get up close and personal with some of your favorite creatures. From touching horseshoe crabs to meeting adorable penguins during special encounters, these memorable moments allow for a deeper connection between visitors and the remarkable inhabitants of Ripley's Aquarium.
Best Free Sights in Toronto
Exploring a vibrant city like Toronto doesn't have to break the bank. The city offers numerous incredible sights and experiences that won't cost you a dime. Here are some of the best free attractions to include in your Toronto itinerary:
Nathan Phillips Square: Located at the heart of downtown Toronto, this bustling public space is famous for its iconic Toronto sign and picturesque reflecting pool. Visit during the winter months to enjoy ice skating on the outdoor rink.

Kensington Market: An eclectic and vibrant neighborhood, Kensington Market is a must-visit for its unique shops, colorful street art, and diverse food options. Explore the market on Pedestrian Sundays when streets are closed to traffic, transforming into a lively pedestrian zone filled with music, performances, and local vendors.

The Distillery District: Step back in time as you wander through the cobblestone streets of this well-preserved historic district. Admire Victorian-era architecture, charming boutiques, art galleries, and indulge in some window shopping.

Toronto Islands: Escape the hustle and bustle of the city by taking a short ferry ride to the Toronto Islands. Enjoy picnicking in one of the many parks, cycling along scenic paths, or simply relaxing on the beach while enjoying panoramic views of downtown Toronto.

Art Gallery of Ontario (AGO): On Wednesday evenings between 6 pm and 9 pm, admission to this renowned art gallery is free for visitors of all ages. Explore a vast collection of art from Canada and around the world, including works by renowned artists such as Monet, Picasso, and Van Gogh.

Graffiti Alley: Located in the vibrant Queen West neighborhood, Graffiti Alley is a haven for street art enthusiasts. Stroll through this ever-changing outdoor gallery adorned with colorful murals that express various artistic styles and social messages.
From admiring stunning artwork to enjoying scenic beauty and cultural neighborhoods, these free sights offer an immersive experience that reflects the essence of Toronto without straining your budget.
The city of Toronto has several free attractions that are worth visiting, from Nathan Phillips Square and the Kensington Market to the Distillery District and the Toronto Islands. Tourists can enjoy cycling along scenic paths, picnicking in one of the many parks or visiting an art gallery with a vast collection of art from Canada and around the world. Visitors can also indulge in window shopping at charming boutiques or explore Graffiti Alley that has colorful murals expressing various artistic styles and social messages. These free sights offer an immersive experience that reflects the essence of Toronto without straining your budget.
Cultural Diversity in Chinatown
When visiting Toronto, a trip to Chinatown is an absolute must. Located in the heart of the city, Chinatown showcases the vibrant cultural diversity that Toronto prides itself on. As you step into this bustling neighborhood, you'll be immersed in a fusion of sights, sounds, and aromas that will transport you straight to the streets of Asia.
Stroll down Spadina Avenue, the main artery of Chinatown, and let your senses guide you as you explore a plethora of food stalls, markets, and shops. The captivating aroma of traditional Chinese cuisine wafts through the air, enticing you to sample mouthwatering dim sum, savory Peking duck, or delectable BBQ pork buns from the street vendors.
Wander through the myriad of shops that line the streets and discover unique treasures ranging from exotic spices and teas to traditional clothing and artwork. Embrace the lively atmosphere as locals converse in Mandarin or Cantonese and barter for the best deals.
The bustling streets of Chinatown truly encapsulate Toronto's multicultural spirit and offer an immersive experience where East meets West.
Beyond culinary delights and shopping adventures, Chinatown also presents cultural landmarks worth exploring. Make a stop at the iconic Dragon City Mall where you can witness captivating lion dances during festivals like Chinese New Year. Visit Chinatown Centre, a multi-level complex filled with stores offering everything from herbal medicine to fashion accessories.
Now that we have savored the cultural diversity of Chinatown, let's venture further into another artistic hub that sets Toronto apart: Kensington Market.
According to Tourism Toronto, in 2019 Toronto attracted an estimated 27.5 million tourists who contributed around CA$6.7 billion to the local economy.
A survey published by Ipsos in collaboration with TripAdvisor reported that CN Tower, ranked as one of the top places to visit, was recognized by approximately 73% of all international visitors in Toronto.
Based on data compiled by Statista from various surveys and statistical databases, Royal Ontario Museum (ROM) witnessed a footfall of nearly 1.4 million visitors in 2019, making it one of the most frequented museums in North America.
Artistic Hub: Kensington Market
If you're looking for an eclectic mix of artistry, creativity, and bohemian vibes in Toronto, look no further than Kensington Market. This multicultural neighborhood tucked away in downtown Toronto exudes a distinct charm that draws in visitors from all walks of life.
Take a leisurely stroll through the streets of Kensington Market, and you'll instantly be captivated by the vibrant colors, unique graffiti-adorned walls, and an array of independent boutiques, vintage stores, and cafes that line the narrow lanes. This artistic enclave is not just a place to shop; it's an experience.
Immerse yourself in a melting pot of cultures as you encounter shops offering handmade jewelry influenced by global traditions, vintage clothing from different eras, and local artwork that represents the diverse tapestry of Toronto's creative community. Explore hidden corners that house small art galleries showcasing the works of emerging artists or stumble upon street musicians serenading passersby with their melodic tunes.
Kensington Market epitomizes the bohemian spirit, providing a space for self-expression, cultural appreciation, and a celebration of individuality.
As you navigate through this vibrant neighborhood, don't forget to indulge in culinary delights from around the world. From Mexican tacos to Jamaican patties and artisanal ice creams, there is no shortage of appetizing options to satisfy your taste buds.
Now that we've explored Chinatown's cultural diversity and embraced Kensington Market's artistic charm, let's move on to discover more about Toronto's unique dining experiences.
Toronto's Unique Dining Experiences
Toronto is a city known for its vibrant and diverse food scene, offering a wide range of unique dining experiences that cater to every palate. Whether you're a fan of international cuisine or looking to indulge in local delicacies, Toronto has something to offer everyone.
One standout dining experience is Prime Seafood Palace, a steakhouse that combines exquisite food with stunning architecture. Designed by Omar Gandhi Architects, this restaurant boasts a cathedral-like room that sets the stage for an unforgettable dining experience. Owned by renowned chef Matty Matheson, Prime Seafood Palace specializes in wet-aged prime rib and bone-in striploin cooked over ash, maple, and birch embers on a hearth. Their menu also features delectable dishes like rainbow trout smoked over maple and creamy Hokkaido sea urchin on house-made milk bread. For those seeking plant-based options, don't miss their signature schnitzel made from their own produce. And be sure to save room for dessert, as their key lime pie is simply divine.
Another must-visit eatery in Toronto is Kappo Sato, an upscale Japanese restaurant that offers an immersive dining experience. Here, you can witness the artistry of Chef Takeshi Sato as he creates a multi-course meal right before your eyes in the Kappo style of dining. Trained in Tokyo's Michelin-starred Ukai and having served as the head chef for the Japanese Consulate General in Toronto, Chef Takeshi presents set menus that showcase the finest seasonal ingredients. From chawanmushi-shirako (steamed egg custard with fish milt) to grilled yakimochi (rice cake) with black truffle, each dish is meticulously crafted to tantalize your taste buds. Don't miss out on their deep and flavorful soup featuring madai (Japanese sea bream) paired with somen noodles.
Moving on from these unique dining experiences, let's dive into exploring the local delicacies that Toronto has to offer.
Exploring Local Delicacies
Toronto's culinary scene is a melting pot of cultures, reflecting the city's diverse population. It's no surprise, then, that exploring local delicacies is an adventure in itself. From traditional dishes with a twist to fusion creations that blend different culinary traditions, there's something to appease every food lover's curiosity.
One local gem worth checking out is Casa Paco, a cozy spot that offers an authentic taste of Spain right in the heart of Toronto. Known for their exquisite tapas and paella, Casa Paco transports you to the vibrant streets of Barcelona or Madrid. Indulge in savory bites like patatas bravas and gambas al ajillo while sipping on a glass of sangria. And don't forget to save room for their paella, a traditional Spanish dish made with saffron-infused rice and a medley of fresh seafood or succulent meats.
If you're in the mood for Chinese cuisine with a twist, Sunnys Chinese is the place to be. This modern eatery combines traditional Chinese flavors with contemporary techniques, resulting in mouthwatering creations that will leave you craving for more. From their masterfully crafted dumplings filled with unique combinations of ingredients to their innovative takes on classic dishes like Kung Pao chicken, Sunnys Chinese offers an elevated dining experience that celebrates the rich culinary heritage of China.
Imagine biting into a perfectly steamed dumpling bursting with flavors you've never experienced before or savoring tender pieces of Kung Pao chicken that are both comforting and exciting at the same time.
Toronto's culinary offerings extend beyond these examples, giving locals and visitors alike an opportunity to explore the city's fascinating food culture and embark on a gastronomic journey that will tantalize the senses.
Toronto's Iconic Neighborhoods
Toronto is a city rich in cultural diversity, and exploring its iconic neighborhoods is an absolute must for any visitor. Each neighborhood offers a unique experience in terms of art, culture, tradition, food styles, festivals, events, shopping options, and places of interest. Let's dive into the vibrant tapestry of Toronto's iconic neighborhoods.
One of the most popular neighborhoods to visit is Chinatown. As one of the oldest and largest Chinese neighborhoods outside China in North America, it bursts with energy, colorful storefronts, and mouthwatering aromas. Strolling through the bustling streets of Chinatown will introduce you to an array of authentic Chinese restaurants, markets filled with exotic ingredients, traditional herbal medicine shops, and vibrant street art. It's a sensory journey that immerses you in Chinese culture.
Moving on from Chinatown, we have Little Italy, known for its cozy cafes and charming streets lined with restaurants serving delectable Italian cuisine. The aroma of freshly baked pizzas and the clinking sound of espresso cups fill the air as you explore this vibrant enclave. Little Italy also hosts various cultural events throughout the year, such as street festivals and outdoor film screenings. It's a delightful neighborhood that brings a touch of Italy to Toronto.
Another captivating neighborhood is Kensington Market, a bohemian haven brimming with vintage shops, eclectic boutiques, and multicultural food options. Here, you can wander through narrow alleys adorned with colorful street art and discover hidden gems at every turn. Kensington Market is where artists, musicians, and creative minds gather to showcase their talents. The lively atmosphere coupled with diverse culinary experiences makes it a must-visit destination for those seeking unique vibes.
"I've always been intrigued by different cultures and their cuisines," mused Sarah as she read through the article on Toronto's iconic neighborhoods. "Visiting Chinatown and Little Italy seems like an excellent way to explore different flavors and immerse myself in their respective cultures. I can already imagine the tantalizing scents and vibrant colors." Sarah's excitement grew as she imagined embarking on a culinary adventure in these neighborhoods.
"Kensington Market sounds like my kind of place," exclaimed Alex, a lover of all things vintage. "The idea of wandering through narrow alleys, stumbling upon unique shops, and admiring street art intrigues me. It's like stepping into a hidden treasure trove of artistic expression. I'm definitely adding it to my list when I visit Toronto!"
Now that we've explored some of Toronto's iconic neighborhoods, let's zoom in on the delightful Colorful Yorkville Scene.
Colorful Yorkville Scene
Nestled in the heart of downtown Toronto, Yorkville is known for its upscale ambiance, high-end boutiques, and luxury hotels. But beyond its glamorous façade lies its true charm – a vibrant art scene with captivating galleries, international eateries, and beautiful Victorian houses.
One cannot miss strolling along Yorkville Avenue, where the streets are lined with fashion boutiques from renowned designers. From stylish clothing to extravagant accessories, you'll find the latest trends showcased in shop windows that tempt even the most discerning fashion enthusiasts.
While exploring the Yorkville neighborhood, be sure to visit the Royal Ontario Museum (ROM). With its impressive architecture and vast collection of art and artifacts spanning various cultures and eras, the ROM offers an enriching experience for history buffs and art lovers alike. The museum regularly hosts fascinating exhibitions that showcase diverse aspects of global heritage.
As evening descends upon Yorkville, the neighborhood transforms into a haven for food enthusiasts with its diverse dining options. From chic rooftop restaurants offering stunning panoramic views to cozy cafes tucked away on charming side streets, there's something to suit every palate. Indulge in international cuisine, sip on handcrafted cocktails, and embrace the vibrant atmosphere of Yorkville's dining scene.
"I've always been a fan of art, fashion, and good food," enthused Megan, her eyes sparkling with excitement. "Yorkville seems like the perfect place for me! I can immerse myself in art at the ROM, shop at high-end boutiques, and end my day with a delightful culinary experience. It truly sounds like a dream come true."
As we've explored Toronto's iconic neighborhoods and dived into the colorful Yorkville scene, our journey continues to uncover more must-see attractions and hidden gems in this vibrant city.
Entertainment District: A Blend of Modernity and Tradition
Nestled in the heart of downtown Toronto is the vibrant Entertainment District, a captivating blend of modernity and tradition. This bustling area offers an array of exciting attractions, making it a must-visit for both locals and tourists alike. From world-class theaters to renowned sports venues, there's something for everyone in this dynamic neighborhood.
At the forefront of the Entertainment District stands the illustrious Roy Thomson Hall, a prestigious venue renowned for its exceptional acoustics that attract leading orchestras and musical acts from around the globe. Delight in an evening of enchanting symphonies or be mesmerized by a captivating live performance – this stunning concert hall offers a remarkable cultural experience.
For those seeking theatrical delights, the Royal Alexandra Theatre is a true gem. With its opulent architecture and rich history dating back to 1907, it has been home to countless Broadway shows and celebrated plays. Immerse yourself in the magic of live theater as you witness world-class productions on this historic stage.
If you're a sports enthusiast, look no further than Scotiabank Arena. As the home of the Toronto Maple Leafs hockey team and Toronto Raptors basketball team, this state-of-the-art venue buzzes with energy during thrilling games. Catching a match here is an exhilarating experience that showcases Toronto's passion for sports.
While the Entertainment District boasts prominent venues that have become iconic symbols of Toronto's cultural scene, there are also hidden gems waiting to be discovered beyond the dazzling lights.
Unveiling Hidden Gems in Toronto
Venturing beyond the popular tourist attractions unveils a wealth of hidden gems scattered throughout the city. These lesser-known treasures offer unique experiences that capture the essence of Toronto's diverse culture and creativity.
If you're seeking an immersive art experience, head over to Graffiti Alley in Queen West. This vibrant alleyway is a captivating outdoor gallery where local artists showcase their impressive street art and murals. Take your time to wander through this ever-changing urban canvas, admiring the creativity that adorns the walls.
Indulge your taste buds at St. Lawrence Market, a culinary haven brimming with tantalizing food options. From mouthwatering deli sandwiches to freshly baked pastries, this historic market is a food lover's paradise. Immerse yourself in the bustling atmosphere as you explore the diverse array of vendors and savor the flavors of Toronto's vibrant food scene.
For nature lovers, exploring Toronto Islands provides a rejuvenating escape from the bustling city. Hop on a ferry and embark on a short journey to reach this serene oasis consisting of several small islands. Whether you prefer leisurely strolls along peaceful beaches or renting bikes to explore the scenic paths, the Toronto Islands offer a tranquil retreat away from the urban hustle and bustle.
| Attraction | Location |
| --- | --- |
| St. Lawrence Market | 93 Front Street East |
| Graffiti Alley | Queen Street West |
| Toronto Islands | Accessible via Ferry |
While popular attractions like CN Tower and Royal Ontario Museum (ROM) are undoubtedly worth visiting, these hidden gems provide an opportunity to uncover lesser-known aspects of Toronto's culture and charm. By exploring beyond the familiar landmarks, you can create more unique memories and experience a side of the city that goes beyond the tourist brochures.
Discovering hidden gems in Toronto is like embarking on a treasure hunt. It requires curiosity, willingness to step off the beaten path, and embracing unexpected surprises along the way. These hidden gems might not be as widely recognized, but they offer an authentic glimpse into what makes Toronto such a dynamic and captivating city.